Dave Sinclair is one of the organisers of the Big Cardiff Social Run. Dave leads the run club at Moti Run Club in Roath, and you can find him on social media @cardiff_dave
We asked Dave to give us some background information on The Big Cardiff Social Run, and how the idea came about…
Beginnings – Miles for Matt
"The story of why and how The Big Cardiff Social Run came about begins with a really sad event.
Back in late April you'll remember Matt Campbell died whilst taking part in the London Marathon.
Whilst this was a tragic event for Matt's family and friends it also struck a chord with runners (and others) around the country and gave rise to "Miles for Matt", where runners ran 3.7 miles in honour of the remainder of the marathon that Matt was unable to complete.
Out of such tragedy it was fantastic to see runners from all over the country honour Matt and also donate to his chosen charity The Brathay Trust. Matt's Just Giving page now stands at 15151% of his original target donations.
Cardiff runner and coach of Girls Together, Lucy Marland and Dafydd Trystan organised a 3.7 mile run in honour of Matt and on the day had about 25 runners running through Bute Park, Cardiff.
The run was a really happy occasion in such tragic circumstances and what myself, Lucy, Dafydd and Ben Annear (from Goodgym Cardiff) were really struck by was how nice it was just running for pleasure, for company, for the scenery and just because running is great and that we should arrange something similar again. Comments from those running were just the same.
This was the catalyst for The Big Social Run, so we roped in a few of our running buddies and decided to get together and give it more thought. We were also delighted that Run Wales really loved the idea and were happy to support us.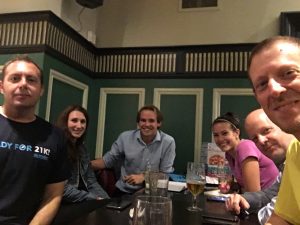 Why?
Lots of us runners love our races. We love medals. We love chip timing. We love barcodes.
…and yes we love being competitive – whether that's to get on a podium, to get a personal best time, or let's be honest to finish ahead of a mate at parkrun!
There's nothing wrong with that in the slightest, it's a big part of running for many people. But also at the heart of running is just running for pleasure, and running with others for pleasure. We felt there was definitely a space and a need for an environment away from chip timing, official times, and racing. Space to breathe and take it all in.
Many of us go to a running event and see all these friendly faces - from our own running club, from other clubs, or runners who don't belong to a club, and we love a quick friendly word but then it's a case of – use the loo, get to the start, 5 minutes to go, smile at everyone, race, go home.
We wanted an opportunity to get to know those friendly faces more – to run at a pace that allows people to chat, find out more about each other, and then time after the run to have a cuppa, have a chat, and have a laugh before heading home.
Our First event!
With that in mind and having had a number of meetings to work out the details, on July 22nd we held our first event – an out and back run from Pontcanna Fields and up the Taff trail and back.
We had about 55 runners and it was a gloriously sunny day. After an introduction and warm up from Rich Skyrme we all headed out.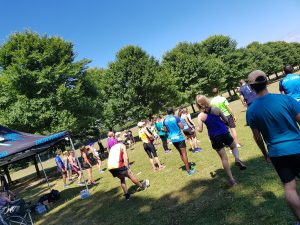 It was such a pleasure running along the Taff Trail and meeting people I either hadn't met before or had seen around regularly but not spoken to, as well as chatting and running with mates of course!
After the run we had a lovely picnic in the park and ate loads of food!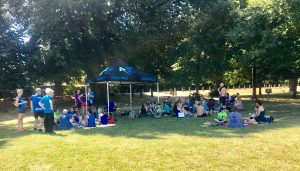 We had great feedback from this first event and were delighted to find that people shared our thinking that social runs like this are really great fun and a positive addition to their running lives.
Our Second Event!
On September 30th we hosted our second event, a 10k run from Grangetown Pavilion and around Cardiff bay.
We had about 80 runners, amongst them folk who'd travelled from Newport and further afield, some of whom hadn't had the opportunity to run around Cardiff Bay before.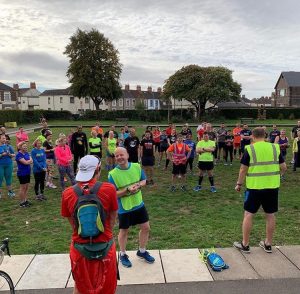 After an introduction and warm up from Rich, and what is already becoming a customary warm up routine segment from Dafydd involving shooing imaginary chickens away (you really do have to experience this if you haven't already) we headed out from the Pavilion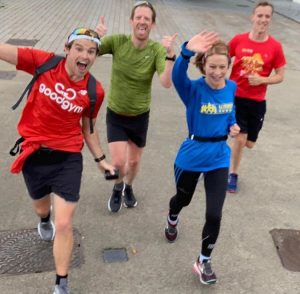 Feedback on the day was great. Runners loved being able to chat whilst running the route, and we found that many runners didn't generally run with others but wanted to - and loved having the opportunity.
This observation really excites me and shows we are on to something.
After the run we had coffee and snacks at the Pavilion.
I get such a buzz from these events that I'm on a high for the rest of the day, and find myself heading out for another run later because I just feel so good. The social aspect brings something really unique and both times I've made friends and listened to some great personal stories.
We're collating feedback right now following the second event and will be meeting up and planning future events. Our firm intention is for The Big Cardiff Social run to keep going and we really hope to see you all at the next event, which will be one of many.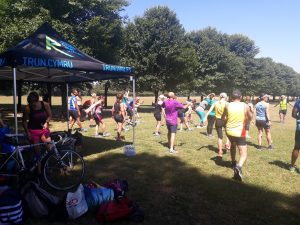 Thanks to Lucy for being the origin and driving force for this and for everyone who helps plan and make it happen, including marshalling and pacing, and to Run Wales for their support!
Next event coming your way soon!"