Run Wales will shortly be launching 'Step into Action', a social walk-to-run group in partnership with Diabetes UK Cymru, aimed at encouraging people with diabetes to get active. In the first of our 'Focus on Diabetes' articles, Run Wales talks to three runners with type 1 diabetes about their running journey.
---
THOMAS, 33
Thomas was 27 years old when he was unexpectedly diagnosed with type 1 diabetes, and he's been living with the condition for 6 years. He first took up running in January 2016, with an ambitious target of running the London Marathon the following year.
Thomas says, "I started running because I wanted to prove to myself and others that anything is possible with diabetes, and that it shouldn't control your life, but that we, as diabetics, should control it."
Thomas soon found that joining the running community brought numerous health and social benefits: "I've made loads of new friends, which is great. But most importantly, I've found that my levels are much more controlled, and that's mainly due to a better diet and the fact that I know I won't perform as I want to if I don't keep my blood sugars where they need to be."
Thomas is well aware of the challenges that runners with type 1 diabetes face and says, "The biggest challenge for any diabetic is getting that initial confidence to get out the door and run, believing that you will be fine and that you can run!" As Thomas has found, support from family and friends can be invaluable.
We asked Thomas for his top tips for anyone with type 1 diabetes who wants to take up running:
Make sure you have the same breakfast/meal before any run so you can pretty much guarantee your sugar levels while you are out running, and practice, practice, practice your nutrition during your run. When it works, don't change it!
Go for a run while having a hypo so you know what it feels like – that way you'll recognise the signs and symptoms of a hypo when it comes on unexpectedly during a run
Work out what type of running sessions make your body work anaerobically because this can cause your sugars to spike
Always run with a hypo treatment and your phone, and emergency money buy a sugary drink if the hypo treatment doesn't work – regaining a 'normal' level while running may take more sugar than when resting
In April, Thomas successfully completed the 123rd Boston Marathon, the last of the six Abbott World Marathons he had left to run. This made him an elite 'Six Star Finisher' and proved that pretty much anything is possible with diabetes. Congratulations, Thomas!
---
---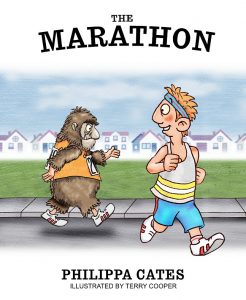 Our thanks to author and established medical communicator, Philippa Cates, for speaking to Thomas and writing this blog. Philippa Cates is no stranger to the mental and physical challenges of running and has written a book about this wonderfully exhausting pastime. The Marathon celebrates this fantastic achievement but also highlights in a comedic way the potential pitfalls of taking part. Her book is available to buy here.