At Run Wales, we rely on a fantastic network of volunteers to help grow the number and quality of Run groups across the country. For this reason, we think it's important that we recognise some extra special individuals at our annual Run Wales awards and whilst doing so draw attention to the hundreds of other people who make running possible for thousands of individuals within Wales.
As part of our Volunteers' Week thank you and celebrations lets take a look back and re-congratulate our 2019 Leader and Inspiration of the Year award winners . . .
Leader of the year – David Sinclair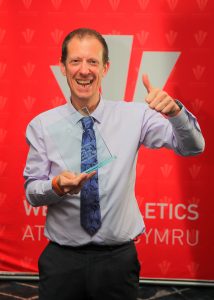 Dave selflessly gives up his time to several training sessions each week for both Moti Cardiff and CDF runners. So many people with such varied backgrounds, abilities and experience all come along because we thoroughly enjoy our evening challenges – and our socials afterwards. And this is all entirely down to Dave and his tireless positivity.
"He's personally made me feel extremely at ease when I was nervous about coming to my first club session due to my slow speed. "
He ensures both are completely inclusive for all, welcomes everyone of all abilities and will support and cater sessions to be inclusive, whilst never making anyone feel uncomfortable.
"Dave welcomed me in, as he does everyone, and I immediately felt part of a non-elitist, totally open and friendly group. Without Dave and these sessions, I would never have even contemplated, let alone completed my first ever marathon."
He also works to organise and promote all the events he's involved with, which is an extensive list. He is instrumental within the Big Social Run Cardiff, Instarunners Wales as well as being a Miles for Mind Ambassador. This year Dave also organised an official LGBT Pride Cymru 5k run, open to all runners as well as runners forming part of the official LGBT Pride parade.
Despite Dave suffering from a lot of personal sadness this last 12 months, losing both his parents within weeks of each other and his beloved dog, he is an all-round great guy and very competent at leading and remaining encouraging and enthusiastic. Even with these personal difficulties, injuries and illness he has never missed a session.
"He's also just a bloody nice guy!"
Run Wales Inspiration Award – Geraldine Tucker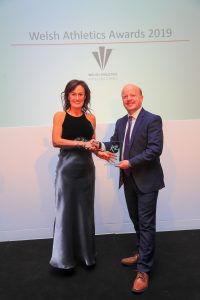 Geraldine is one of the Run Leaders for Cowbridge Moovers. She has done so much for the group including organising all the amazing cow print kit. However, she has had a tough few months with a fractured ankle and recently diagnosed with breast cancer. However, her positive and support to the group members and other Run Leaders have continued. She has still come to sessions on her crutches or in a wheelchair and latterly as a tail-walker. Even when she hasn't been able to train she comes along as support or to take the warm-up and cool down. She also volunteers at park run when she can't run it. Despite having a lot to deal with she is a huge support to everyone in the group and has become a fantastic friend to all. Geraldine would have been a good candidate for leader of the year, but she is so much more.
Two shining examples of our wonderful and invaluable volunteers!
THANK YOU and congratulations Dave and Geraldine!
#VolunteersWeek