Well, following my rugby playing days almost 10 years ago now, I slowly and surely gained weight. From a sturdy 19st 4lb to my heaviest of 29st 6lb.  I am a relatively tall guy, but even then, 10 additional stone was a significant weight to carry around.
At the end of November 2016 I lost a very important person in my life- my grandfather, or to all that knew him Popsi, who sadly passed away.  As if that wasn't a bad enough time, within 2 days on laying my grandfather to rest, my grandmother also passed.  No words can express the sadness and sorrow that hung over me and my family at that time, especially my mother and auntie.  But sure enough as families do, we all pulled together, supported each other and took the time to embrace and celebrate our love and lives - just like they had for the past 80 plus years.
So, 2017 was around the corner and there was hope that a new year would bring new and happy times for us, as it really couldn't be any worse…. could it??
Sure enough, it did get worse!  In the March, only 3 months after losing my grandparents we lost a very dear work colleague and friend.  Not only was he the successful Director of the family business for more than 20 years he was also family.  A man with his life to look forward too, a wife and young children was now gone from our world.  This was a significant moment in my own and my wife's life, an opportunity for us to potentially make a difference…. or carry on with life as we knew it.
My wife Jayne was the driver for change in this period in our life.   It was Jayne that kept saying that "life is too short, we shouldn't put off until tomorrow or next week what we can and should do today".  So come April, and possibly what you could now call our New Year, we began eating healthy and walking daily.  It may not sound much, but in the beginning tying my shoe laces and going down the street was enough of an effort. I moaned and groaned, I resisted and wanted to sit at home and do what I'd always done – even though I knew what that could mean for me!  Jayne stood by me through my whining, my moods and my pains – she was my rock.
As we continued with this pattern, albeit it was not easy, by mid-May I had lost 2st 7lb and was walking 5-6 miles a night.  I was off the booze and eating 'clean', healthy food.  And of course, with this came a much more positive Brett!  Gone were the moans and groans and with it came smiles and happiness.
So, 8 weeks in to my journey, I was becoming my old self again! I was down by 4st 7lb, and walking was enjoyable.  But we felt ready, we needed a new challenge! Something that was unimaginable for me to think of 12 weeks ago!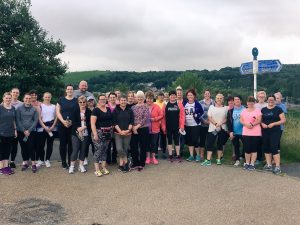 And basically, that's how my running journey began. We saw that there was a new C25k group starting in Maesteg on the 3rd July - thanks to Run Wales, and Jayne and I took the decision to go for it.
We met at the Sports Centres, me being the only bloke with 34 women (which I can't complain), and my C25K adventure began.