Angharad Griffiths, who runs with the We Can Run Llanelli group, recently completed the Cardiff Half Marathon in her fastest ever time of 2 hours and 26 minutes.
After taking up running ba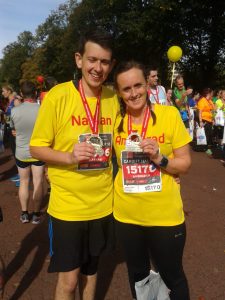 ck in January with the We Can Run Llanelli group, Angharad decided to start training for the Swansea Half Marathon in June. She completed the 13.1 mile run in Swansea in a time of 2 hours and 38 minutes - meaning her run in Cardiff was a 12 minute improvement on her time in Swansea! 
Run Wales Activator, Sharon Leech, commented; "Angharad followed the training plan I gave her perfectly, and more importantly she ran independently and enjoyed her Cardiff Half Marathon experience, which is fantastic"
In addition to Angharad's success, she inspired her son Nathan to take up running after he witnessed the improvements his mum was making. Nathan signed up for his first ever half marathon in Cardiff and completed the run in 2 hours and 12 minutes.
This story emphasises the inspirational nature of many people's personal running stories, and highlights that running can be inclusive for everyone - work colleagues, families, friends, whoever they may be!