Runwithus Aberfan is a social running group, founded in 2017, who meet twice a week at Aberfan and Merthyr Vale Community Centre.
The group welcomes children 12yrs+ and adults of all ages.  Although the catchment area was initially aimed at Pentrebach, Troedyrhiw and Merthyr Vale, we have members who come from Twynyrodyn, Pant, Dowlais down to Treharris, Quaker's yard etc.
The first 8 weeks was planned to initially gauge the interest within the community using #Runwithus volunteers from neighbouring groups.  The enthusiasm as a community we have seen has been overwhelming.  The support and joint working between Runwithus Aberfan and Aberfan Leisure Centre has been very successful with a number of our members taking hold of their Health and wellbeing, being proactive and embracing a new healthier fitter lifestyle becoming new members of the gym and taking advantage of discounts offered to Runwithus members.
The membership is quite simple.  The group is not an affiliated running group, but a social running group.  The purpose of the group is to establish a local running group to support men and women to become more physically active, reduce the obesity levels within Merthyr Tydfil borough and to support positive mental health and wellbeing.  The group also aims to support local people to establish connections to build strong community relationships.  The benefit of this group is that it welcomes people of all ages, ethnicity backgrounds, people new to the area and locals who are born and bred.  It aims to reduce community isolation and support people to establish friendships and support networks.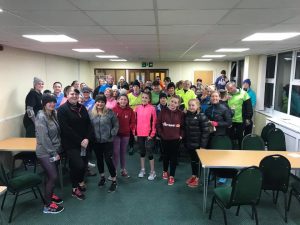 Here's what some of the group members have said…
Run with Us is great for the village of Aberfan as it has helped bring the community together and helped so many get fit who wouldn't have normally tried running as an activity. Michael Elford
Runwithus aberfan is great because it has given me the confidence to run which I never thought would happen. It's brought people of different abilities together and given the village the push it needs to do something to make people happier. It's one of the best things to have happened recently and I hope it keeps going because I for one am totally loving it! Carly Laura Davies
Run with us Aberfan is great because I never thought I would b where I am now ,I couldn't run 2 seconds never mind 3k!! Also it's helped me with my anxiety which I'm so greatful. Sian Kinsey
 #Runwithusaberfan has given me the opportunity to help others to achieve their goals after only running for 18 months, they should be extremely proud of what they have achieved in such a short space if time, it's a pleasure to see a group enjoy as well as moan lol and having Debz Jones as the leader makes it's all worthwhile. Rhodri Stafford
Run with us Aberfan had been great! We all joined with no expectation of actually running 5k but within just a few weeks we had done it! Having the encouragement off each other has definitely helped and I think I can say on behalf of everyone thankyou to Debz Jones and team for all their time and effort! xx Joanna Morgan
Debz Jones, the leader of the group stated that 'she has been totally overwhelmed by the group and their hard work. The effort everyone has made has been fantastic, and now it's all paying off.
What a wonderful start to Team Aberfan – keep running everyone!