---
Summary of Group: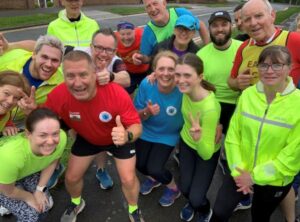 We are a twice (plus) weekly running group catering for all levels, with four different paced groups running on Mondays nights, and two groups enjoying a run together with a pint afterwards on a Thursday!
We make sure we have fun and take nothing too serious, having a laugh and enjoying running is more important that smashing PB's, but we like to see improvement if that's what the teams wants.
Many of our leaders are also club runners.
This group is linked to a Welsh Athletics Running Club: Fairwater Runners Cwmbran
TIMETABLE OF REGULAR ACTIVITIES:
Day:
Monday
Time:
18:50
Level:
Mixed
Location:
Olive Tree, Cwmbran
Cost:
Free
Name:
Run Night
Gender:
Mixed
We have four different paced groups on our Monday Run Night.

Group A. walk jog up to 2 miles at 13.30 min mile (this group does c25k as and when required)
Group B. jog group up to 3 miles at 12 min mile
Group C. jog 3-4 miles with a few hills 10-11.15 ish pace
Group D. run 4-5 miles at 9-9.30 pace of a tad faster if I can be bothered, this is full on with hills speed sessions and drills

Day:
Thursday
Time:
18:15
Level:
Intermediate
Location:
Olive Tree, Cwmbran
Cost:
Free
Name:
Run night
Gender:
Mixed
Two groups covering 3 miles and 5 miles and then a pint in the pub
OTHER ACTIVITIES:
We do have some members who do 1/2 marathons around Europe - these nutters do Sunday and Saturday runs up to 10ish miles when we get into training mode.
MEET THE TEAM:
George Firth Lead head shed - gate keeper LiRF
Shouty bloke who keeps us all in check, can be like herding cats at times, takes the mick (mainly at himself) and ensures everyone is safe.

Nyree Tenby, LiRF Leader
Nice lady who keeps George in check

Group C Leader

Mary Murray, LiRF Leader
Keeps George in check and runs the early support for beginners Group A and D

Also the parkrun lady

Rob Symonds, Lead Coach
Welsh Athletics affiliated coach

Moira Kertchiner, LiRF Leader
Takes Group B starter group

Tim Kertchiner, LiRF Leader
Supports group D fast nutters and keeps George on his toes (getting a theme here)

Simon David, LiRF Leader
General group support as required

Liz Sorrell, LiRF Leader
Gets lost everywhere picks on shouty bloke - likes animals

Emma Eli, LiRF Leader
Stops Liz from getting lost and give shouty bloke grief
LOCATION: