Andrew Bowen has been described as a 'total inspiration' to the members of the group We Can Run Llanelli but why?
Andrew joined the group in January 2018. He self-confessed to doing no exercise, being heavier than he would like to be and a smoker. This is something Andrew was determined to change.
In the final week of January last year, We Can Run Llanelli embarked on a crash course for the Couch to 5K, aiming to do it in five weeks, instead of the usual 9 weeks. Run Activator for West Wales, Sharon Leech, said "There was a slight urgency as the group were being encouraged to enter the FrontRunner Events Swansea half Marathon in June and we needed to do the Couch to 5K before starting on the Half Marathon 16 week training plan.'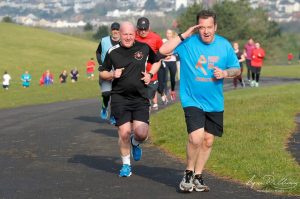 Andrew decided to join the group in their challenge. Sharon said "That first session, Andrew could not run for a minute. He was not the only one, but as with the others, he was determined to believe in the plan.  We persevered, met twice weekly, celebrating each small success, whether it was our first non-stop minute run, five minute run, first mile, two miles or eventually our first 5K."
This support and training helped Andrew to finish his first parkrun on 17th March 2018. Andrew said, "There was plenty of support from buddy runners who came along to training sessions to help encourage the runners, especially as we were aiming for the Half in June, so they had many miles ahead!" Andrew finished his parkrun in 33 minutes and 11 seconds. By the end he was exhausted but hooked. Since then he has continued on his journey with We Can Run Llanelli.
Fast forward to 2019 and Andrew has competed 50 parkruns, bringing his time down dramatically to 24 minutes 6 seconds. He has also finished two half marathons, his fastest being 2 hours and 15 minutes. Sharon said "I can't think of a better advert for Run Wales than Andrew. Well done and I look forward to seeing you continue to enjoy and progress. It's been a pleasure being part of your journey."
Inspired by Andrew's story? Start your journey with We can run Llanelli. They meet every Tuesday and Thursday at Llanelli Leisure Centre at 9:30am
Twitter - @LlanelliWe
Or if you want to join somewhere more local, check out our running group finder here