Our work couch 2 5k journey started on 12th March 2019, with 18 nervous participants and two very keen run leaders. Two group sessions are held after work each week, with individuals running for a third time, on their own, at the weekend.
The first session started with one minute of running followed by one and half minutes of walking, for 20 minutes in total, and each week this has increased. By the end of May some of the group had already run their first 5k, which was a fantastic achievement in just ten weeks. They have shown great dedication and motivation to be able to run this.
Our team of runners had many different reasons for commencing the Couch 2 5k running programme. Some had wanted to start running for a long time, but had been too anxious to do so on their own, or had lacked the confidence or fitness levels. For others it was taking up a new hobby, meeting new people, for wellbeing or getting fit and losing weight. To most this represented a great opportunity in a familiar and supportive (rather than competitive) environment; running with others in the same boat.
"It's easier to run straight from work rather than go home and spending time on the "couch" which generally demotivates me from doing any exercise!" Lee Harris
When asked what they have gained from the programme, the group said they felt fitter and more energetic, gained a far more positive mental attitude, improved confidence and the confidence to be able to go for a run. The programme had also helped some of them with weight loss, feeling better in oneself, and helped them to beable to run 5k without stopping.
"I think I'm fitter now than I have been for my whole adult life and I think it's made me happier too." Rhian Goodall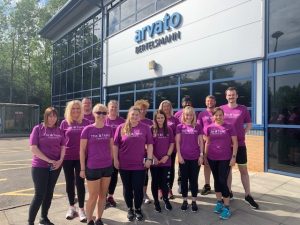 The wider benefits have been the social side and the team ethic, gaining friends, and getting to know colleagues from other departments. It's allowed people to get to know and interact with other members of staff who they wouldn't normally deal with day-to-day at work.
There has been a recognition that running doesn't have to be an individual sport as the team ethic has been really strong.
The group undertook their first official 5k race on 5th June 2019. They participated in the Run4All 5k Summer series. They all successfully completed the run.
Half of the group have continued running throughout the summer, with our support, and most have now reached 10k. The next challenge is the Swansea 10k on 22nd September. There is even talk of a half marathon next year.
If you'd like to set up a workplace running group, there is helpful information here or you can contact us.