We are delighted to be able to introduce a new group to the Run Wales family this week following our recent efforts to locate social running groups in the Southwest. Last week's relay representatives, Cerianne and Loki, were able to pass the Celebration Baton to Run Director and Kit Kat Runner, Jon, this week as the relay moved on to the beautiful Milford Waterfront parkrun.
The Celebration relay provides all Run Wales registered groups with a tremendous opportunity to showcase their group, sharing information about their activities and encouraging more people to participate in social running outside of their regular weekly parkrun. We are encouraging groups to support their local parkrun by offering to volunteer as well as run, jog or walk at the relay events.
14/47: Celebration Relay Run Report – Milford Waterfront parkrun
---
At the far end of Milford Waterfront, a few yards away from the marina, the Milford Waterfront parkrun has taken place every Saturday for the past 3 years (with a bit of a gap during COVID).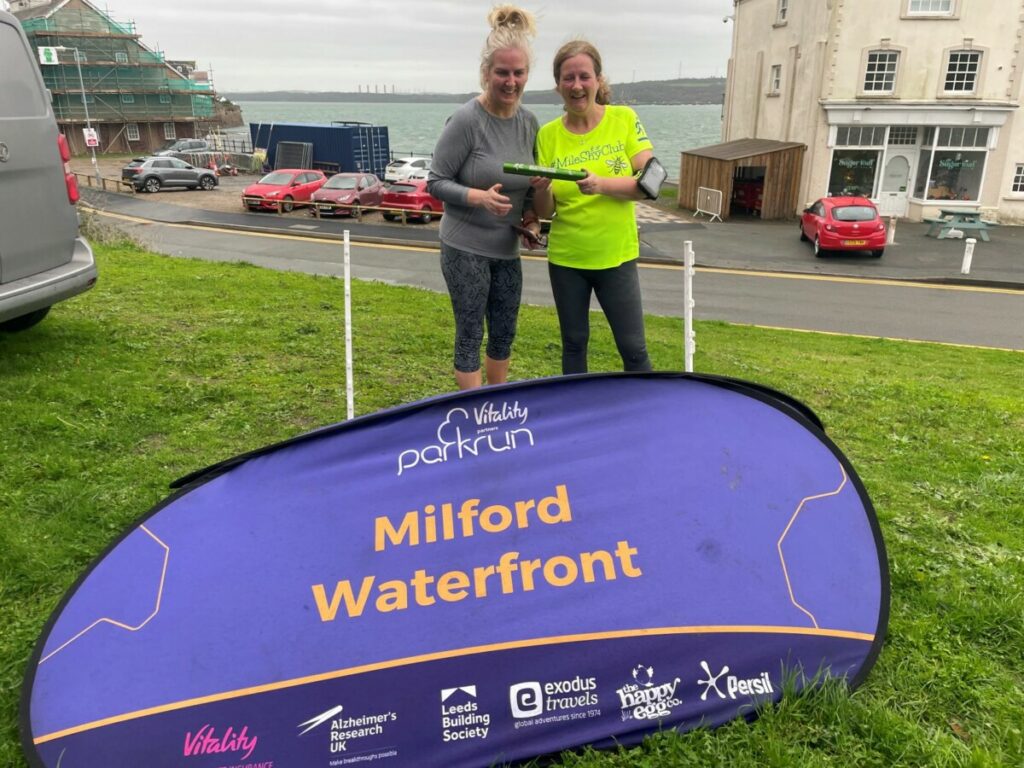 The course runs along the footpath hugging the coast with a leafy canopy that opens out into uninterrupted views of the Milford Haven Waterway. The route takes you towards the site of the former Ward's Yard and now derelict jetty, a local landmark for the residents of Milford Haven.
You're guaranteed to see all kinds of activity on the waterway including crude oil tankers berthed at Valero Oil Refinery as well as gigantic ships passing on their way to Dragon LNG. This stretch of waterway is also the route for Blue Star 1, the Irish Ferry that sails from Pembroke Dock to Rosslare twice a day.
The course is a two lap anti-clockwise loop, fully tarmacked comprising of flat stretches and moderate inclines designed to challenge and stimulate all abilities.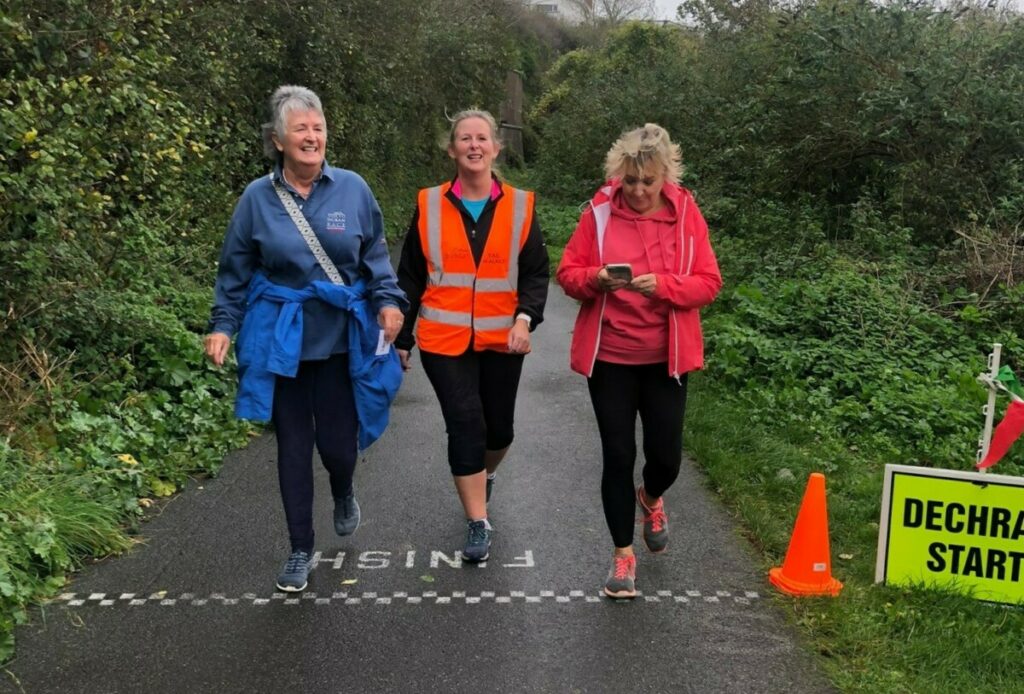 With flat, easy access, this course is suitable for those that run or walk with buggies, dogs and young children, and with the car park situated just two minutes from the start and finish line, there's also an abundance of cafes to choose from post run.
Whether participating as a volunteer, runner or walker, everyone receives a warm welcome and is encouraged to get the most out of their time together in this beautiful location. The same thing is happening in 46 other locations across Wales, over 1,100 in the UK and over 1,700 events worldwide, that's a lot of people running and walking together each week, and thousands of individuals volunteering their time to enable it to happen.
On Saturday 29 October, Milford Waterfront parkrun held their 84th event where 58 people ran, jogged and walked the two-lap course. 
Tourists holidaying at the start of the half-term holiday were visiting from Bristol, Evesham, Torquay, Swansea, Cowbridge and Merthyr.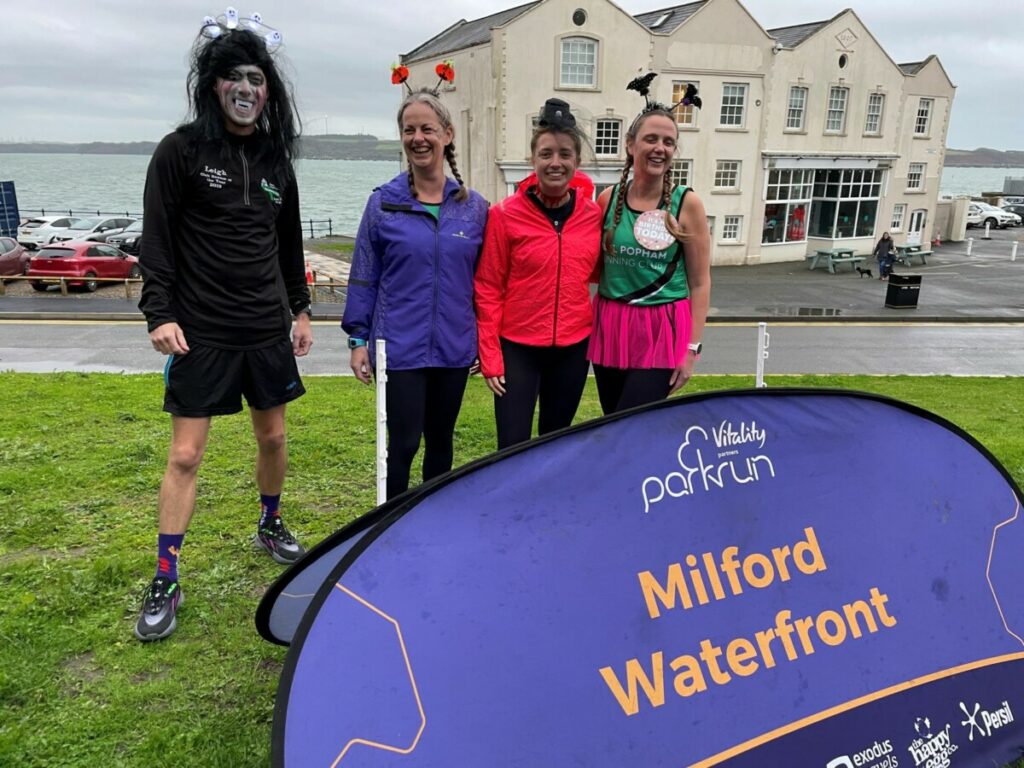 A group from Swansea ran to celebrate their friend Angharad's birthday and there was much amusement seeing a group from Merthyr dressed in Halloween costumes!
We're still experiencing very mild weather for this time of year but once everyone was off the mark it didn't take long to warm up.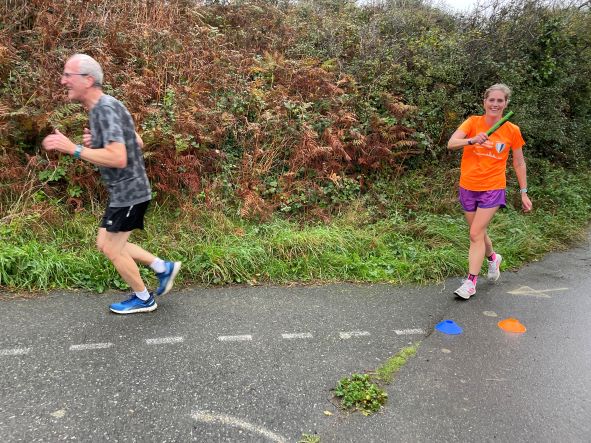 The weather may have been damp and overcast but there was plenty of fun and laughter along the course as the Run Celebration Relay baton was passed in-between runners and marshals throughout.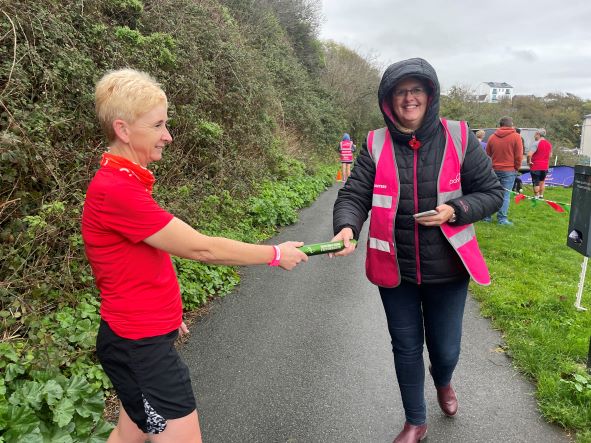 Run Wales is the official social running programme of Welsh Athletics, and supports the establishment and development of social running groups, providing opportunities for people in Wales to enjoy running together safely in addition to their regular parkrun.
First to cross the finish line was Jonathan Riley in 21:08 and the first female was Hannah Griffiths in 24:07.
Congratulations go to Tom Bridger who recorded a new PB of 21:09.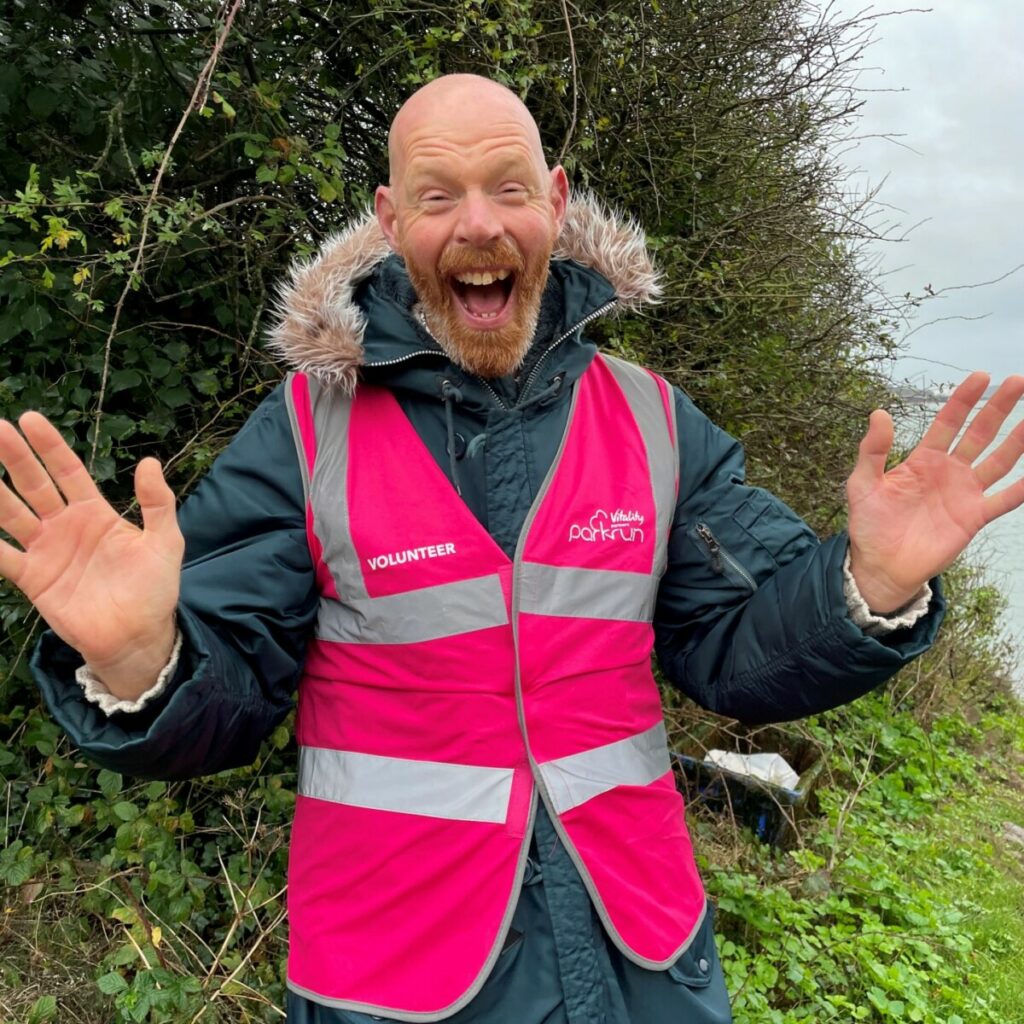 Other PBs recorded were Chrissie Brash, Jenny Wilson, Mark Smith and Georgie Barton.
How lovely to see one of our new park runners Alexia Morgans-Hurley who recorded yet another PB making it 4 on the trot!
Also, a big well done must go to Laura Hugman who after a year of running managed her goal of running under 30 minutes recording a new PB of 29:50.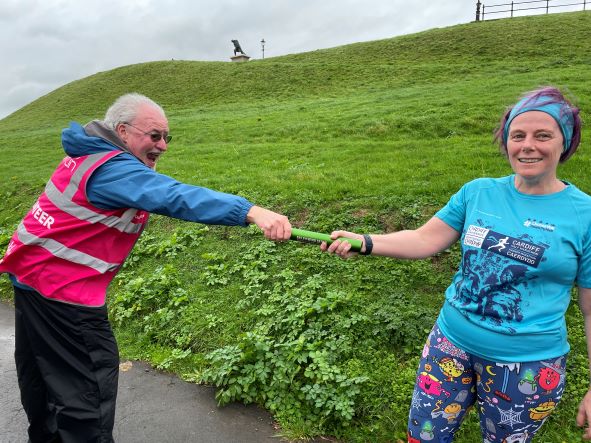 All volunteers and marshals were thrilled to be involved in this week's event and there was great camaraderie on the course between the local Kit Kat Runners who were representing the region.
So, who exactly are the Kit Kat Runners?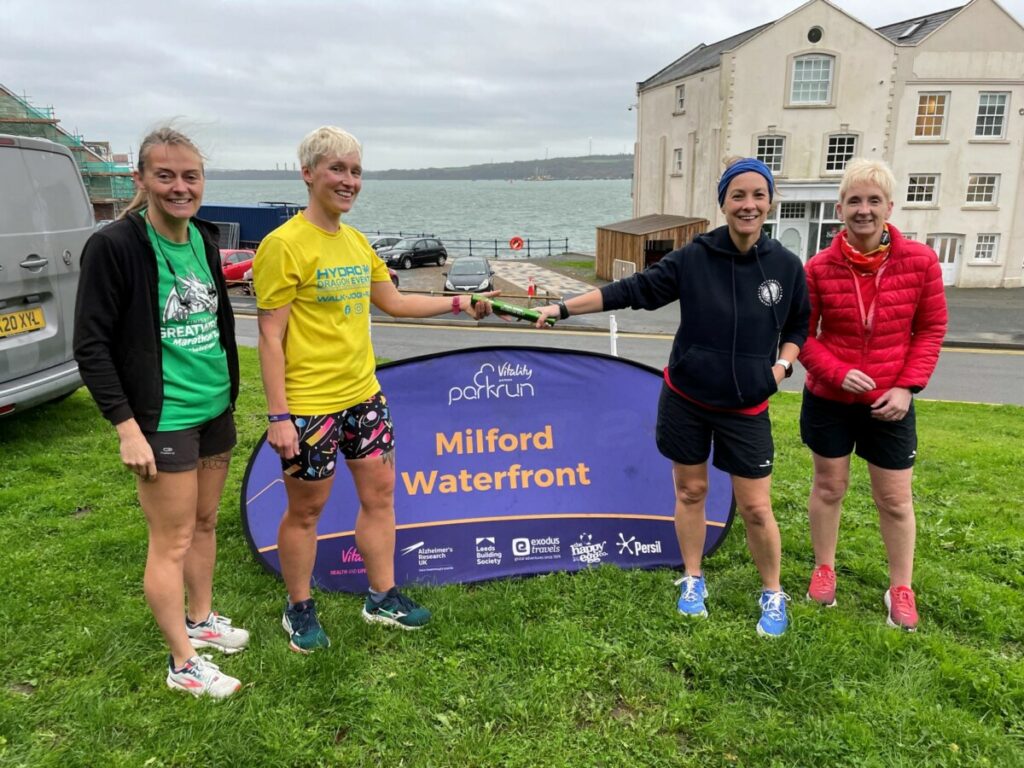 The Kit Kat Runners have been running as a group of friends, all meeting via the Milford Waterfront parkrun over 3 years ago.
The parkrun didn't start back immediately after the lockdown restrictions were lifted, so every Saturday and Sunday morning the group would run together and then head off for coffee and cake afterwards.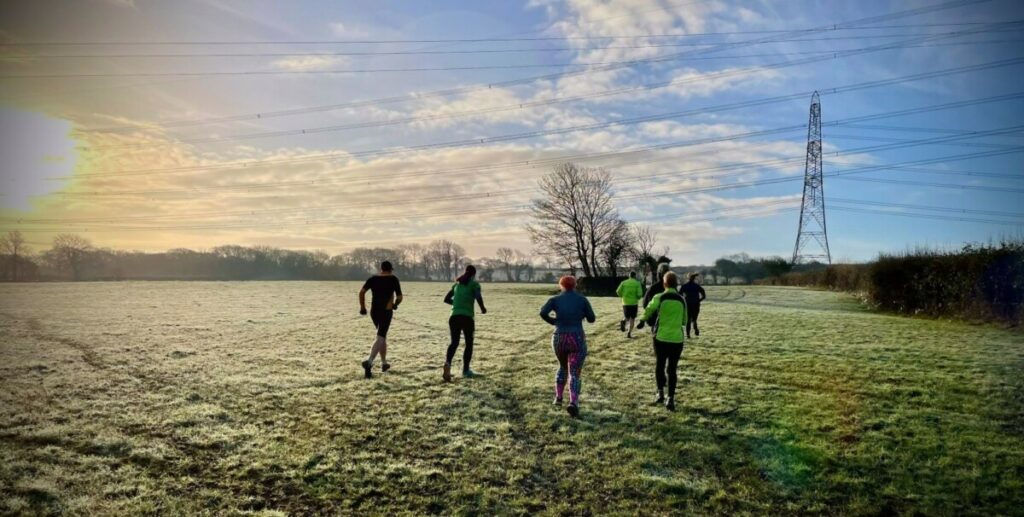 The parkrun eventually started back up again so the group decided to continue with their Sunday run, helping and accompanying each other on a multitude of terrains and locations throughout Pembrokeshire.
Between the group, fitness levels and ages vary but they still manage to run together every Sunday morning allowing runners up front to loop back and re-join the slower paced ones. This system serves them well and allows all levels to participate.
Thanks go to the 12 volunteers who made this week's event possible:

Karen LEWIS • Jon PHILLIPS • Debbie PHILLIPS • Karl SUTTON • Derek KOZEL • Philip HORN • Lynn SAUNDERS • Terry SAUNDERS • Jane JONES • Di MATTHEWS • Nina PHILPOTT • Stephen MATTHEWS • Eraine KOZEL
Full results and a complete event history can be found on the Milford Waterfront parkrun results page.
If you'd like to get involved in this lovely little event, whether you want to walk or run or simply volunteer then please email: milfordwaterfront@parkrun.com or comment on the Facebook post.
Next Saturday a representative from Milford Waterfront parkrun will pass on the baton to Colby parkrun.
Please come along and support the celebration relay in helping raise awareness about social running activities in your area.
We look forward to seeing you all again next Saturday.
---
The Kit Kat Runners would love to meet other local social running groups next Saturday, when they take the Celebration Relay baton to Colby parkrun. Please get in touch with the Run Wales team if this could be your group.