Two counties in Wales have been successful in launching their own parkruns recently.  Pembrokeshire welcomed it's 2nd parkrun at Haverfordwest and Newtown parkrun became the first parkrun in Powys.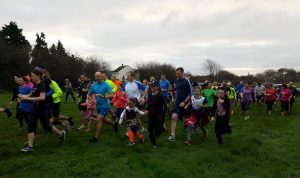 Both new parkruns have been funded by Run Wales Social Running Programme who have been allocated funding via Sport Wales to work in partnership with parkrun to increase opportunities for people to get involved. The partnerships is proving to be a resounding success with 5 parkruns being funding this financial year by the programme.
Haverfordwest parkrun is led by Event Director Laurence Worth, who has been passionate about bringing parkrun to Haverfordwest for a long time and was delighted to welcome 155 runners on a very wet windy morning in September to run around Haverfordwest racecourse.  Many have agreed that it's an enjoyable course with some "tough bits".  They have seen consistently high numbers averaging over 100 every week and all the core volunteer team are keeping their fingers crossed for a dry Saturday in the near future!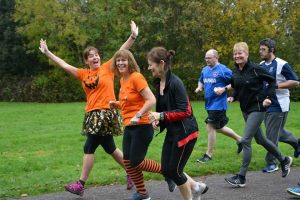 Helen Owen is the Event Director of Newtown parkrun, which is located in Dolerw Park Bridge, and ran on a mixture of trail and paths.  Their first event in October saw 206 runners participating, and they too have had fantastic numbers each week since. Helen says "We are on week 6 of Newtown parkrun and it couldn't be going any better!  Support has been overwhelming and we have had so much positive feedback from the local community and visiting parkrun tourists. I can't imagine Saturday mornings without a parkrun now".
Between the two locations there have been 234 runners who'd never run a parkrun before given the opportunity.  This is a fantastic achievement that shows the real spirit of community running.  We'd like to wish both parkruns the very best of success for the future.
If you are interested in starting your own parkrun please click here.