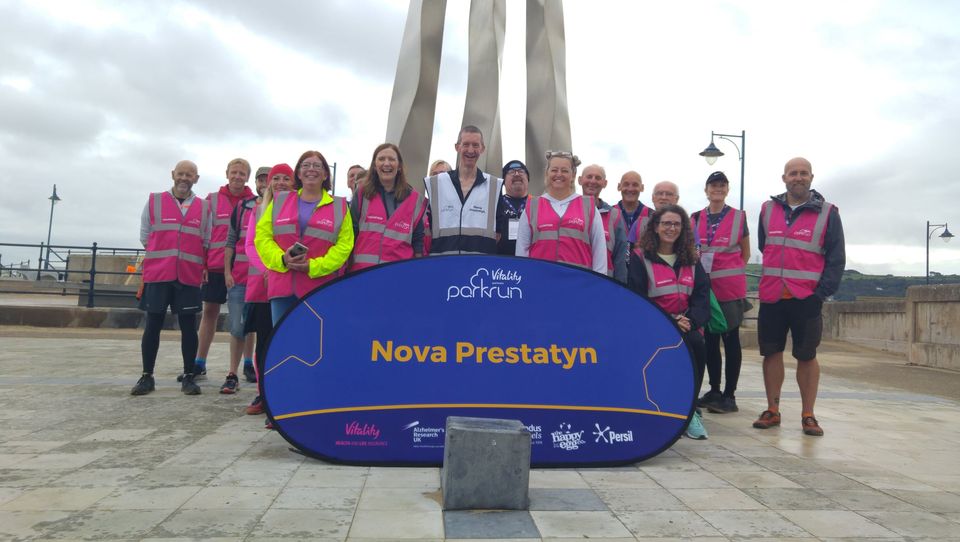 The Run Wales programme is all about increasing social running and free opportunities to go running across Wales. Since 2015 Run Wales has worked with parkrun to do this and helped fund and support events, seeing the number of events grow from 9 in 2015 to 49 in 2023 with more events scheduled.
Junior parkuns have also been established with 19 events currently operational on a Sunday morning.
All these events take place stunning locations that are safe (car free) and easily accessible to all. parkrun offers everyone the opportunity to take part; from those taking their first steps in running to Olympians; from juniors to those with more experience; everyone is welcome at a parkrun.
All parkrun's rely on volunteers, why not get in contact with your local event to help fill their roster with a variety of duties from marshal, timekeeper, barcode scanner to tailwalker. Groups and clubs have also attended 'takeover' events, where members fill each volunteer spot for an event.
Whether a walker, runner, volunteer or spectator, you're sure to get a lot of motivation, support and make friends at parkrun!
Find your nearest parkrun here
Parkrun stories
If you've got an inspiring parkrun story then let us know and we'll share with our community.
Porthcawl celebrate 9th birthday
On Saturday April 2nd 2022, Porthcawl parkrun celebrated the 9th Anniversary of their first event which started back in April 2013 by paying tribute to Event Director Steve Brace and wearing Cardiff Half Marathon t-shirts from the last 9 years.
In addition to Race Director at Cardiff Half, Steve has been the driving force behind Porthcawl parkrun in those 9 years working hard behind the scenes with local authorities, businesses and other organisations that allow the parkrun magic to happen each week. In particular, we would like to thank Bridgend County Borough Council in for their help and support over the years.
We expected about 100 parkrunners each week when we started back in 2013 but we now average between 300 and 350 participants with 11,500 different parkrunners testing themselves on our 5km run, jog or walk to Rest Bay and back.  All this isn't possible without our amazing hi viz heroes and we regularly have 30 to 40 volunteers helping each week with a total of 780 different volunteers in 9 years.
On Saturday, 318 people ran, jogged and walked the course, of whom 35 were first timers and 39 recorded new Personal Bests. Representatives of 25 different clubs took part. It was also great to welcome graduates from the Ogmore Phoenix Zero to Hero C25k graduates for their first parkrun.
Many thanks to all our volunteers and supporters , if you want to help any time email porthcawl@parkrun.com
No parkrun in your area? Why not establish one yourself? Read our top tips for establishing a parkrun by clicking the link below.
Need help finding funding for your parkrun?
As more and more people discover the physical, mental and social benefits of parkrun, the number of requests for new events in new locations in Wales continues to increase. The funding we receive from Welsh Athletics / Sport Wales has become vital for new event teams, allowing them to launch more quickly, and allowing more people in Wales the opportunity for a happier and healthier lifestyle.
Related Posts