Sarah Powell, Run Leader with Llantwit Fardre Ladies, has joined the Run Wales team for 2020 as a part-time Run Wales Activator to cover Hannah Phillips who's heading off on maternity. Sarah will be looking after and helping set up running groups in South & East Wales, here's a bit about her:
"I've always been into fitness, it started when I was at brownies! We did our fitness badges and I won a special prize for completing the challenge. I clearly remember feeling amazing and proud. I am super lucky that my family have always been keen to exercise together, from family walks in the beautiful Derbyshire Dales to cycling along the Nottingham canal.
The big turning point for me was juggling work and then a young family, I no longer had the free time or money to invest in a gym membership or fitness classes, for years the only exercise I did was the odd fitness DVD at home.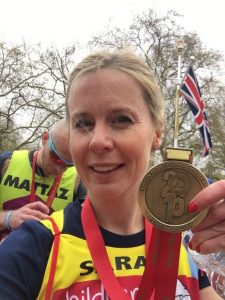 In 2014 I was faced with a massive challenge, a group of parents from my daughter's school decided to set up a charity team to run the Cardiff half marathon, I agreed, I was super motivated to raise money for a very personal cause. I thought I was fairly fit, and I knew it would be hard but I was excited about tacking a new fitness goal. I then went for my first run, I ran one lap of Llandaff fields, I couldn't breathe! My lungs were burning, and my legs just didn't want to work, I panicked it was less than three months until the half! I was extremely lucky that a mum from school who had also agreed to run said she would train with me, every run was hard, I felt sick and exhausted. On that October morning 2012 I stood at the start line, with butterflies in my tummy, I was so happy to make it all the way around (only one toilet stop at the bay) I wasn't the last person and I didn't collapse, and that's when I caught the running bug! Since then I have completed the Cardiff Half 5 times, and in 2016 I ran the London marathon with the same friend who originally supported me.
I love running, but more than anything I love running with people, for me running is therapy.
In 2018 with the help and support from Hannah from Run Wales I set up a ladies running club in my village, I was hoping to meet new friends and maybe encourage some new ladies to discover the many benefits of running, in those 2 years I made some amazing new friends, who have inspired and supported me, not just in my running goals, but to apply for this new role. I am super excited to meet everyone and I am really hoping I can help and support others to reach and exceed their goals."
---
You can get in touch with Sarah via email: sarah.powell@runwales.org.uk or over the phone: 07858 925 949