A requirement of renewing your Leadership in Running Fitness (LiRF) or Coach in Running Fitness (CiRF) is to ensure you have an up-to-date DBS check, this needs to be completed every 3 years.
You should receive an email when it is time to update but for more information you can follow the guidance on the Welsh Athletics page DBS Guidance
If you do not know your local DBS Verifier please contact eva.brewer@welshathletics.org
Since April 2020 you are also required to complete the UKA Safeguarding online module:
This course provides an understanding of what safeguarding is when it comes to children & young people and vulnerable adults in athletics.
The purpose of the course is to:
* Raise your awareness of the importance of Safeguarding.
* Help you to recognise indicators of safeguarding concern.
* Deal with concerns of abuse, disclosures and reporting procedures.
* Show you how to take action if you know or suspect that a child, young person or vulnerable adult needs help.
* Promote good practice in your setting and create a safer environment.
The course costs £10 and can be purchased via your Athletics Hub login – Safeguarding course
You may not work with young people in your capacity as Run Leader however it is important to be aware of the guidance and support available should you be concerned for a young person or vulnerable adult.
More information about Welfare and Safeguarding can be found via the Welsh Athletics page Safeguarding and Welfare
Basic First Aid – from April 2022
It is now a requirement for all new coaches and leaders to complete a Basic First Aid course as part of their license, this will also apply to those at the time of renewing their DBS check.
The level of First Aid training required will depend on the type of coaching you are involved with, when you apply or reapply for your license you will be asked to complete a short online assessment to determine which First Aid Training you need to complete.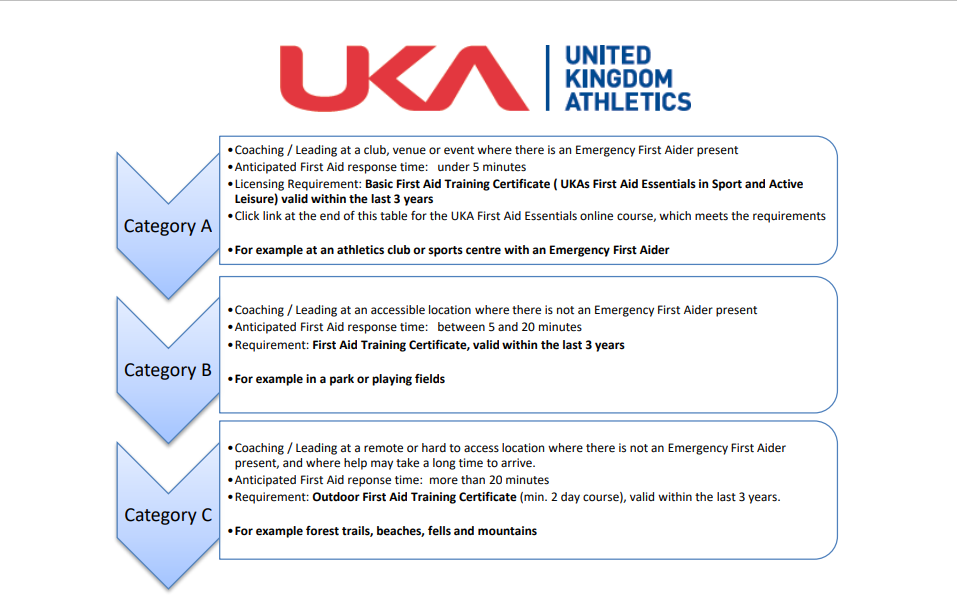 More information about the First Aid requirements and details about using existing First Aid qualifications can be found on the First Aid Training FAQ's
Renewing your License video
This short film will show you each stage of applying and renewing your license (First Aid to be added shortly)