Representatives of not one, but two Run Wales social running groups were enjoying the frosty but friendly delights of Gnoll parkrun this week but once again, the Social Running Celebration Relay received a warm welcome from the volunteer team! Our thanks to For the Love of Trails in South Wales and Beyond Running Fitness for their contributions to this week's run report.
The Celebration relay provides all Run Wales registered groups with a tremendous opportunity to showcase their group, sharing information about their activities and encouraging more people to participate in social running outside of their regular weekly parkrun. We are encouraging groups to support their local parkrun by offering to volunteer as well as run, jog or walk at the relay events.
18/47: Celebration Relay Run Report – Gnoll parkrun
---
The cold morning weather did not deter two runners from BRF (Beyond Running Fitness) in Barry Island from a spot of parkrun tourism to Gnoll parkrun near Neath, who were both first timers to this event.
Having missed the final turning on the journey meant we had to get off at the following junction and double back on ourselves in order to get to the parkrun with 15 minutes to spare.
This parkrun is on the Gnoll Country Park Estate, which is very well signposted and past the Neath rugby ground. The address is 'Fairyland', which is a wonderful description of it.
While we did not spot any fairies we did spy a little Robin redbreast who was very brave and came very close to us before we got to the start.
Parking at the Estate costs £2.60 for 4 hours and the first building was the visitor centre, where runners could use the toilets.
We attended the first timers briefing and then quickly walked to the start.
I met up with today's Run Director Rebecca, who had her dog with her and gave thanks to both Barry and Cardiff visitors.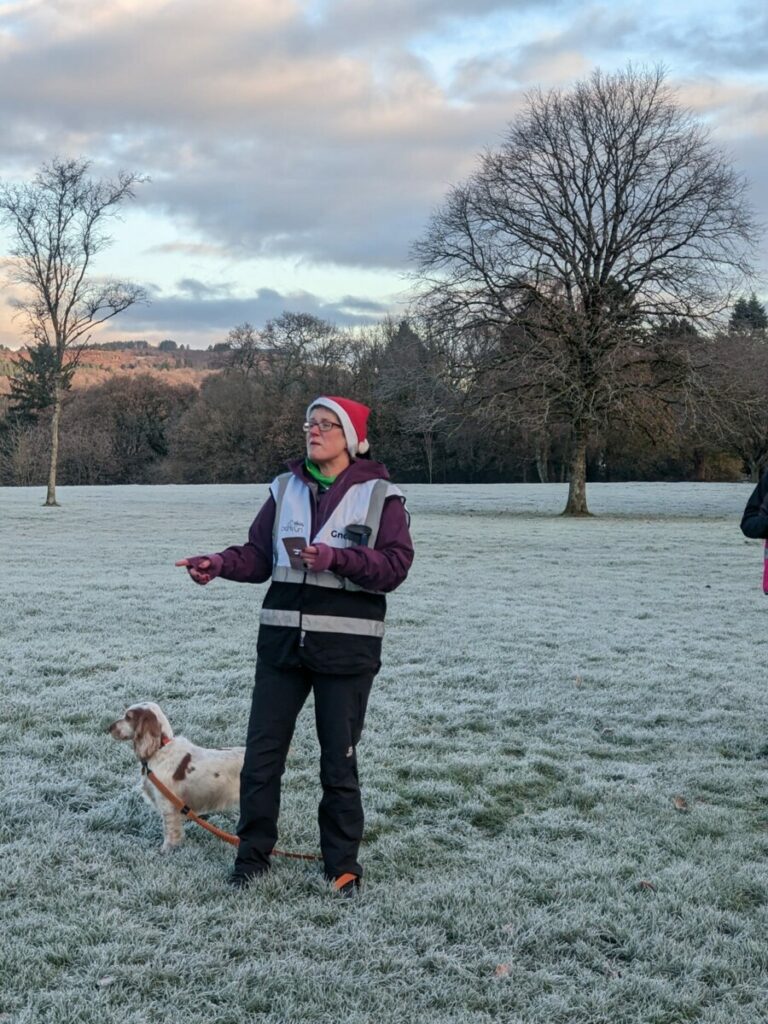 There were 3 first timers today with Jacqueline Richards, Leah Lomax and Gethin George, and hopefully this will be their start to many more parkruns in the future.
There were some milestones as follows:
25 parkruns Jacqueline West (my parkrun tourist buddy)
50 parkruns Gray Hall
100 parkruns Peter Richards
250 parkruns for Kath Roberts.
It was a very cold, wintry day today, with a lot of frost on the grass, and the lake was also frozen over too. However, everybody dressed well for the occasion with a lot of bobble hats on display.
So the course is three times around. The first loop is around the lake, the second loop adds on the ruins and the final loop adds on a hill so it really mixes things up and keeps everyone interested.
Apart from the hill, the surface is fairly flat however the majority is run on tarmac with a trail bit which was not muddy today due to the frost.
We had to keep our wits about us for the odd tree branch or rock sticking up otherwise it was fine.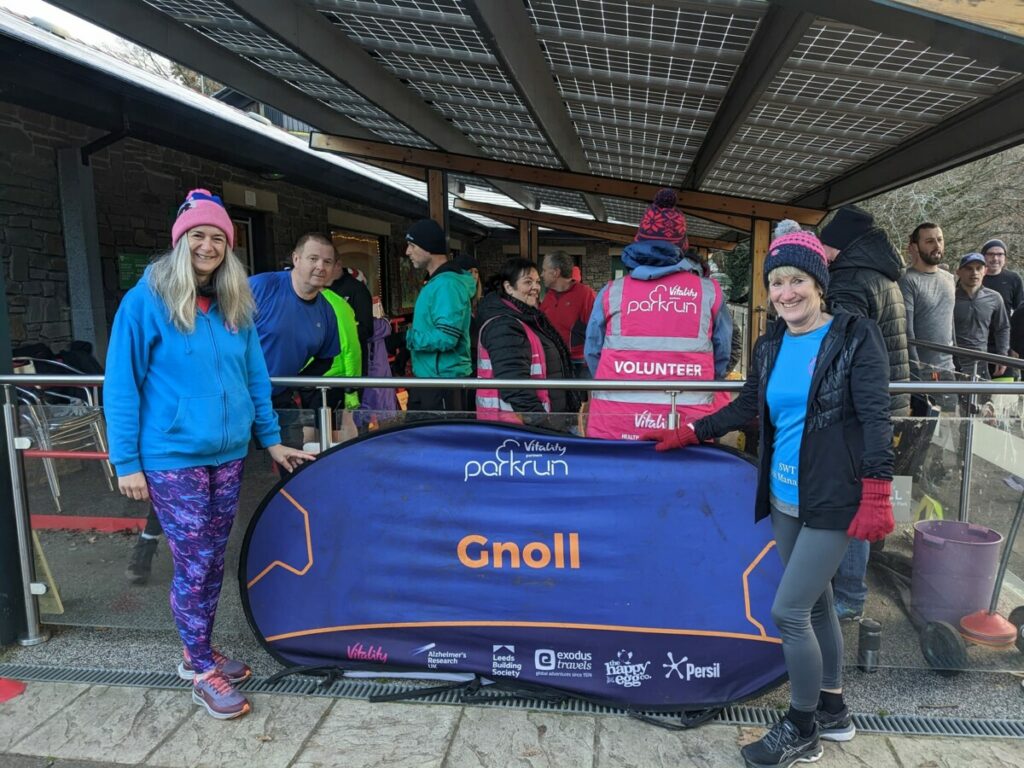 A total of 76 people ran, jogged and walked the course today.
There were 14 first timers and 6 had PBs, 15 different clubs were represented and there were 21 volunteers. 1st man to finish today was Sion Britton with a time of 20.43 and first woman was in 21st and Louise Hogan with a time of 25.31.
Louise was also running with the Social Running Celebration Relay baton from Run Wales, and promoting trail running and passing the baton onto social running groups in the South Wales area.
You can find her at Maesteg parkrun next weekend, and read more about her running group, For the Love of Trails in South Wales, below.
There was a 15 strong turn out from Port Talbot Harriers today too. A lot of the runners were off to the Santa Dash at Aberavon a bit later on.
The current female record for Gnoll parkrun belongs to Lucy Marland with a time of 17.56 on 4/1/20 (event no 210) and the male holder is Guy Smith with 15.49 on 5/3/22 (event no 245).
The age graded record goes to Alan Davies with 89.33% and a time of 18.26 on 23/7/16 (event no 37).
I found the volunteers were very encouraging and it was lovely to hear the RD greet people in Welsh, first time I have ever noticed this in my 40 different parkruns that I have now attended.
There was a very roomy cafe in the visitor centre doing cooked breakfasts, hot drinks and cakes and for just £4 you could have a hot drink and a cake. What a complete bargain!
Both Jacqueline West and myself both said how much we liked this little gem of a parkrun and would love to return when the weather is a bit warmer.
Below is the report from Louise Hogan from For the Love of Trails in South Wales:
The Run Wales social running celebration relay reached Gnoll parkrun today! We were very happy to take to the tracks and trails of a frosty Gnoll park this morning to share the love of trail running with everyone.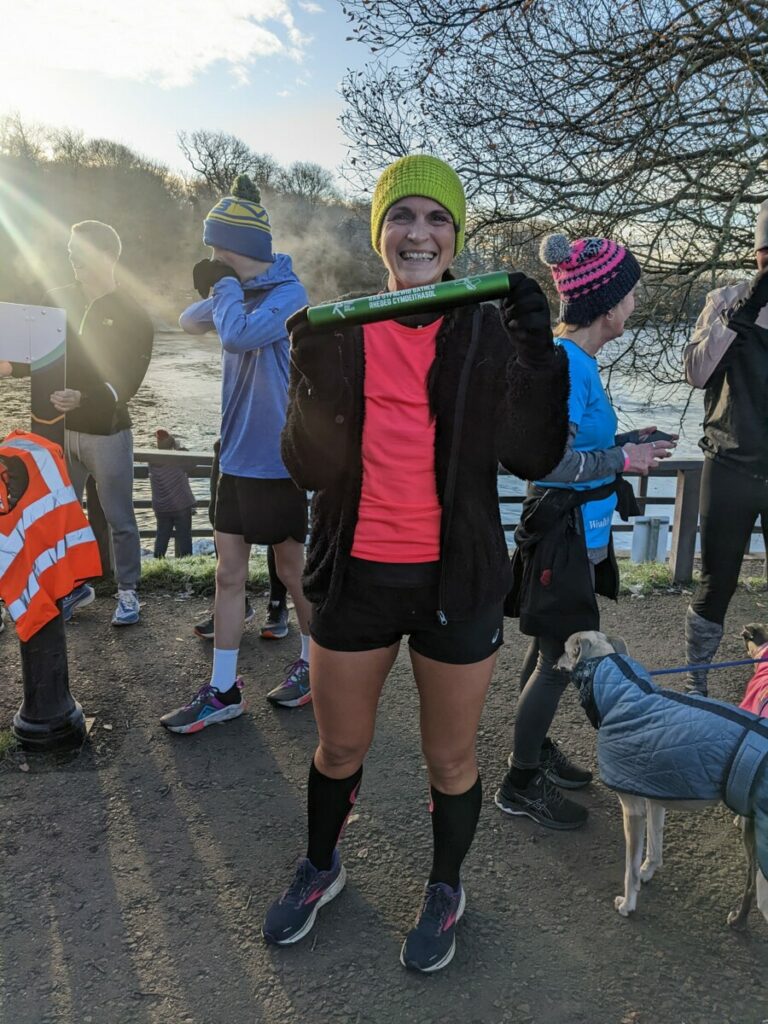 The baton brings attention, especially if you decide to run with it (thanks to Rachel at Swansea Striders for the idea!!) and a great opportunity to let everyone know about the joys of social running groups in the area.
We are what the name suggests – lovers of all the trails we can find in South Wales, and welcome everyone to join us.
We love to find out about new routes from you as well and enjoy a cuppa and cake!!!
A big heartfelt thank you to all the volunteers at the Gnoll today. We hope you were warm enough whilst encouraging all the park runners and walkers around the course. And thank you to the lovely 4 legged friends that let us give them lots of attention too!
Can't wait to see you all again.
Lots of muddy love from
For the Love of Trails in South Wales
---
For the Love of Trails in South Wales will be joining members of Just Run Penybont next week as the celebration baton visits Maesteg parkrun for its final event of 2022. The relay will resume on 7th January 2023 at Porthcawl parkrun.
Please come along and support the celebration relay in helping raise awareness about social running activities in your area.