The Run Wales Celebration Relay is a fantastic opportunity to share the joys of social running across the country as the Celebration Baton travels to every parkrun event in Wales. We encourage all of our social running groups to get involved by attending the parkrun events in your area, supporting with volunteers and showcasing the amazing social running opportunities you provide in your local community as the Celebration Baton reaches events in your area.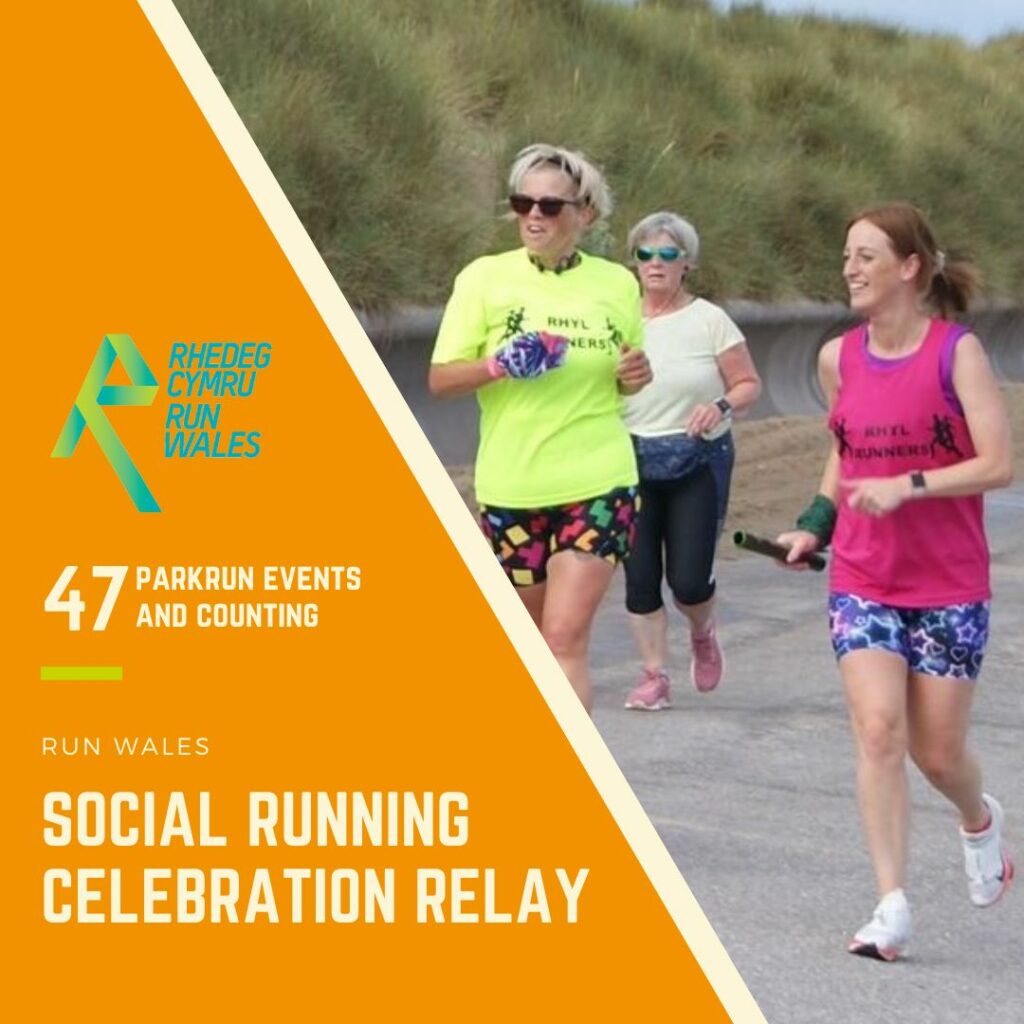 ---
Register your group's interest in participating in the Run Wales Celebration Relay at your local parkrun events
This is your opportunity to show your local community what an amazing group you are and why people should come and join you! Remember, all social running groups registered with Run Wales can claim their own Run Wales baton to keep for use within their group by actively participating in a parkrun event (with runners/walkers and volunteers) and contributing to a collaborative Run Report which will be shared with the parkrun event team and published by Run Wales. If your group is not already registered with Run Wales (you can check our Group Finder to see if you are there), registration is free and simple, and the benefits are great!
Understanding that there are multiple groups represented at many parkrun events, we request that one 'lead group' to take responsibility for bringing the Celebration Baton to a specific event and passing it on to the lead group at the next event, so please use the form below to tell us which is your group's 'primary' parkrun event as well as which other events are within your groups 'catchment' area that you intend to participate in for the Run Wales Celebration Relay.
---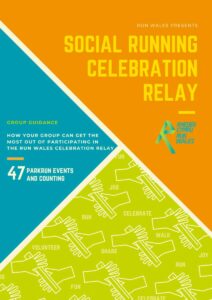 Group Guidance for participating in the relay
We have produced a step by step guidance document to help your group get the maximum benefit from participating in the Celebration Relay at one or more parkrun events. Click on the image to download the document.
---
Track the baton and see where it's going next…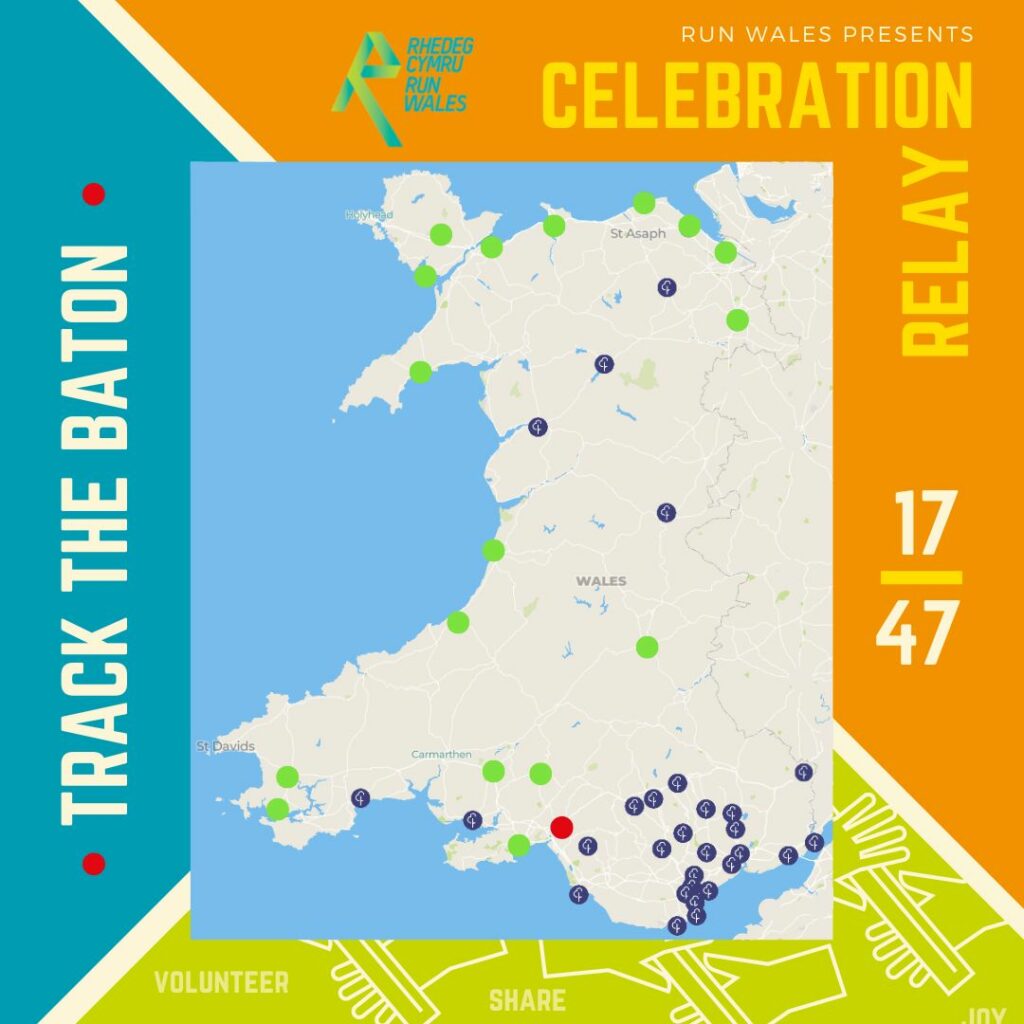 The Celebration Relay was launched on Saturday 2nd July at Nova Prestatyn parkrun, which is currently the most northerly parkrun in Wales, and will travel the country before completing its journey at Cardiff parkrun, the first parkrun in Wales.
As far as possible, we are trying to guide the Celebration Baton on a relatively smooth route from north to south, but appreciate that sometimes there may be a need to jump around a bit to suit parkrun event teams and the running groups in the area. If we have to miss out an event, we will do our utmost to return for a visit at a later point.
This image shows all the parkrun Cymru events as blue dots. The red dot indicates the next stop for the Celebration Baton and relay event. The dots turn green after the relay has visited each parkrun event.
Whilst we can draft the baton's route, the Run Wales team will liaise with parkrun event teams and the Run Wales groups to ensure that the relay doesn't clash with other events, so will confirm dates as we go. The table below gives an indicative idea of when the baton will be in each region, and confirmed dates will be updated as the route is finalised.
5k parkrun Event
Junior parkrun Event
Anticipated Date
Confirmed Date

Nova Prestatyn

[read about it]
2 July 2022
2 June 2022
Prestatyn Prom
3 July 2022
3 June 2022

Greenfield Valley

[read about it]
9 July 2022
9 July 2022

Wepre

[read about it]
16 July 2022
16 July 2022

Erddig

[read about it]
23 July 2022
23 July 2022
Alyn Waters
24 July 2022

Ruthin Memorial Playing Fields

27 May 2023

Penrhyn

[read about it]
6 August 2022
6 August 2022

Newborough Forest

[read about it]
13 August 2022
13 August 2022

Conwy

[read about it]
20 August 2022
20 August 2022
Conwy Nature Reserve
21st August 2022

Nant y Pandy

[read about it]
27 August 2022
27 August 2022

Hafan Pwllheli

[read about it]
3 September 2022
3 September 2022

Dolgellau

3 June 2023
Newtown
10 June 2023

Aberystwyth

[read about it]
24 September 2022
24 September 2022
Aberystwyth
25 September 2022
Pont y Bala
17 June 2023

Llanerchaeron

8 October 2022
8 October 2022

Groe

[read about it]
15 October 2022
15th October 2022

Haverfordwest

[read about it]
22 October 2022
22nd October 2022

Milford Waterfront

[read about it]
29 October 2022
29th October 2022

Colby

24 June 2023
Sandy Water
1 July 2023

Llyn Llech Owain

[read about it]
19 November 2022
19th November 2022

Brynaman

[read about it]
26 November 2022
26th November 2022

Swansea Bay

[read about it]
3 December 2022
3 December 2022
Swansea Prom
4 December 2022

Gnoll

10 December 2022
10 December 2022
Gnoll
11 December 2022
Maesteg
17 December 2022
17 December 2022
Porthcawl
7 January 2023
7 January 2023
Bridgend
Aberdare
14 January 2023
Merthyr
21 January 2023
Bryn Bach
28 January 2023
Bryn Bach
29 January 2023
Pontypridd
4 February 2023
Pontypridd
5 February 2023
Penallta
11 February 2023
Penallta
12 February 2023
Aberbeeg
18 February 2023
Pontypool
25 February 2023
Pontypool
26 February 2023
Cwmbran
4 March 2023
Coed Cefn-pwll-du
11 March 2023
Barry Island
18 March 2023
Barry
19 March 2023
Cosmeston Lakes
25 March 2023
Grangemoor
1 April 2023
Trelai Park
8 April 2023
Llanishen Park
15 April 2023
Tremorfa
22 April 2023
Newport
29 April 2023
Newport
30 April 2023
Riverfront
6 May 2023
Rogiet
13 May 2023
Rogiet
14 May 2023
Severn Bridge
20 May 2023
Chippenham Playing Fields
8 July 2023
Cardiff
15 July 2023
Cardiff
Bailey
Dixton
---
Submit your Run Report and claim your Run Wales baton!
Here you will be able to submit your contribution towards the collaborative Run Wales Run Report, which will be shared with your parkrun event and on Run Wales channels. Your group will have been provided with some guidance about what you might like to include in your section of the report. When you submit your content, you will also be able to claim a Run Wales baton for your group to keep as a reminder of your involvement and use in your running activities.