It was a double-whammy at Nant y Pandy parkrun this weekend with the Run Wales Celebration Relay returning to Anglesey as the volunteers and parkrunners also celebrated their 4th anniversary in this oasis in the centre of the island. Representatives of four local Run Wales groups, were there to lend their support as runners and volunteers, including a giant red squirrel as a timekeeper! The bumper turnout also saw the course record broken, lots of brand new parkrunners, milestone celebrations and plenty of personal achievements being realised.
The Celebration relay provides all Run Wales registered groups with a tremendous opportunity to showcase their group, sharing information about their activities and encouraging more people to participate in social running outside of their regular weekly parkrun. We are encouraging groups to support their local parkrun by offering to volunteer as well as run, jog or walk at the relay events.
8/47: Celebration Relay Run Report – Nant y Pandy parkrun
---
This weeks run report contains contributions from a number of the Run Wales registered groups who participated in the event.
What an amazing morning we had at Nant y Pandy parkrun this week, with so many reasons to celebrate!! I fear a long run report is about to unfold…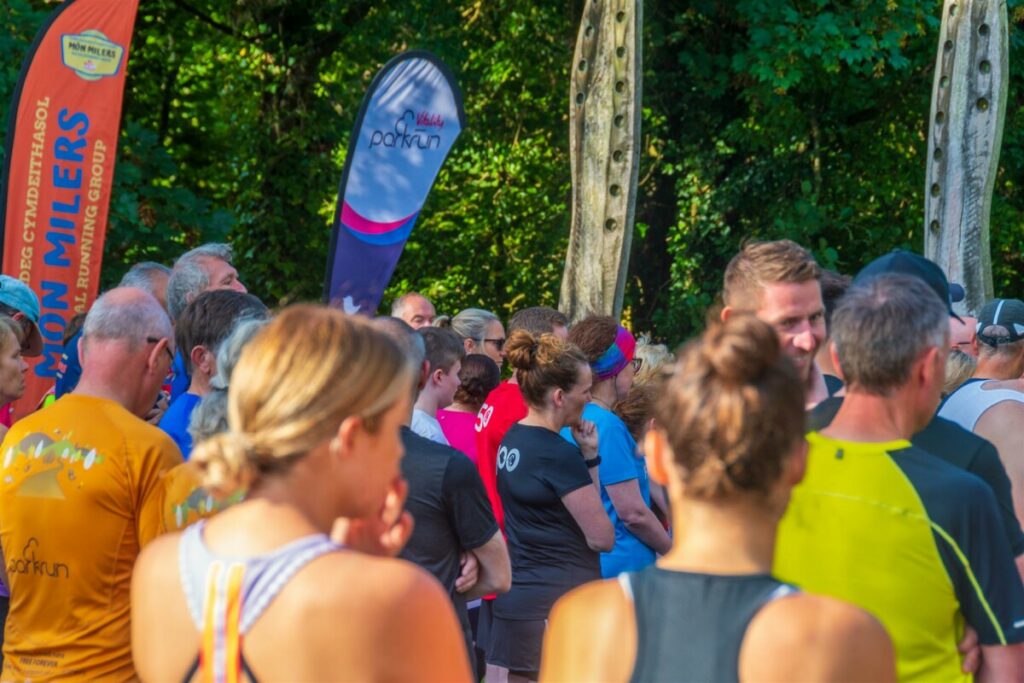 It was an absolute delight to see so many happy and eager faces gathering in the car park by the Nature Reserve on a bright and sunny morning as the volunteer team put the final touches to the finish funnel and loaded the table with cakes.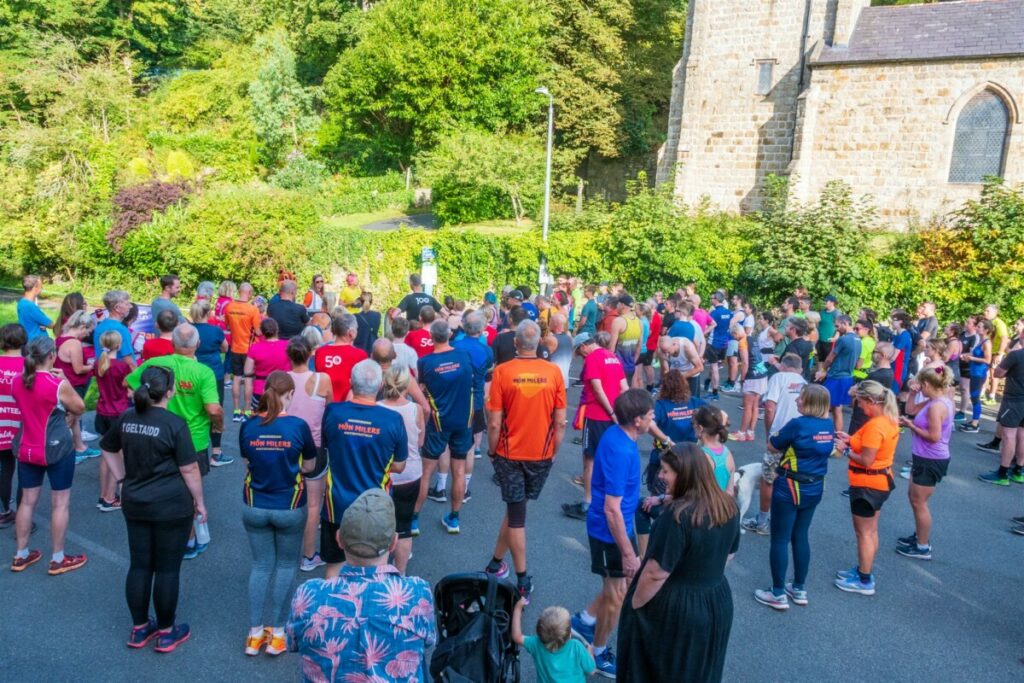 Today was a special occasion in that we were celebrating 4 years of Nant y Pandy parkrun in Llangefni, as well as the arrival of the Run Wales Social Running Celebration Relay.
Our regular, ace volunteer photographer was kept busy capturing group shots as people prepared for their Saturday morning 5k. Also busy, was our giant red squirrel, who was very popular with the crowd (and equally skilled with the parkrun Virtual Volunteer as a timekeeper)! Spotting our resident red squirrels as the course passes through the woodland is always a joy, but never guaranteed, so it was lovely to have a giant version that was easier to photograph!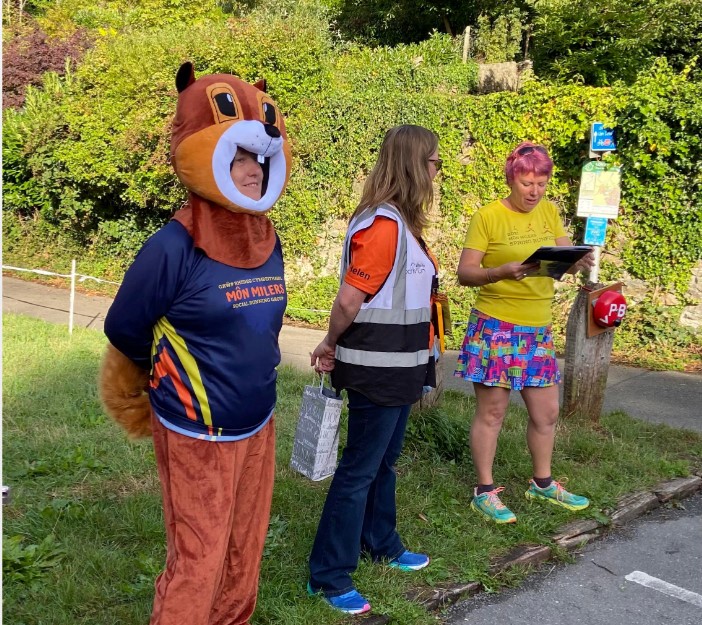 The Event Director welcomed the gathering crowd, and gave some highlights of the past 4 years, celebrating the efforts of the volunteers, who are the lifeblood of every parkrun event across the world.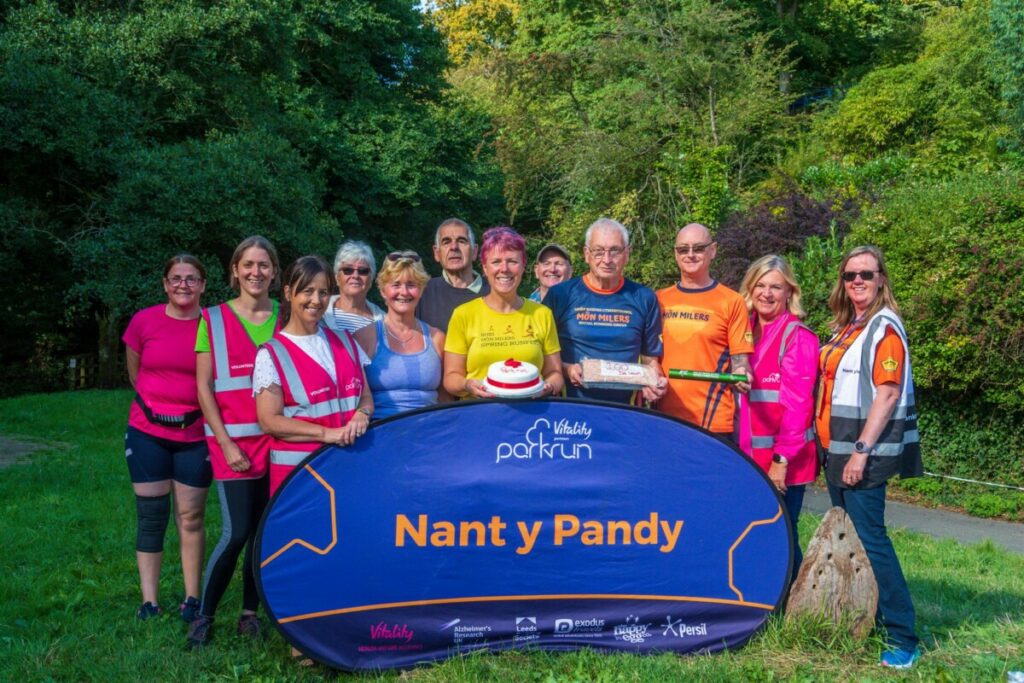 Special mention was made of two marshals who have each volunteered on over 100 of the 125 events here in Llangefni, so I am sure they both received as much support as they gave to all the parkrunners as they passed this morning.
Before the safety briefing and course overview, the ED explained a little about the national Run Wales Celebration Relay as the baton tours every parkrun event in Wales, and introduced the 4 local social running groups who were supporting it here at Nant y Pandy. The Amlwch Arrows, Canicross Anglesey, Môn Milers and Rhedwyr Maelog are all represented here in this run report, so if you'd like to find out how to join them, have a look on the Group Finder at www.irun.wales.
The Run Wales baton was carried this week by Nick Houghton, Môn Milers' first runner home, who had a great run this week, getting so close to his goal time. Rhedwyr Maelog runner, Armon Williams, also had a great run today, coming in second place with a PB of 18:07.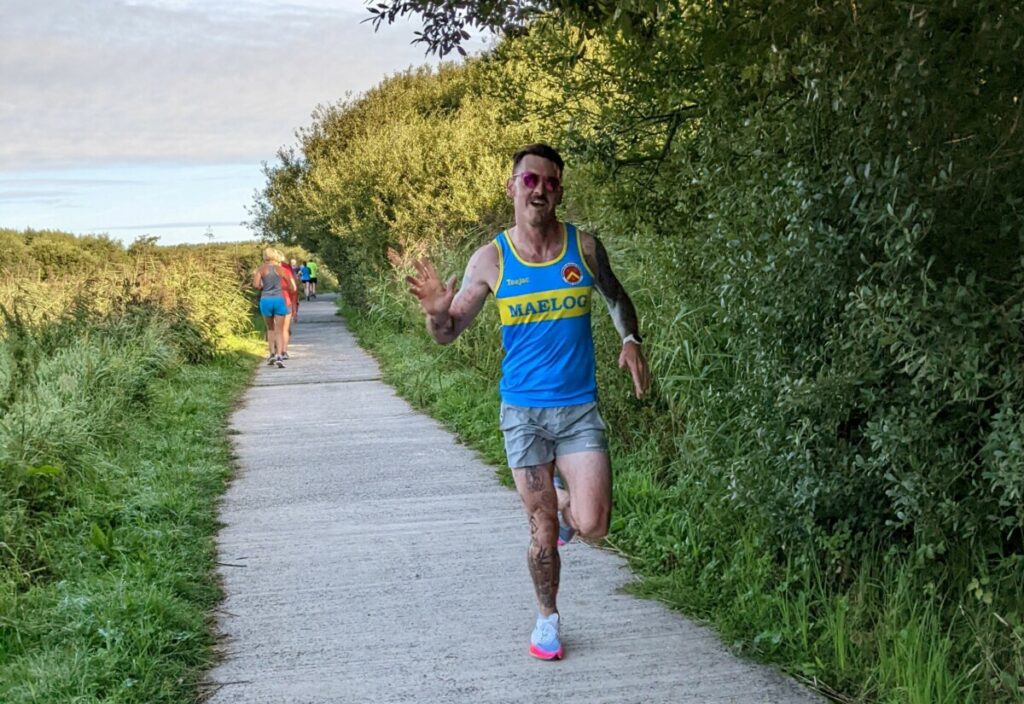 However, we salute our first finisher this week for breaking the course record on our anniversary! George Ravenhall of North Leeds Fell Runners flew across the link in a blistering 16:44, bagging himself a PB into the bargain. Well done George, our congratulations on a fantastic run!
The first of our 17 junior parkrunners this week was the 5th person across the line – well done to Tristan from Wakefield District Harriers & AC – great running! Our first female finisher was also a visitor this week – Penny Lane Striders' Hayley Fairclough took that title today on her 7th visit to Nant y Pandy – da iawn.
Over half of the 151 people completing the out-and-back course here today were doing so for the first time, most of whom were visiting the area, but amazingly, there were also 10 people completing their very first parkrun, so a very warm welcome to the parkrun family to Liam Wallace, John Leaver, Dan Povall, Hannah Courtney, David Hughes, Mac Mackenzie, Sue Howe, Cat Taylor, Rhys Ward-Davies and Julia Deane.
Not only was this Sue Howe's first parkrun, it was also her graduation 5k run following a recent beginners 'Zero to Hero' course that she completed with the Môn Milers, and she absolutely smashed it today, running with a couple of Run Leaders from the group. We hope you all enjoyed your first parkrun experience and will soon become regular parkrunners picking up those milestones.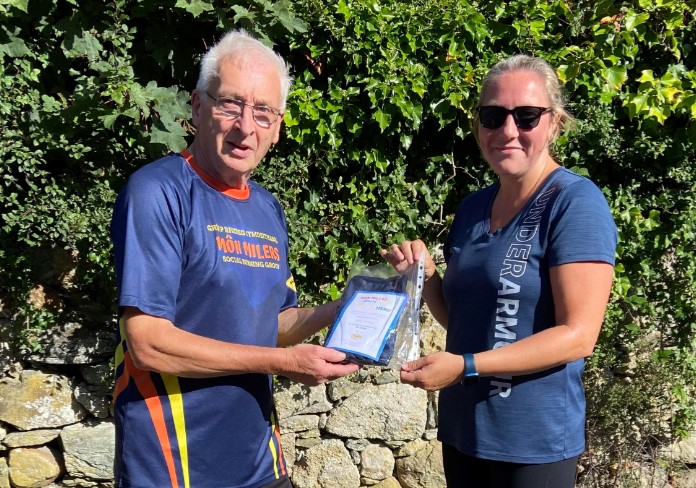 Two milestones were celebrated here this week. Congratulations to Andy John, who joined us for the 6th time at Nant y Pandy to celebrate his 50th parkrun. Môn Milers' Gwilym Jones ran his 100th event today, supported by all of his teammates and accompanied by his granddaughter. Da iawn Gwilym, and thank you for the fabulous cakes, which were greatly appreciated by all!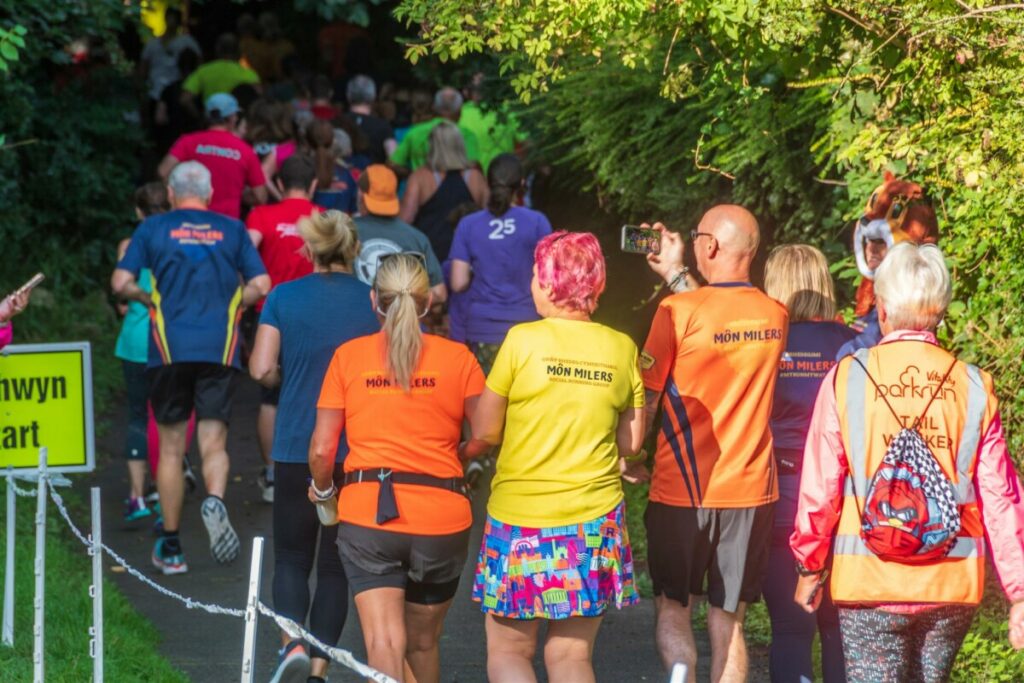 The picturesque and varied course here at Nant y Pandy has a few challenging 'bumps' as the parkrunners set off on the riverside path through the woodland, which does a good job of spreading the pack out, giving everyone a bit of space to be able to appreciate the scenery! The course levels out as the path breaks out of the woods and through watermeadows, over the river on boardwalks and out to the Llyn Cefni reservoir, which is always a welcome site, with the turnaround point not far away.  This week we have extra photos of runners out on the course thanks to our 'mobile photographer' snapping and running, providing a sneak peek for anyone unfamiliar with the route (and receiving lots of smiles and waves in return).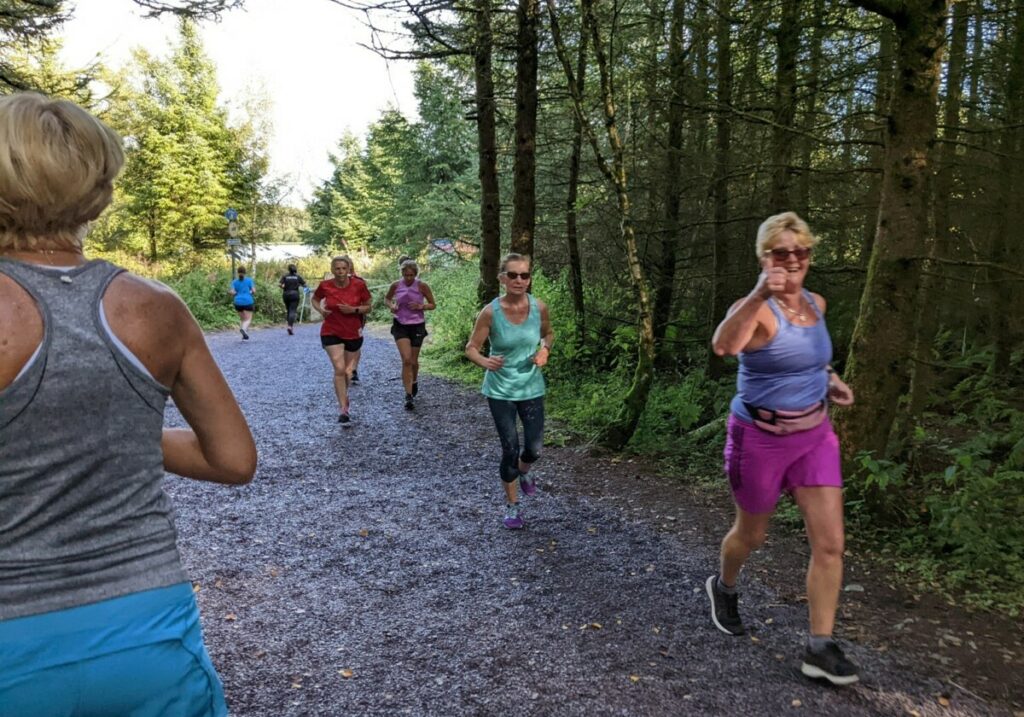 Despite the course here at Nant y Pandy being unsuitable for parkrunning with dogs, due to some narrow sections and the out-and-back nature of the course, it was lovely to have members of Canicross Anglesey both running and volunteering at the event, and to be on hand to talk to people about how to run safely with their dog and local opportunities to join canicross specific runs.  They have an introduction into Canicross session on Saturday 3 September at 9am in Newborough Forest for anyone new to the sport, so look them up and book a place!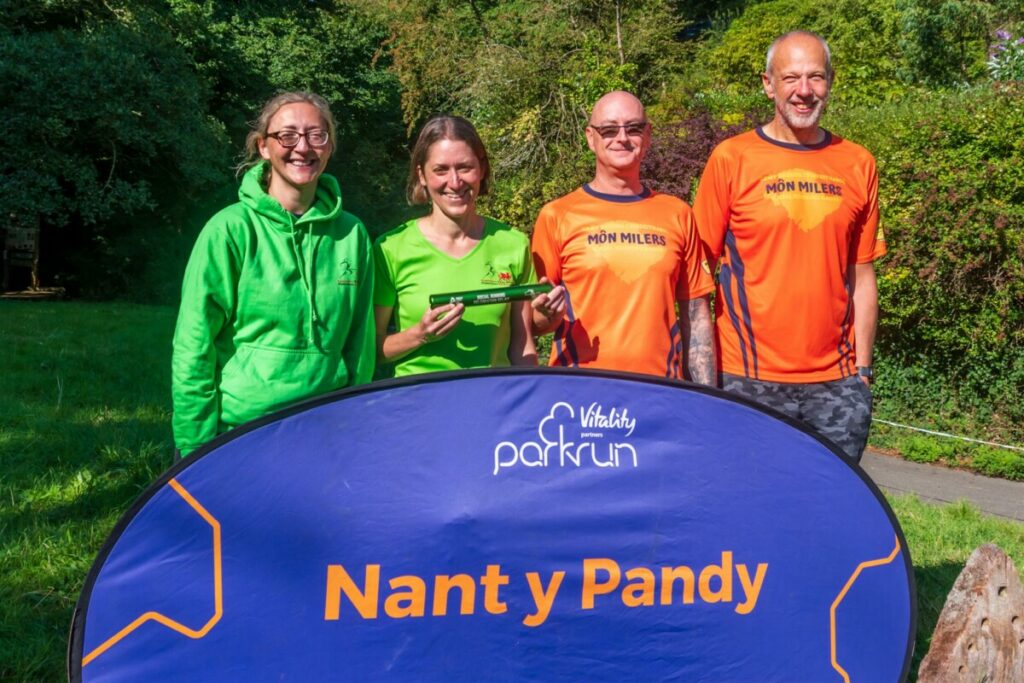 Rhedwyr Maelog is a multinational group who welcome runners of mixed ability, we support and encourage each other to get the most out of our runs. We have plenty of chat on our runs but also have a good workout with some friendly competition. We often have visiting runners as well as a core group of regulars, and so if you are in the Rhosneigr area and you enjoy running please come and join us.
Another new social running group that was represented at today's parkrun was the Amlwch Arrows, another friendly group on the island supporting runners to get out and enjoy our beautiful island.  As a new group, the Arrows are committed to training some of their runners as qualified Run Leaders, and look forward to becoming a fully-fledged Run Wales group when that qualification is complete.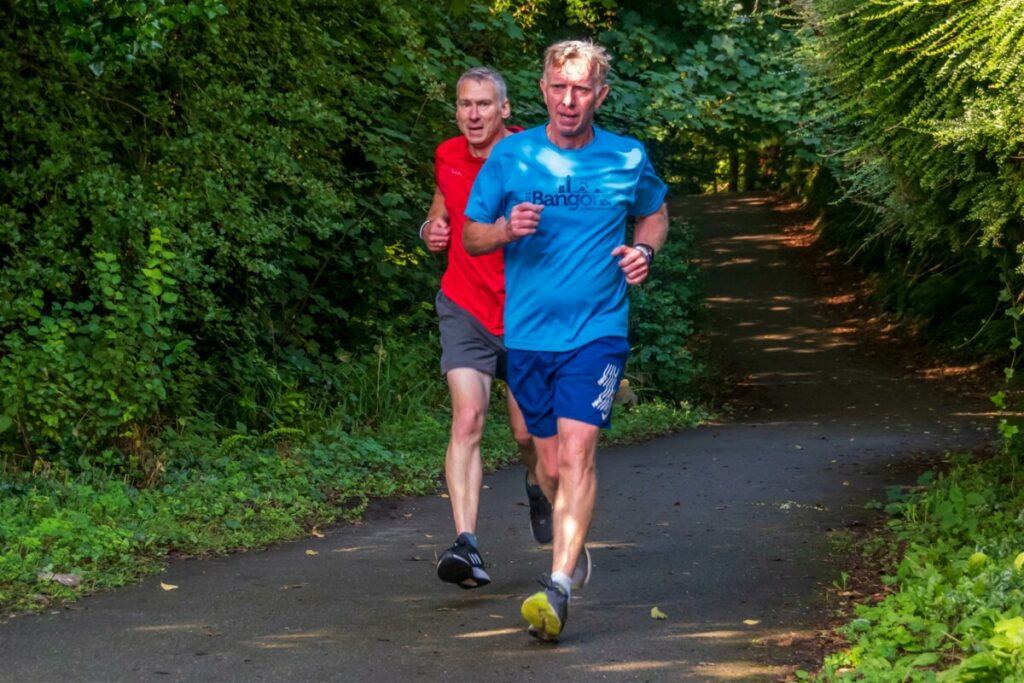 The Môn Milers are the largest social running group on the island and had 27 members participating in Nant y Pandy parkrun this week, either as a runner, a volunteer or both (there are a number of volunteer roles that also enable you to run)! 
It was fantastic to see so many people out supporting everyone to enjoy their parkrun experience and celebrate not only Sue's graduation run, and Gwilym's 100th parkrun, but even just the achievement of making it out of the door and to the start line! Sometimes these can be the biggest achievements and we applaud you all.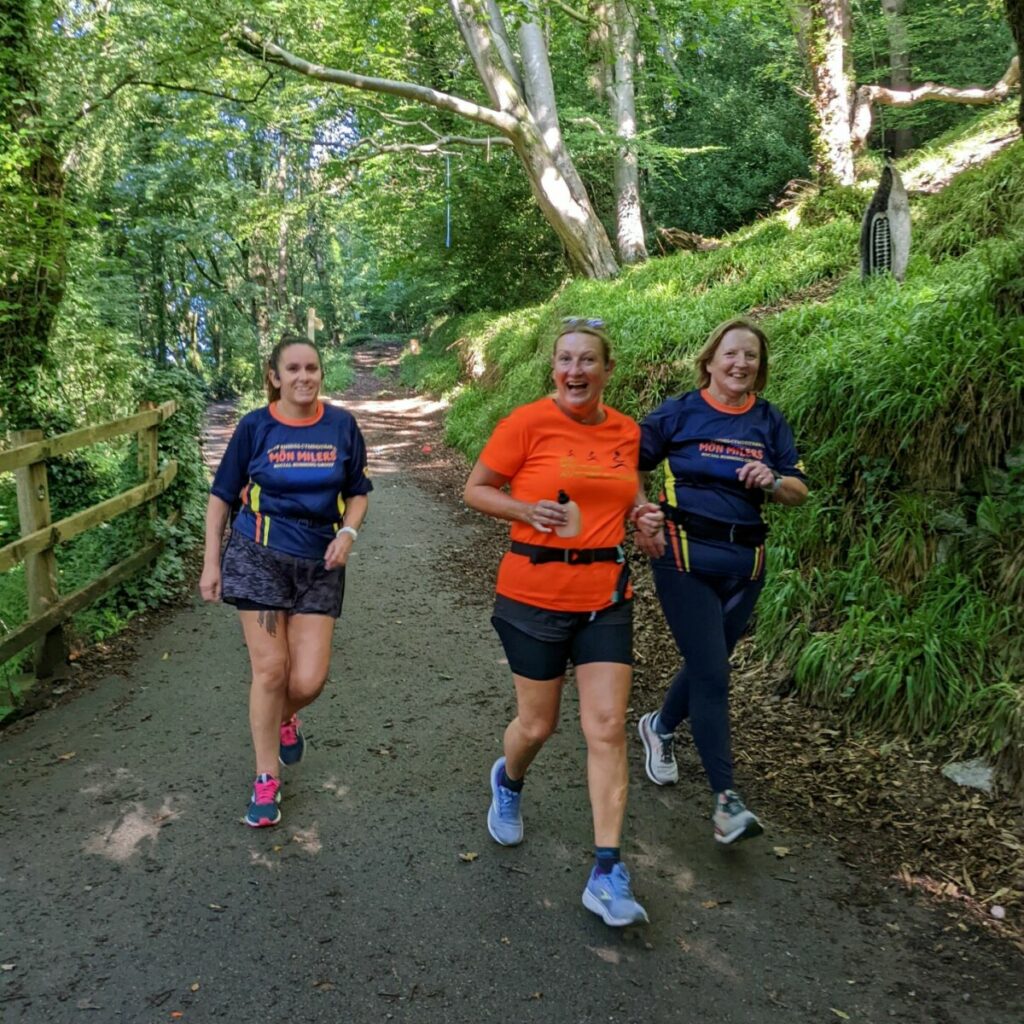 The Môn Milers hold beginners courses throughout the year, providing a structured plan to help people progress from walking to running 5k, encouraging participants to use a weekly parkrun to support their training. They have a new 10 week course starting on 13th September which is held in a private, traffic-free environment and led by fully qualified volunteers. If you know someone who would like to start their running journey, get in touch to find out more.
Next week, the Môn Milers are planning to do a little team parkrun tourism and take the celebration baton to Hafan Pwllheli parkrun and highlight the joys of having a social running group. Run Wales have been unable to identify any social running groups already established in the area, so if you are one, or are interested in setting one up, get in touch with irun@runwales.org.uk or chat to any of the Mon Milers next week. The Môn Milers are also extending an invitation to all other local groups to join them next week for a fun morning in Pwllheli.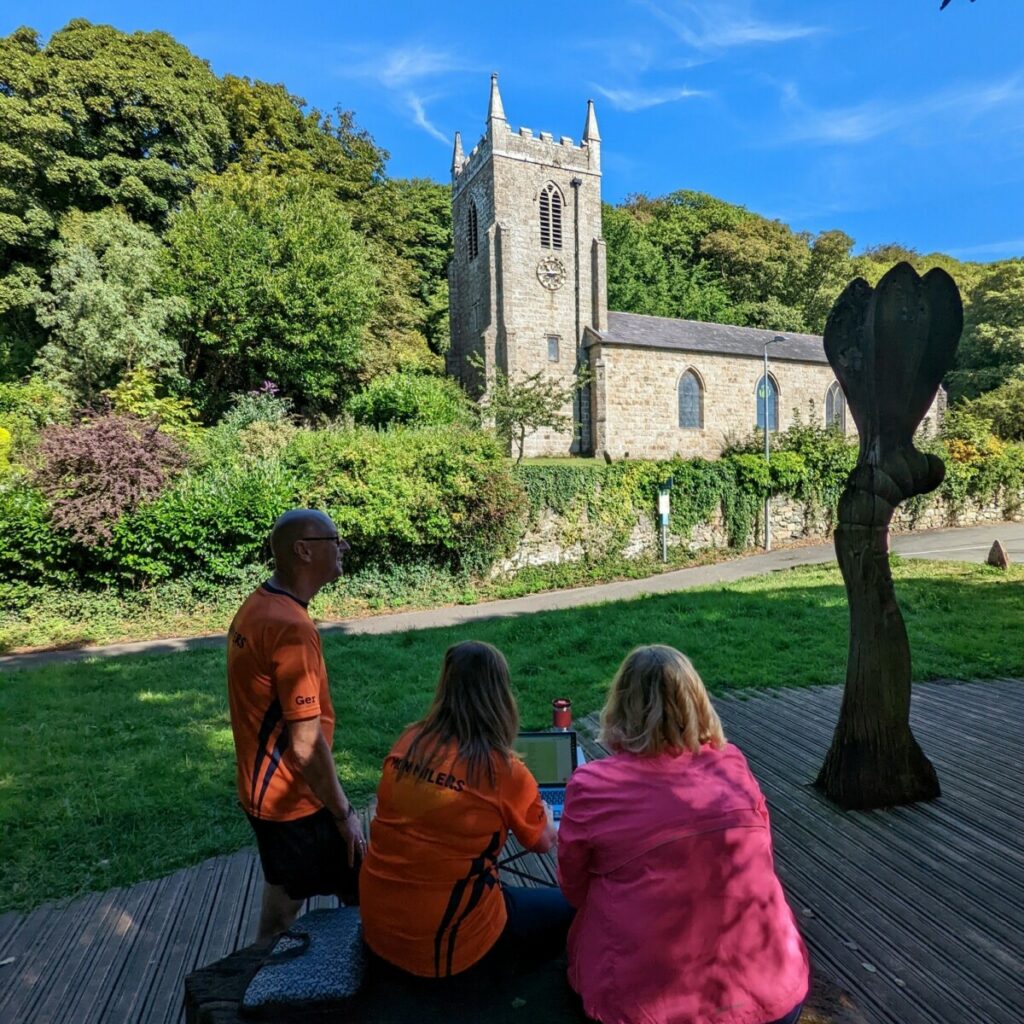 Run Wales supports the establishment and development of social running groups, providing more opportunities for people in Wales to enjoy running together safely.  If you have a social running group (or would like to start one) and would like to know more about registering for support with Run Wales, head to www.irun.wales and get in touch.
This week 151 people ran, jogged and walked the course, of whom 65 were first timers and 22 recorded new Personal Bests. Representatives of 33 different clubs took part.
The event was made possible by 19 volunteers:
Sue JONES • Dylan REES • Helen ROBERTS • Josie RHISIART • Sal SEENEY • Sophie LUCAS • Geraint ROBERTS • Carolyn JONES • Richard COUPE • William PRITCHARD • Janice DAVIES • Robin EVANS • Wendy JONES • Gwenda HUGHES • Keith DAVIS • Ann DAVIS • Adel PRITCHARD • Caren ROBERTS • Gethin DAVIS
Today's full results and a complete event history can be found on the Nant y Pandy parkrun Results Page.
The female record is held by Amelia PETTITT who recorded a time of 19:26 on 4th June 2022 (event number 113).
The male record is held by George RAVENHALL who recorded a time of 16:44 on 27th August 2022 (event number 125).
The Age Grade course record is held by Ann D'ALBUQUERQUE who recorded 88.18% (25:15) on 1st January 2019 (event number 19).
Nant y Pandy parkrun started on 25th August 2018. Since then 3,659 participants have completed 9,133 parkruns covering a total distance of 45,665 km, including 1,531 new Personal Bests. A total of 249 individuals have volunteered 2,103 times.
---
The Celebration Relay is heading to the Llyn Peninsula next week as it goes in search of social running groups at Hafan Pwllheli parkrun. We hope that some of our North Wales Run Wales groups, are able to inspire the formation of some new groups in the area as they share the joy and benefits of social running!