We were excited to see so many members of our Social Running Groups making the journey to take part in this iconic event, with castles, hills and views aplenty. There were those that have travelled far like those from Albany Road Run Club or some of our Clwb Run Wales members. For some the journey was more local, such as those from Mon Milers, Dwgy Dashers, Porth Eirias Runners and Rhyl Runners.
No matter how far one travels, there is always a keen sense of anticipation for the challenge ahead, featuring no less than 1247 feet of elevation as runners complete the 13.1 miles around Conwy and around the Great Orme, at the top of which the fantastic Porth Eirias runners were out volunteering as marshals and at the drinks station and at the baggage drop.
Clwb Run Wales member and coach at Albany Road Run Club coach Dave was lucky enough to win his place at the Conwy Half through the Clwb Run Wales ballot, for a race that is rated by many as one of the most scenic in the UK:
Read on below for his report of his experience:
---
I'd never been to Conwy before, but thanks to the Clwb Run Wales raffle that's exactly where I found myself headed on Friday!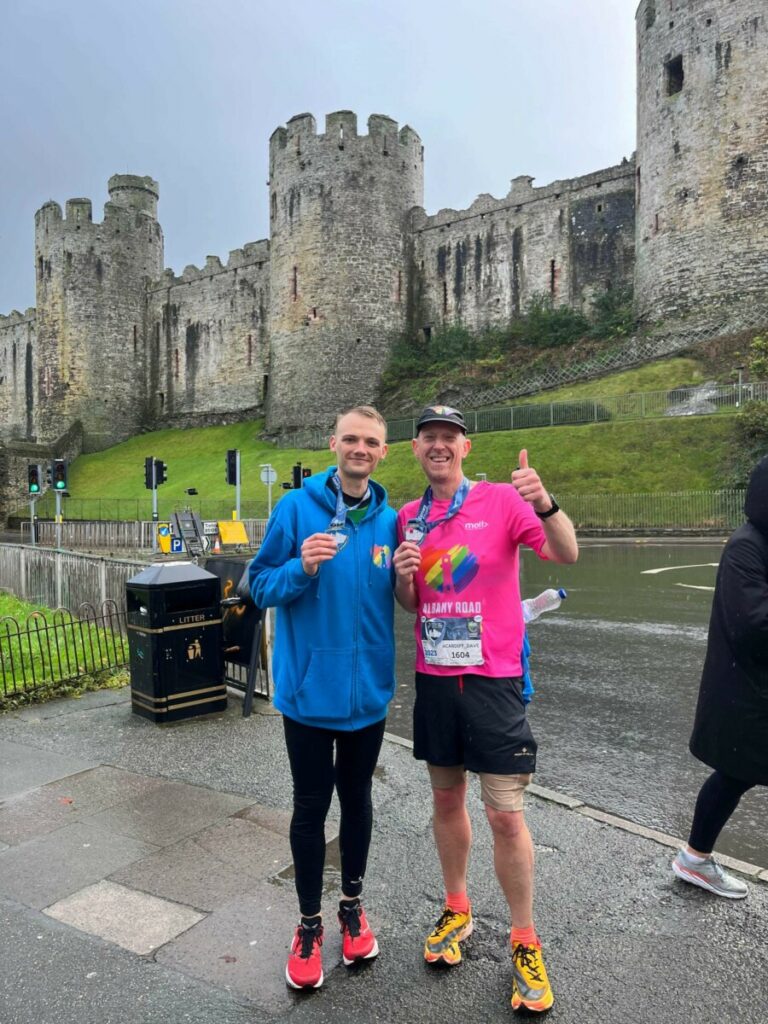 The Half Marathon looked equal parts spectacular and daunting and I was looking forward to it, having won an entry through CRW!
Before the race though I got to spend a few days wandering around Conwy with my mates, and it turned out to be a really lovely place. Cafes, one off shops, the castle and of course Conwy parkrun, where I volunteered as tail walker with my mate Lee, saving my legs for Sunday. As usual, the vibes at parkrun were fantastic – thank you to the other volunteers and the great crowd of runners and walkers.
So, Sunday arrived and I woke early to the sound of strong winds, which thankfully receded a lot as the morning went on.
The race itself was so well organised. It started half way over the main bridge next to the castle – what a spectacular spot! Amazing scenery in every direction.
There's no denying the rain was hammering down but once we were off it didn't really matter (apart from occasional big puddles!).
The route heads out of Conwy through the suburbs, loads of support on the way, before you find yourself at Llandudno pier, and it's there that our long ascent began.
Rising over 1100 feet on road up and around the great Orme (a spectacular peninsula) it was near the summit that we really began to appreciate how windy a day it was.
A huge thank you to all the marshals out on the day in particular those near the summit – the wind was so extreme I lost my cap twice, had to run back on the course to get it, and when I tried to put my coat on the wind pressed it against me so strongly I almost couldn't get my arms in it! 
It was such crazy fun though and everyone was in really good spirits – and it wasn't long before we began the long descent back towards Conwy.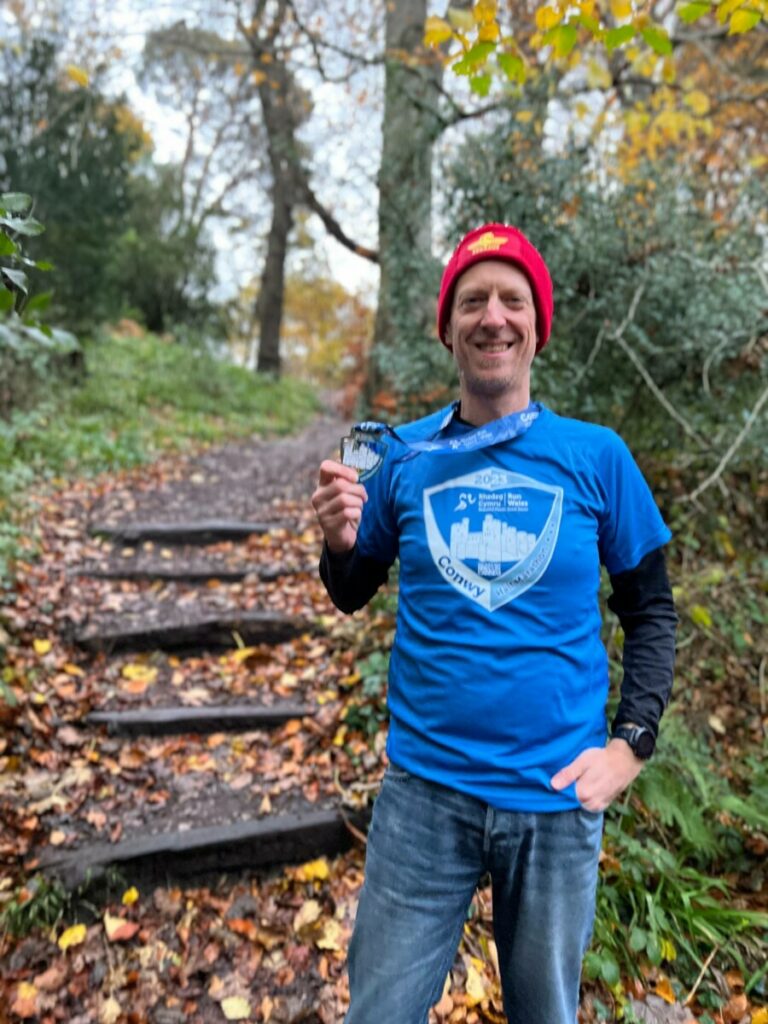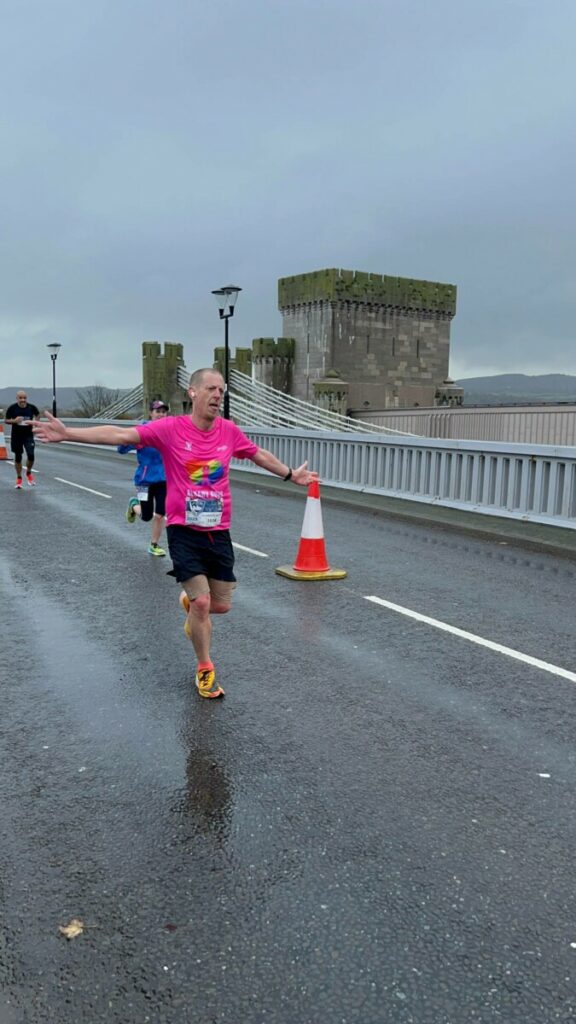 The last few miles we retraced our outward journey and seeing my friend Katie cheering (for the 4th time in different places – she was amazing!) – I took the opportunity to throw her my cap and coat so I was free of them for the final 5k.
Before I knew it I was running over the bridge with the castle backdrop and the finish line – what a spectacular way to end the race!
I'd highly recommend this race – it's a great experience, it's well organised, really scenic, and, if you care about your time, with the long descent back you can get a really good time despite the earlier climb.
But the best way to enjoy it would surely be taking in all those views, maybe running it with mates and laughing together at the ascent – and maybe the weather!
Thanks to Clwb Run Wales for the opportunity to run this race.
---