I started running back in 2016, always promising my brother in law that I'd run the local parkrun with with him one day- he always went on and on about it but he was a 'proper' runner so there was no way I'd keep up with him, even though he promised he'd stay back with me etc! I continued to run for a few months but the determination wore off, the nights got dark and cold and I gave up thinking running wasn't for me!
Tragically in 2018 I lost my brother in law to Mental Health, it gained another victim! From that day I knew that I'd run that parkrun one day, just for him!
In April 2019 myself and a friend plucked up the courage to join #justrunpenybonts C25K, I was extremely nervous and feared we'd be surrounded by all these proper runners and we'd be trailing behind. Well, this couldn't have been further from the truth! There was a whole group of us and with the help of Emma and Steph and support of the rest of the JRP team, we went from strength to strength over the weeks. In the first session I couldn't even run for a minute without stopping and I remember thinking 'how the hell am I going to manage 5k?!' Well on the 23rd May  I managed my first non-stop 5k, it wasn't fast by all means but I'd done it, just 8 weeks in and I remember crying on the final 500m knowing I'd done it!
On the 29th June 2019, exactly a year to the date that my brother in law died I ran Porthcawl parkrun, it was an extremely emotional day but I feel proud to have done it, for Jack! September 2019 then saw me run my first 10k event and I have many more 10ks planned for next year!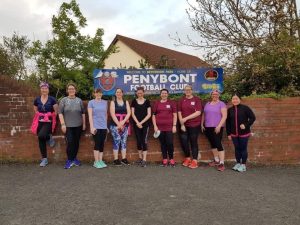 I have made so many friends through my running journey too. I suffer from Anxiety myself and I couldn't do the weekly runs without my little sidekicks Helen and Lindsay!
#justrunpenybont has changed my fitness, mental health and gained me a new hobby and lots of friends.
I never in a million years thought I'd class running as a hobby and I think I might just be a 'proper' runner now
---
If you're looking to get started on your own running journey via a Couch to 5k programme you can find out more here and search for groups to run with here.