Run Leaders are the backbone of running groups and clubs across the nation. They keep us safe but challenged and are key to ensuring that our group runs are fun, inclusive and interesting. Being a Run Leader can be the most rewarding role to take on, supporting others to start their running journey, or guiding more experienced runners to achieve a goal, keep motivated or inspiring them to take on a new challenge. However, it can be difficult to keep things fresh, or have the confidence to get out there and lead if you haven't been actively using your skills for a while.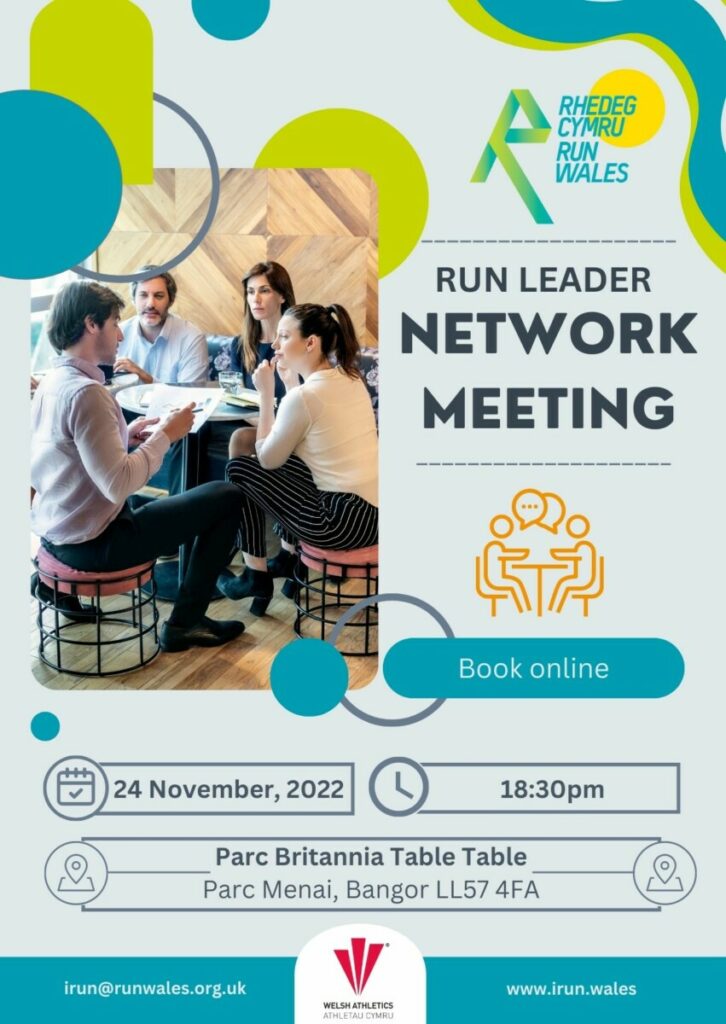 Our Run Leader Network Meetings are a fantastic opportunity to get to know some leaders from other local groups and clubs in a relaxed and informal environment, and chat through some of the issues you are facing, share ideas, ask questions and find new ways of supporting your runners.
We also encourage anyone thinking about becoming a Run Leader to come along, as these meetings are great way to find out more about the reality of leading, and why we love it.
Whilst we have been holding 'virtual' network meetings online, we are delighted to announce our first face-to-face meeting since pre-Covid. All Run Leaders (and potential Leaders) are invited to join us in Bangor on Thursday 24th November, when you will receive a warm welcome and an opportunity to strengthen your support network in the region. Please reserve your place via the short online booking form.
Run Wales encourages more runners to complete the Leadership in Running Fitness qualification, which will give them the basic knowledge and tools to support more people to find the joy of running within established clubs and groups, or to set up a new running group in response to local demand. The course can be completed entirely online, by uploading a video of your practical skills, or via a 'blended' option, in which you complete 4 online modules and come together with other new leaders and are supported through the practical element by your Coach Developer team. The current courses available are listed on the Welsh Athletics website and can be booked online.
Once qualified, we help Run Leaders to develop their skills and knowledge further, through signposting to additional training courses, or through informal opportunities such as the Run Leader Network Meetings. We also have a team of Run Leader Champions who can support novice Run Leaders, share their knowledge and experience to help Leaders support their groups, and be a local point of contact for questions and queries.
There is a raft of resources available to qualified Run Leaders through the Athletics Hub, but even more running group specific support available through the Run Leaders section on irun.wales, and in addition to all of this, there is the Run Wales LiRF Network on Facebook. With so much support and information available, what is stopping you – come and join the Run Leader revolution!!!