Run Wales are celebrating 6 years of supporting people to run, jog and walk their way to a more active lifestyle and are starting a campaign to share the joys of social running in every community across Wales as as we adapt to life 'post-pandemic'.
Run Wales was established in 2016 to inspire, encourage and support every adult in Wales to run, and in this time the programme has witnessed the social running community at its very best. We have been a part of incredible journeys of new runners becoming Run Leaders, celebrated outstanding achievements at the Run Wales Awards, and shared fantastic innovation as groups adapted to keep us active during lockdown.
At the heart of the Run Wales programme is the network of amazing social running groups right across the country, offering the population a myriad of safe, fun and inclusive running opportunities. Whilst we celebrate 6 years of supporting the establishment of new social groups and parkrun events in areas where there is unmet demand, encouraging more volunteers to develop their skills as qualified Run Leaders, and signposting runners to our fantastic groups, we are also looking forward to many exciting opportunities on the horizon.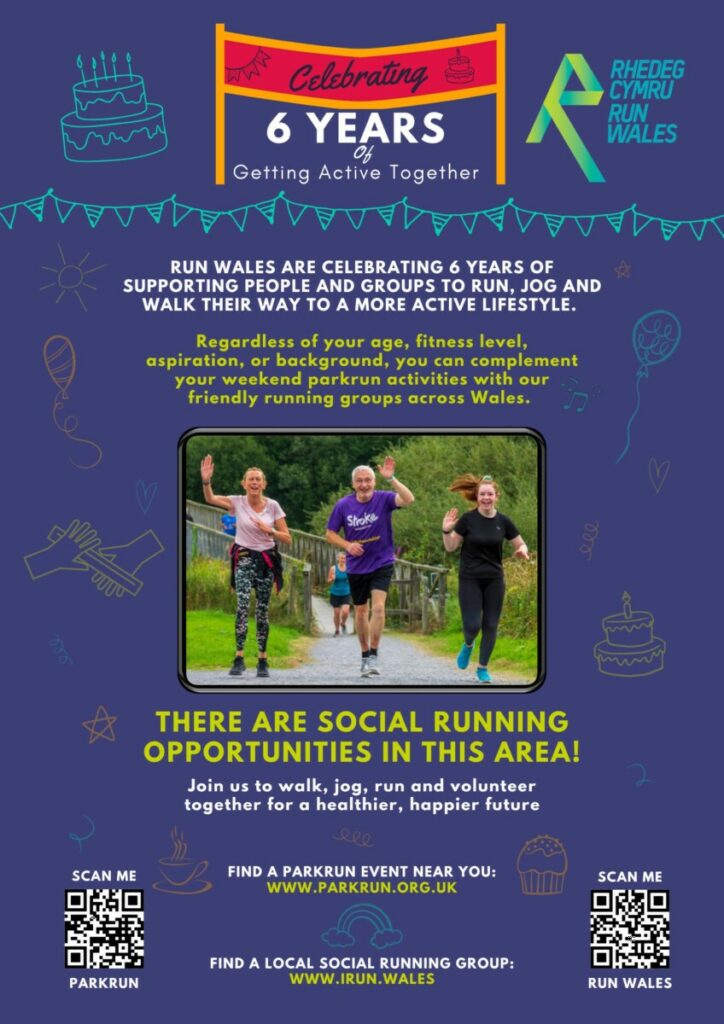 To remind our local communities that, regardless of age, fitness level, aspiration, or background, our friendly running groups are the perfect complement to the weekend parkrun activities available across Wales, we have created an eye-catching poster. Our registered groups can request copies of the poster, or download a printable version, which your members can display in appropriate locations throughout your local community. We want everyone to know that they will receive a warm welcome and a safe and supportive social running experience if they attend any of our fabulous Run Wales groups or a parkrun event.
You can download a printer-friendly version of the poster or, to order some of these purple posters for your group to distribute locally, please complete the request form at the bottom of this page.
All our registered groups can have their own webpage on irun.wales and be represented on the Run Wales Group Finder tool. The bespoke webpages provide great insight into each group, its activities, its volunteer team, and can even include some photos of your group in action. The posters use a QR code to direct people to their local group via the Group Finder, but as we want to encourage participation in all forms of social running, we also provide a link to find your local parkrun event too.
Please check the Group Finder to ensure that your group has taken advantage of having its own irun.wales webpage to showcase your activities. If your page needs updating, please return the completed Group Information Form to us at irun@runwales.org.uk as soon as possible. If your group is not currently listed or you have not yet registered as an official Run Wales group, registration is simple and free, so register your Group now and help us to help you!
Request some posters for your group
There are plenty of people who don't use social media and may not be aware that there are so many opportunities to run, so we can provide your group with copies of our full colour poster for your members to display within your community. Remember to ask for permission before displaying the posters, but here are a few suggestions of some places to try: GP/hospital waiting rooms, takeaways, leisure and community centres, local shops, and community notice boards.