It's no surprise that we meet some fantastic people in our social running community, and one of those people is Steve Whittingham.
Steve and his wife Cathy live in Macclesfield but have been part of the social running community in Prestatyn for a number of years when they pop over to stay at their caravan.
Run Activator Eva explains 'Steve and Cathy have been part of our parkrun community since we launched Bodelwyddan Castle parkrun in 2018 and then when it moved to Nova Prestatyn. As well as running they are a part of the core team of volunteers on a Saturday morning and have also given their time at the junior event on Sundays'.
Sadly earlier this year Steve had a devastating diagnosis of Stage 4 Prostate Cancer, and testament to the person he is he wanted to leave a legacy in the community he and Cathy have been so much a part of.
5k Your Way is a community-based initiative to encourage those living with and beyond cancer, families, friends, and those working in cancer services to walk, jog, run, cheer or volunteer at a local 5k Your Way parkrun event on the last Saturday of every month.
The charity promotes the benefits of exercise for people with cancer and after cancer. You can find out more about what they do, fundraising and more on their website and social media.
On Saturday 14th May, Steve and his family were at Nova Prestatyn parkrun to inform regulars of the launch.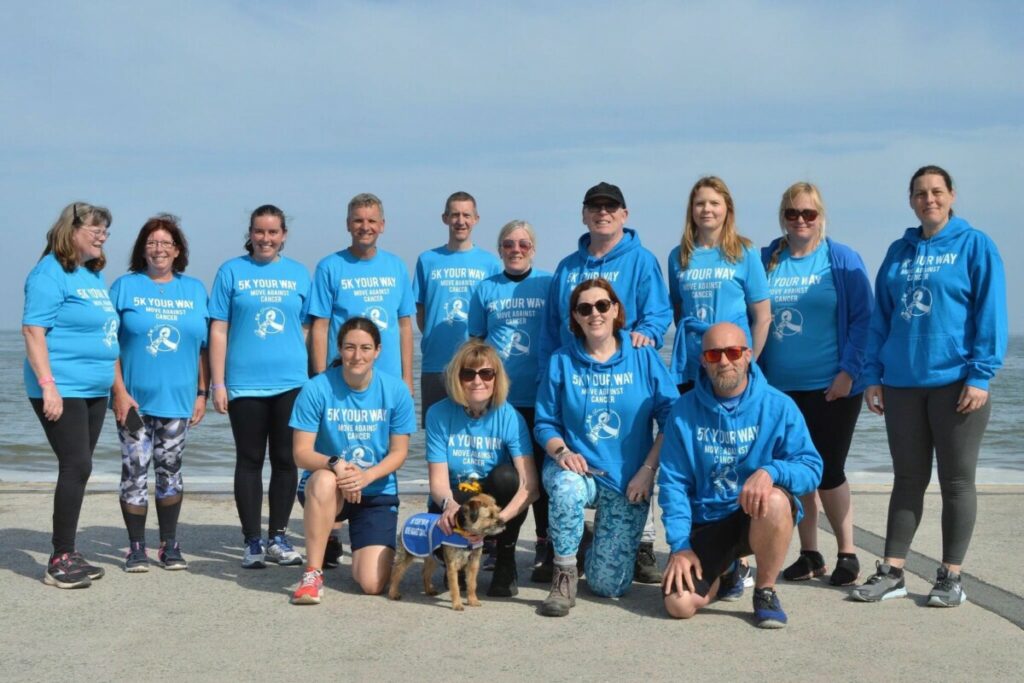 Steve's daughter Lauren has been instrumental in setting up a group in his hometown, and we're pleased that Steve himself has chosen to establish an event in Prestatyn as the second group in Wales.
The Prestatyn event launches on 25th June, you can see more on their dedicated Facebook page Prestatyn 5k Your Way
Steve's other daughter Claire and her wife Cassie were also in attendance as part of their training for the Way of the Roses Challenge they're running the 170 mile route from Bridlington to Morecambe to raise money for the charity 4Louis – a UK based charity that supports anyone affected by miscarriage, the death of a baby or child.
After their own recent sad loss, the couple wanted to raise funds so others can get support during such a difficult time.