Mat is a regular at Roath based Moti Albany Road Run Club and has recently received his Leader in Running Fitness qualification (funded by the club and Welsh Athletics), which he puts to good use supporting the runners at the twice weekly club sessions. Here's what he has to say about the club:
"Like many starting out, I did couch to 5k on my own, using a circuit of Roath Rec from my flat, running and run/walking until I could do the full 5k running, and after that I gradually built up to doing 5 miles.
All was going well and I felt like I was becoming a real runner. UNTIL – winter arrived and my motivation went!
I decided that I needed to find some way to continue my running and a workmate suggested joining a running club. I didn't think of myself as fast enough or fit enough to join a club!
My workmate continued to pester me and eventually I went to Moti Albany Road Run Club for a Brooks shoe try on event – I got given some nice freebies too!
I surprised myself and went back the next week, and it was a lot quieter without freebies being handed out 😀
Whilst I struggled along, a part of me enjoyed it so I continued to turn up and in the 5 years since then I've seen the club grow from a handful of weekly runners to 30, 40 or more as Dave Sinclair (@cardiff_dave) took over coaching responsibilities just over 3 ½ years ago.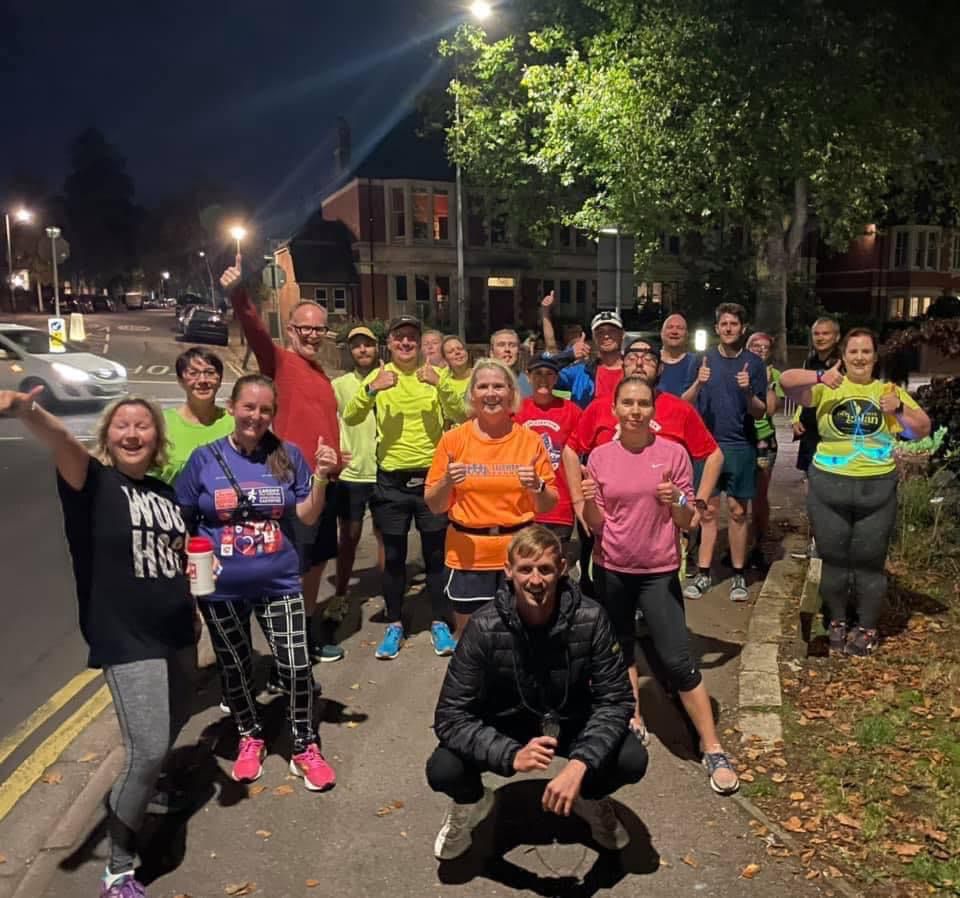 So why have I kept going to the Moti sessions on Tuesdays and Thursdays?
I'll answer my own question as the answers may help others who may be in my position:
• I'm not the fastest runner and so my biggest worry was getting left behind, however there are a wide range of speeds and there is always someone to run with – no one gets left behind;
• There's a great social side – after our club sessions we often head to the Pear Tree, the local pub, for a drink and a catch-up around 'our' reserved table by the window upstairs. We're also looking forward to our Christmas meal at the local pizzeria which we are taking over entirely for the night;
• Everyone supports and encourages each other and we have a great club community – whether you're a fast runner or not it does not matter, everyone is a part of it – it really does feel like you're running with a bunch of friends and I'd wager it's the friendliest club around;
• The training sessions are effective and you'll become a better runner. During lockdown Coach Dave even organised Zoom run club sessions where we would all go out individually, dial into a zoom call on our headphones and Dave would give us session instructions and motivation. Many club members took turns hosting, some with a great music background going on, and it really helped us all to keep running through a difficult time;
• You'll get the opportunity to spread your running wings outside of Cardiff. We've arranged many trail runs around south Wales and even a running weekend in Madrid – hopefully post-Covid we'll be back as it was a fantastic place to run (and eat!);
• Finally (and at last, after a long wait) we've got a club t-shirt, and it's fantastic. 48 orders have been placed by club members within the first few days. Expect to see them (you won't miss them!!) at your local parkrun soon!"
Moti Albany Road Run Club meet on Tuesdays and Thursdays. All sessions are free of charge.
For more details look them up on Facebook or contact Coach Dave at @cardiff_dave on Twitter or Instagram.