Tuesday the 16th of August marked the one year anniversary of Vale of Glamorgan based running group Rhoose Runners.
Launched back in August 2021 as lockdown rules were easing, the enthusiasm of founder Hannah Gaffney brought together 16 local runners to Rhoose's Milburn Park where they embarked on their inaugural run, a basic 20 minute out and back route, that all being well, would turn around at Cardiff Airport.
The following year, under Hannah's leadership and with the dedication of a small group of Run Leaders (LiRFs; Laura, Huw V, Karen, Julie and Jon), has seen the club grow in numbers, ambition and most importantly socially.
Benefitting from Rhoose's unique location, the group LiRFs are able to plan rotes that make use of and highlight the local landscape, including coastal paths, country lanes, trails, woodland etc as well as traditional road running.  Sessions are varied, challenging and most importantly a lot of fun.  The group prides itself on being a social running group and actively encourages and welcomes new members of all abilities.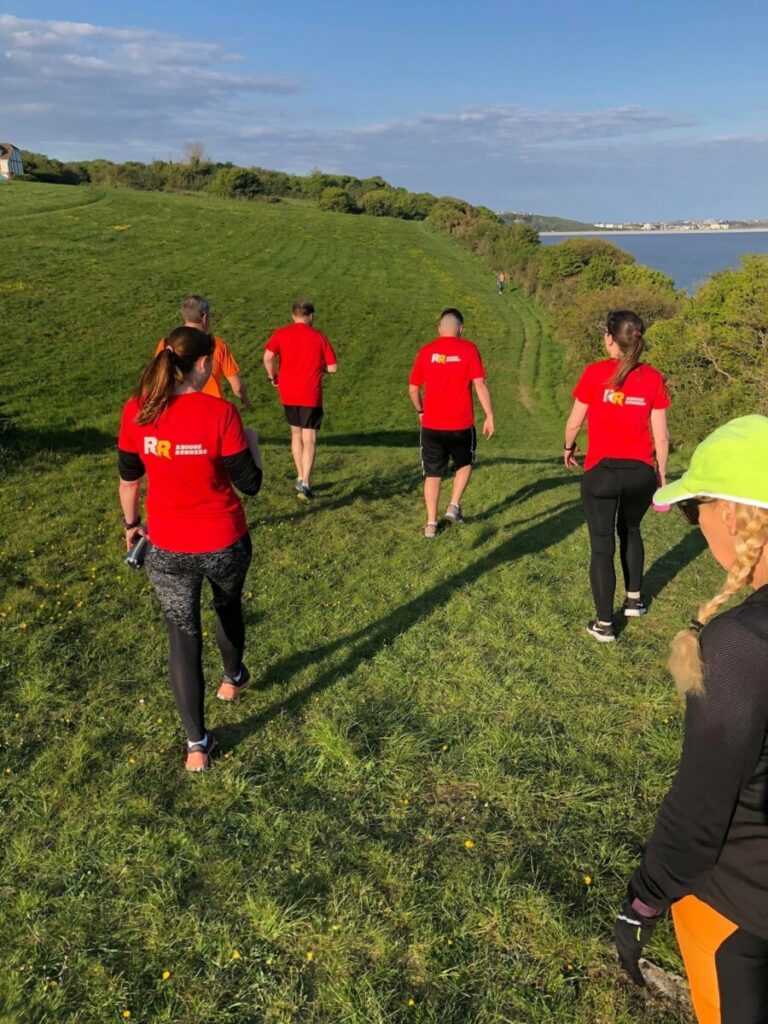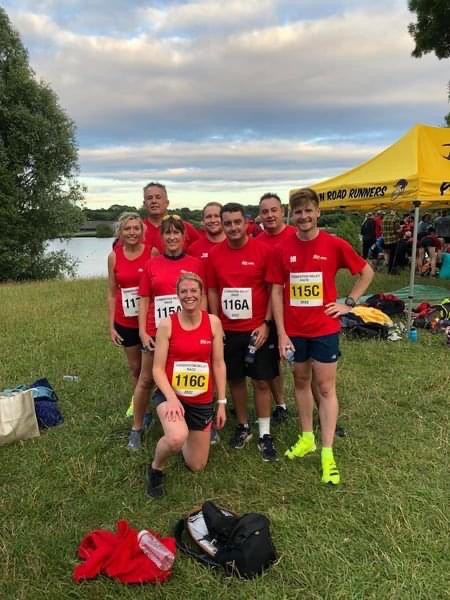 A group logo was designed by graphic designer (and Rhoose Runner) Adam Winstone and Rhoose Runners kit was launched.  The red of Rhoose Runners was initially debuted at the Cardiff Half Marathon in March and has been worn by runners at events ranging from The Bannister Miles right up to the Vale Coastal Ultra (and many in-between), with the group highlight of the year seeing 3 teams participate in the 2022 Cosmeston Relays.
The regular Tuesday night social run has been supplemented by a second Thursday night session and more recently an early morning Friday session.
With two new LiRFs (Huw M & Mark) and the first Run Coaches (Laura & Jon) almost qualified, there are ambitions to run supplementary coaching sessions to support local runners in their running goals and to help the local community find enjoyment through shared fitness.
To celebrate the last 12 months, Rhoose Runners are doing what they do best, going for a group run, then meeting in a local bar to undertake the "social" aspect of social running.  Here's to the next 12 months!!!!