Neither the King's coronation nor the weather detracted from the celebrations this week as members of RUNNewport threw themselves into a fun-filled volunteer takeover at Riverfront parkrun in recognition of the Run Wales Social Running Celebration Relay.
The Celebration relay provides all Run Wales registered groups with a tremendous opportunity to showcase their group, sharing information about their activities and encouraging more people to participate in social running outside of their regular weekly parkrun. We are encouraging groups to support their local parkrun by offering to volunteer as well as run, jog or walk at the relay events.
34/47: Celebration Relay Run Report – Riverfront parkrun
---
The grey and damp weather this Saturday morning didn't dampen the spirits of the 20-odd volunteers from RUNNewport who were staging a volunteer takeover at Riverfront parkrun.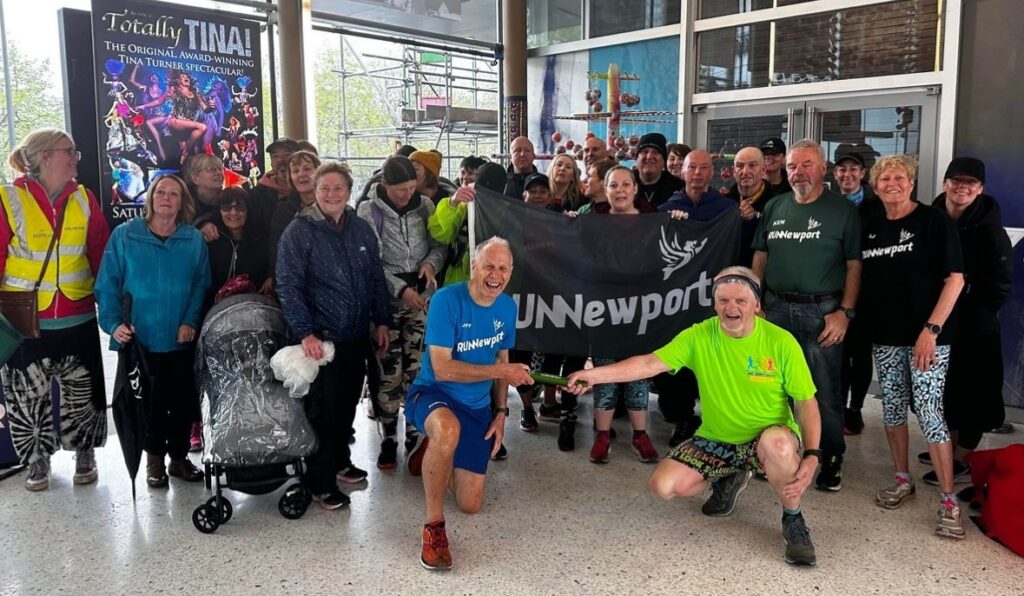 We were there to do our bit for the Run Wales Celebration Relay, where social running groups are being celebrated at parkruns across Wales and celebrate we definitely did! 
From timekeeping to tailwalking and every role inbetween, a member of RUNNewport carried out their duty with enthusiasm and commitment.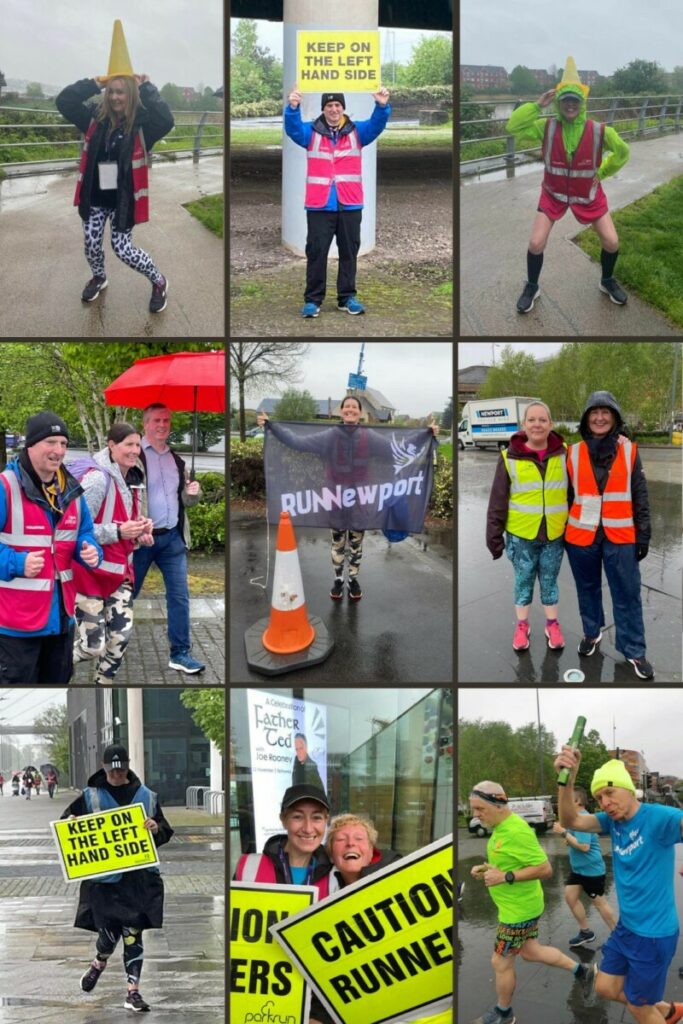 Riverfront parkrun is the home parkrun of most of our members, so we are all very familiar with the out and back, urban nature of the course along the River Usk, especially as it is where we usually hold our Thursday evening "skills & drills" group sessions.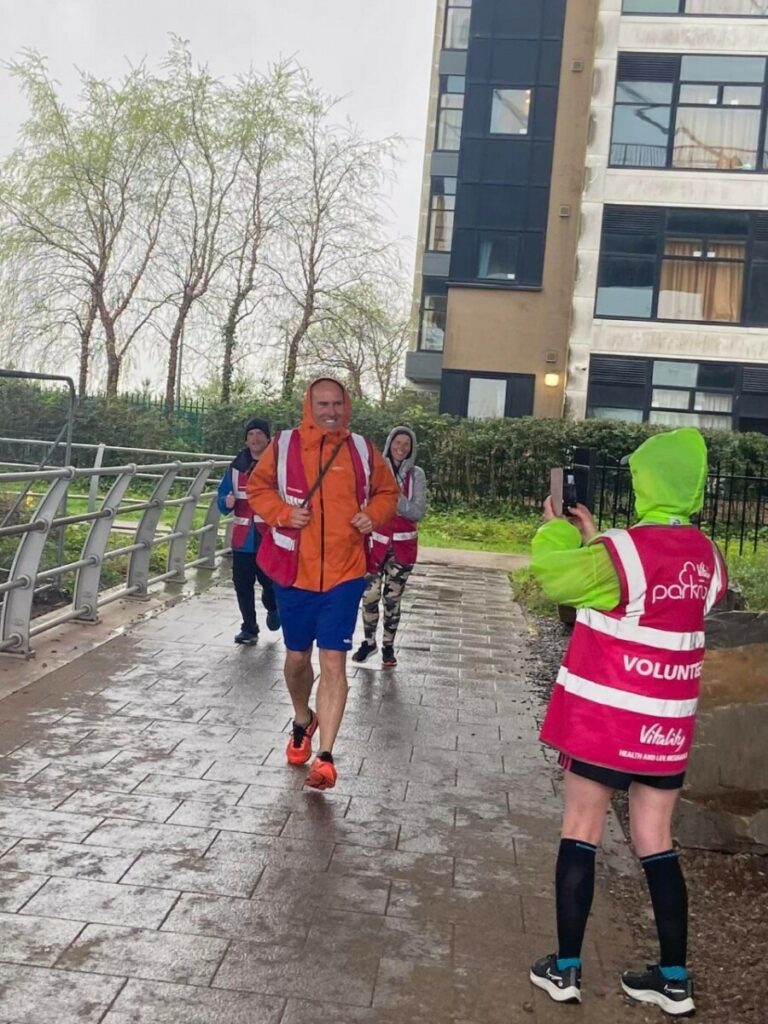 You never know what interesting sights and smells you might encounter along the course, but you can always be sure that the course is fast and flat; perfect PB territory.
The weather, and a certain event happening this morning in London, didn't put off the 177 runners who took part today, with local running clubs being represented as well as tourists from further afield, such as Southampton & Shrewsbury (& possibly other places not beginning with "S"!).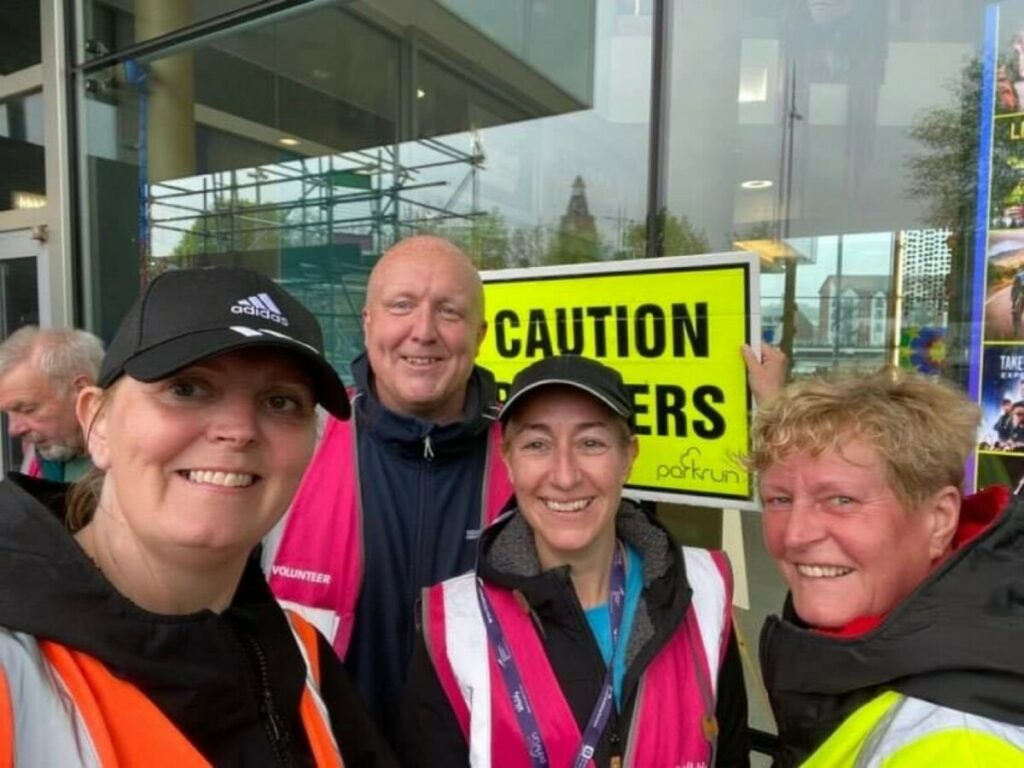 Just before the run started, we were entertained by the sight of a boat bedecked in Union Jack bunting sailing down the River Usk and giving us a jaunty toot on his horn!
First finisher today – Harry Davies, from Parc Bryn Bach Running Club – came in at an amazingly speedy 15:49, only 21 seconds slower than the course PB.  Well done to him!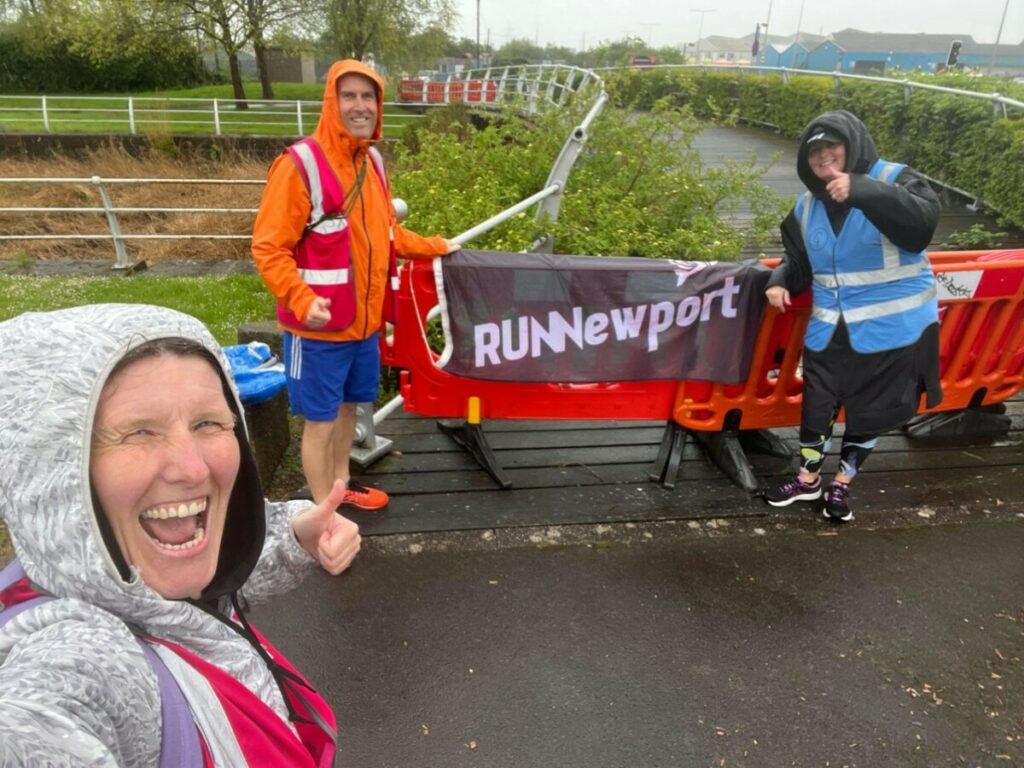 Congratulations also to the 3 people running their first ever parkrun today – you will find it soon becomes a special kind of addiction & we look forward to seeing you again very soon.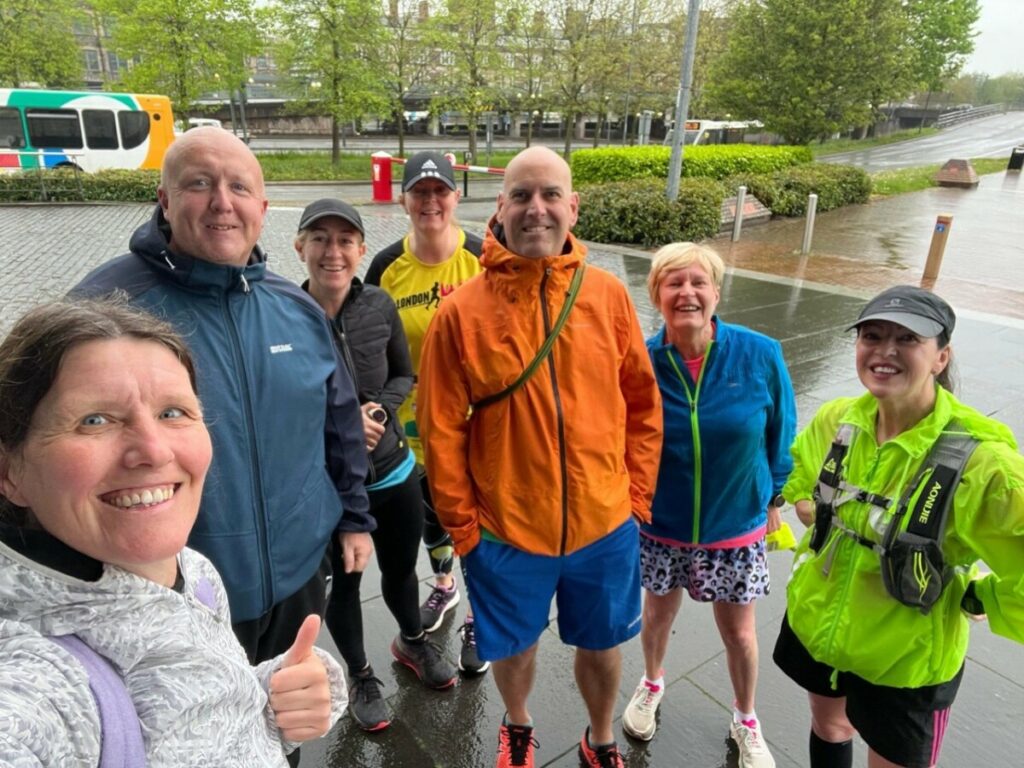 The Celebration Relay moves to Rogiet parkrun next week, where members of Undy & Redwick Road Runners will be staging a volunteer takeover. 
Alun Fuller from the group was with us at Riverfront today, and received the baton from one of the RUNNewport coaches, Jeff Ellaway.  The 2 also ran together, reflecting the connections between the 2 groups, who have some members in common.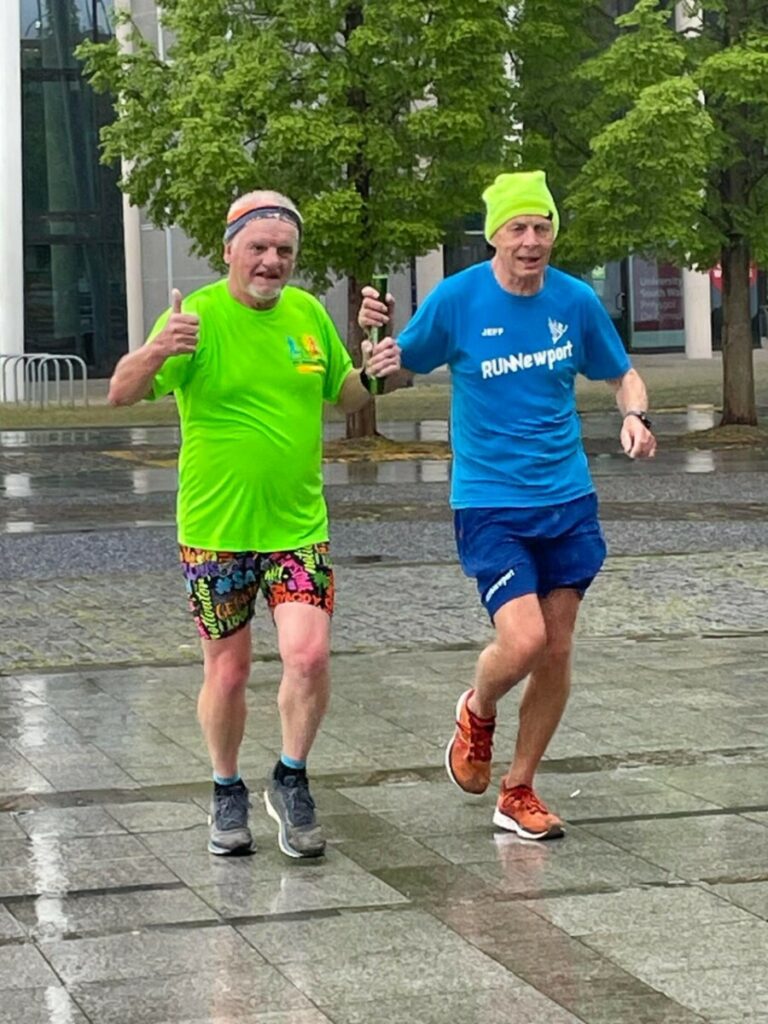 If you are interested in finding out more about RUNNewport or would like to join us at one of our sessions, head over to our page on Facebook and have a look at what we do.
---
This week 177 people ran, jogged and walked the course, of whom 16 were first timers and 20 recorded new Personal Bests. Representatives of 27 different clubs took part.
The event was made possible by 36 fabulous volunteers:

Christopher HILL • Julie DAVIES • Paula HOPKINSON • Gaynor LUGG • Tracy EVANS • Mo WILLIAMS • Glynis APPLEBY • Pam ROBERTS • Ann JAMES • Emily WOOD • Rhys BEBB • Emma WILLIAMS • Justine BLABER • Charlotte JENNICK • Jeff ELLAWAY • Sarah BUCKLEY • Lisa NICHOLLS • Kelly THOMAS • Martin EVANS • Mark MUIRDEN • Kevin BAGENAL • Lorraine FERGUS • Julie THOMAS • Suzanne TAYLOR • Kirsty CROCKER • Annie OAKLEY • Melanie JONES • Julia BLAKE • Ken GOODGER • Kevin SHARPE • Sally AUSTIN • Alison LOWE • Clare HARRIS • Nicola MAYO • David ADAMCZYK • Andrew JAMES
Today's full results and a complete event history can be found on the Riverfront parkrun Results Page. You will also find a link here to volunteer at the event!
Riverfront parkrun started on 21st January 2017. Since then 9,311 participants have completed 63,317 parkruns covering a total distance of 316,585 km, including 10,492 new Personal Bests. A total of 1,051 individuals have volunteered 7,708 times.
---
The Celebration Relay moves to Rogiet parkrun parkrun next week, where members of Undy & Redwick Road Runners will be staging a 'volunteer takeover' of their own! 
The Run Wales team would love to hear from any other social running groups in the area or anyone who is interested in establishing a new group.