Carmarthenshire's Llyn Llech Owain Country Park was the location of this week's Run Wales Social Running Celebration Relay, as the Ammanford Chatty Pacers took the relay baton to Llyn Llech Owain parkrun.
The Celebration relay provides all Run Wales registered groups with a tremendous opportunity to showcase their group, sharing information about their activities and encouraging more people to participate in social running outside of their regular weekly parkrun. We are encouraging groups to support their local parkrun by offering to volunteer as well as run, jog or walk at the relay events.
15/47: Celebration Relay Run Report – Llyn Llech Owain parkrun
---
Clear blue skies and crisp, cold air were in stark contrast to the warm welcome which awaited members of the Ammanford Chatty Pacers, and all other parkrunners, as they arrived at Llyn Llech Owain parkrun this Saturday morning.
The Run Director and friendly volunteers were quick to make everyone feel at home, and welcomed the Run Wales Celebration Relay to the event.
Two of us arrived quite early, we spoke to the run director, Mel to explain who we were and why we were there. We then we spoke to other members of the volunteer team who, as enthusiastic runners, seemed interested about social running groups.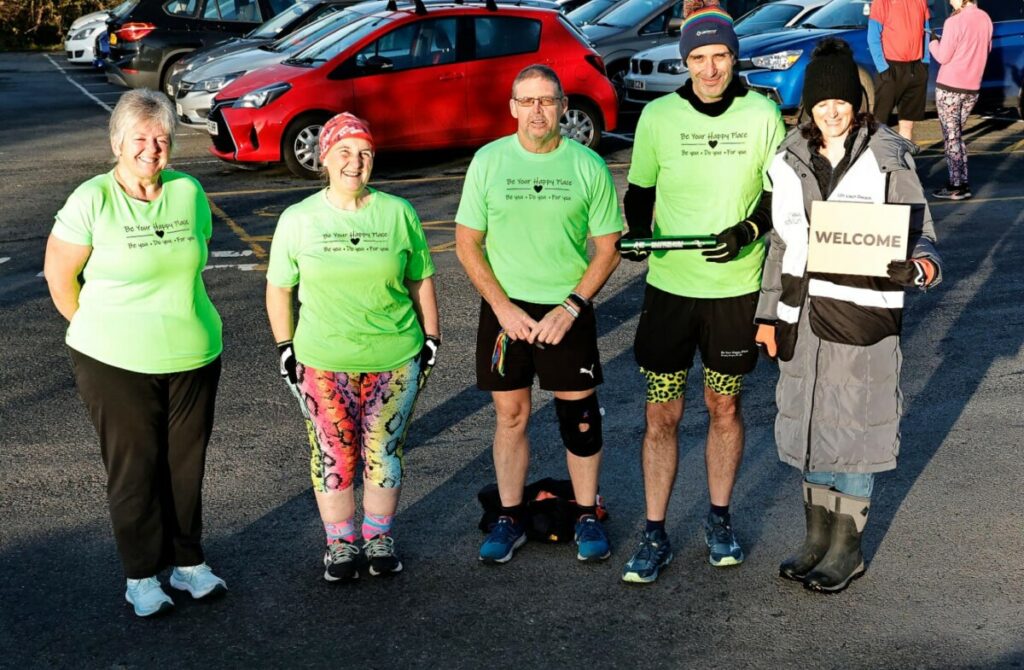 Around this time runners were arriving, along with another two of our group. We circulated amongst the runners, discussing whether they were members of a running club, whether they were aware of our group or other social running groups and giving details of where and when we meet.
A few people came over and asked about the baton and this provided a nice opening to discuss social running.
Several people there mentioned that they didn't want to join a running club as they didn't consider themselves 'serious runners' and were pleased that there were opportunities to run with social running groups.
After a quick briefing, and pause for another runner to join the ranks, the runners, joggers and walkers were off on the first of two anticlockwise loops around the lake, following the Llyn Llech Owain Red Route.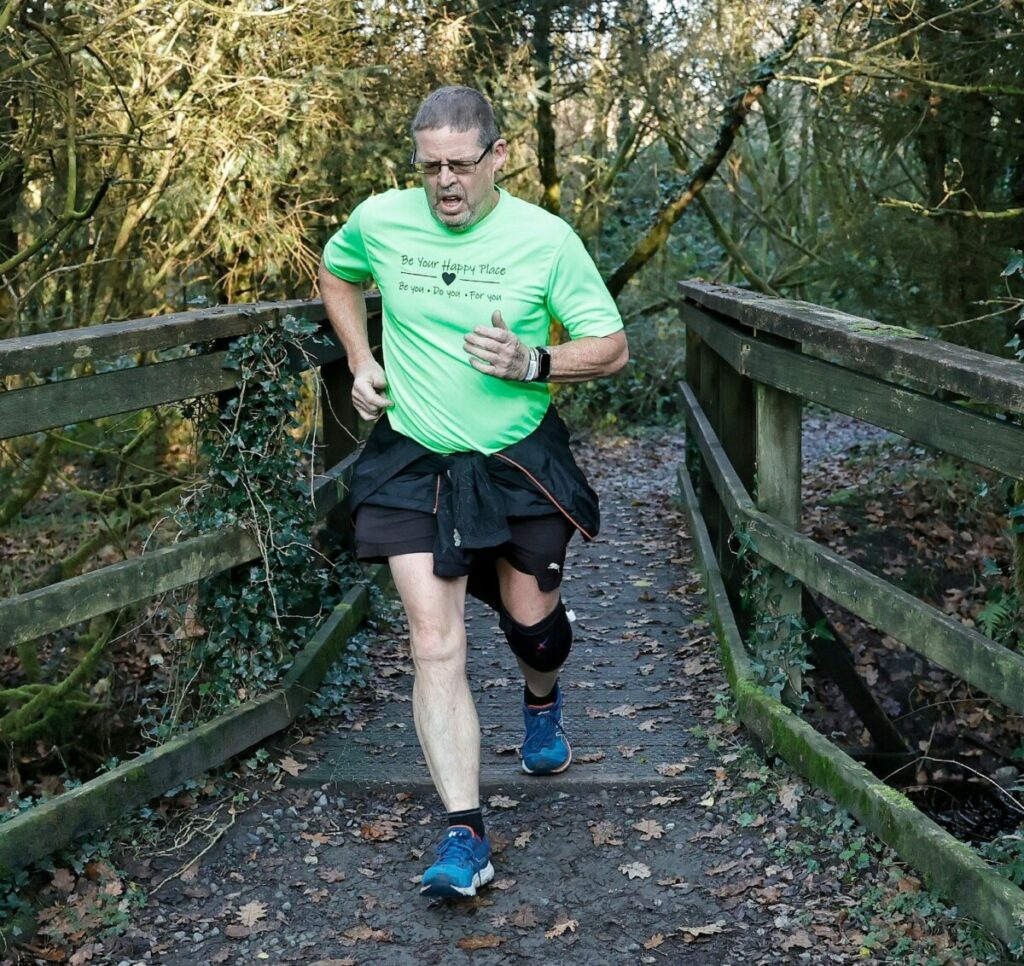 The route is primarily on gravel trails until you reach the visitors centre where there is a small section of tarmac before you head back into the woods and over the wooden bridge and past the café and alongside the carpark before starting the second lap.
The finish is just after the wooden bridge and next to the café and toilets, which is great for a post-parkrun social gathering.
During the run we ran we spoke to other runners, sometimes with the other runners instigating the chat by asking about our Ammanford Chatty Pacers running tops and asking who we were.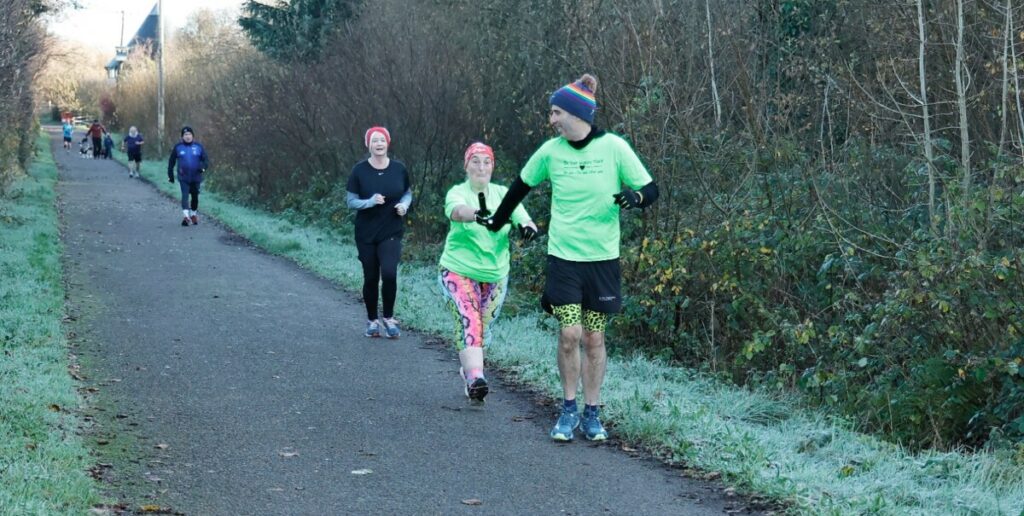 One lady was run/walking, she said she was struggling for motivation and had got to week 4 or 5 of the Couch to 5k program several times whilst trying by herself. We described our group and one of the Chatties ran the rest of the parkrun with her talking about the group.
After the run, we circulated amongst the parkrunners and gave a few information on locating our Facebook page.
Since the parkrun we've had five new members join our Facebook group and hopefully these will join us for our runs.
Whilst none of us carried out any volunteer roles on the day, all our members who attended this week volunteer regularly and have 105 volunteer credits between the four of us. I'm also the Co-Event Director there at LLyn Llech Owain parkrun.
Kirsten Beard, a parkrunner visiting from Worcester parkrun, summarised the event beautifully when they wrote in the run report:
"Cheerful but determined local parkrunners and friendly words helped make the kilometres speed by, and no doubt the weather played a big part today, with the frosty, misty air and clear blue skies adding a certain magical quality. However, what made it so special was the team, who clearly love serving their local community, making everyone feel welcome and valued.
So, if you are local, and fancy giving it a try, do it! You can run or walk, you won't and can't come last, you'll meet some wonderful and supportive people, and you might even surprise yourself!"
This week 80 people ran, jogged and walked the course, of whom 16 were first timers and 10 recorded new Personal Bests. Representatives of 11 different clubs took part.
The event was made possible by 18 volunteers: Mark W BLEASDALE • Kathryn REES • Mel BEST • Mick ADAMS • Wayne LEWIS • Dave BRENNAN • Philip MARLAND • Kirsten BEARD • Andy MCCALL • Nicola WILLIAMS • Nicola PARRY • Osian REES • Donna MORGAN • Kathryn OWEN • Sophie JENKINS • Michael CORDELL • Mike REES • Megan REES
Today's full results and a complete event history can be found on the Llyn Llech Owain parkrun Results Page.
The male record is held by Joshua GRIFFITHS who recorded a time of 15:23 on 25th February 2017 (event number 210).
The female record is held by Jade WILLIAMS who recorded a time of 18:04 on 19th October 2019 (event number 341).
The Age Grade course record is held by Osian Teifi JONES who recorded 90.81% (21:46) on 11th August 2018 (event number 284).
Llyn Llech Owain parkrun started on 23rd March 2013. Since then 6,103 participants have completed 34,788 parkruns covering a total distance of 173,940 km, including 6,462 new Personal Bests. A total of 695 individuals have volunteered 5,292 times.
If you'd like to get involved in this lovely event, whether you want to walk or run or simply volunteer then please email: llynllechowain@parkrun.com or comment on their Facebook page.
---
Next Saturday the Chatty Pacers will be heading to Brynaman parkrun and reporting back on their relay experience there.
Please come along and support the celebration relay in helping raise awareness about social running activities in your area.