When the Run Wales Social Running Celebration Relay started last July, there were 46 parkrun events in Wales.  Over 12 months later, we are on the home straight, having had a few weather-induced delays and making a few detours when we couldn't get the timing to work out for social running groups to attend the scheduled event.  This week saw the baton attend the 43rd of what are now 48 parkrun events in Wales when Run Wales' Josie took it to Old Railway Trail Llangollen parkrun on their 5th event. 
The Celebration relay provides all Run Wales registered groups with a tremendous opportunity to showcase their group, sharing information about their activities and encouraging more people to participate in social running outside of their regular weekly parkrun. We are encouraging groups to support their local parkrun by offering to volunteer as well as run, jog or walk at the relay events.
43/48: Celebration Relay Run Report – Old Railway Trail Llangollen parkrun
---
A new parkrun is a wonderful thing for so many reasons, and yet the announcement that this new event in Llangollen had launched caused me a little concern as the relay's tour of the country enters its final phase. 
We know that there is always great interest in new parkrun events, and yet visitors are encouraged to give the new volunteer team time to settle into their new Saturday morning routine without inflating the numbers of participants in the early days.  The team in Llangollen did a sterling job coping with 249 participants at their inaugural event, the majority of which were visitors.
I had been in contact with Mike and Michael, the Co-Event Directors to explain the purpose of the relay and see if they were aware of any local social running groups as we didn't have any Llangollen-based groups currently registered with Run Wales.
Being unable to secure the participation of any groups in time for the weekend, we decided that I would take the baton personally and use the opportunity to spread the word about social running groups whilst volunteering as a parkwalker.
With one eye on the weather forecast (there had been some very dramatic predictions of storms across the country for Saturday) I set off at 7am on the beautiful cross-country journey from Anglesey to Llangollen, driving through a few heavy showers, but also some encouraging periods of sunshine. 
The car park in town was buzzing with parkrunners excitedly chatting about the event, queuing for the public loos and asking if anyone knew where the start was – it was clear that it was going to be another busy morning with visitors!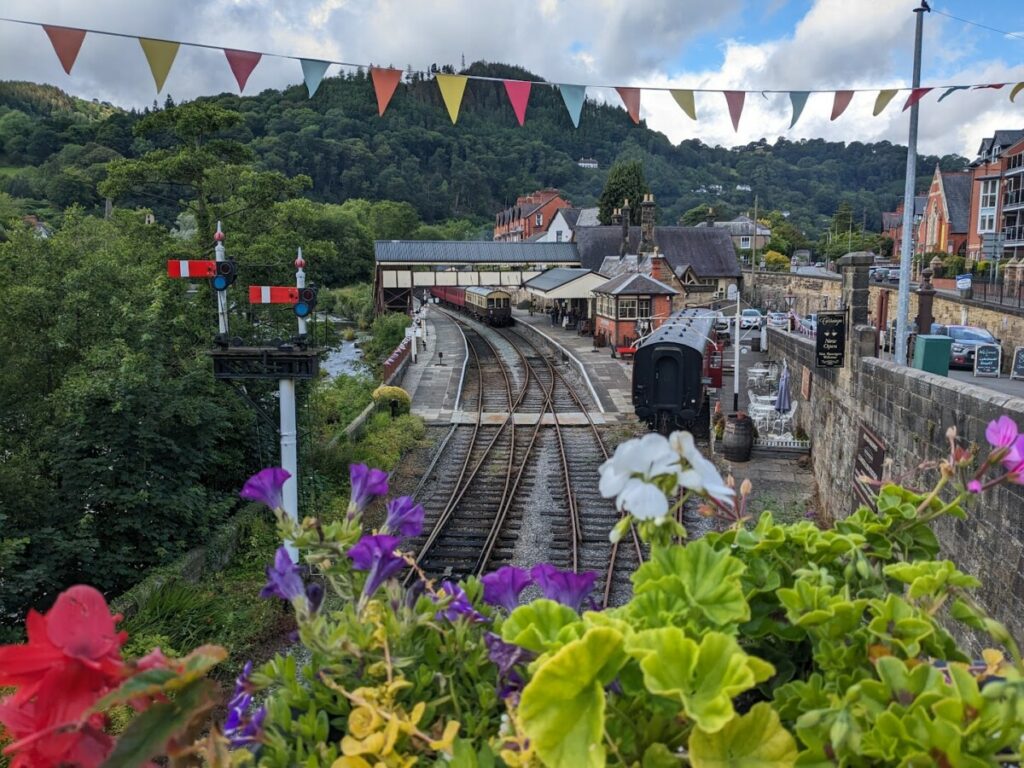 It was straightforward to follow the stream of runners from the car park, over the bridge that crosses the River Dee, with its picture postcard view of the train station next to the river, and along the road to the start at the back of the Health Centre. 
After a chat with a few of the friendly volunteers, I donned my blue hi-vis and joined the huge crowd of visitors for the first timers briefing.  The noise from the adjacent road was unfortunate, as the welcome and safety briefings were both entertaining and informative, and helped by the use of a loud hailer.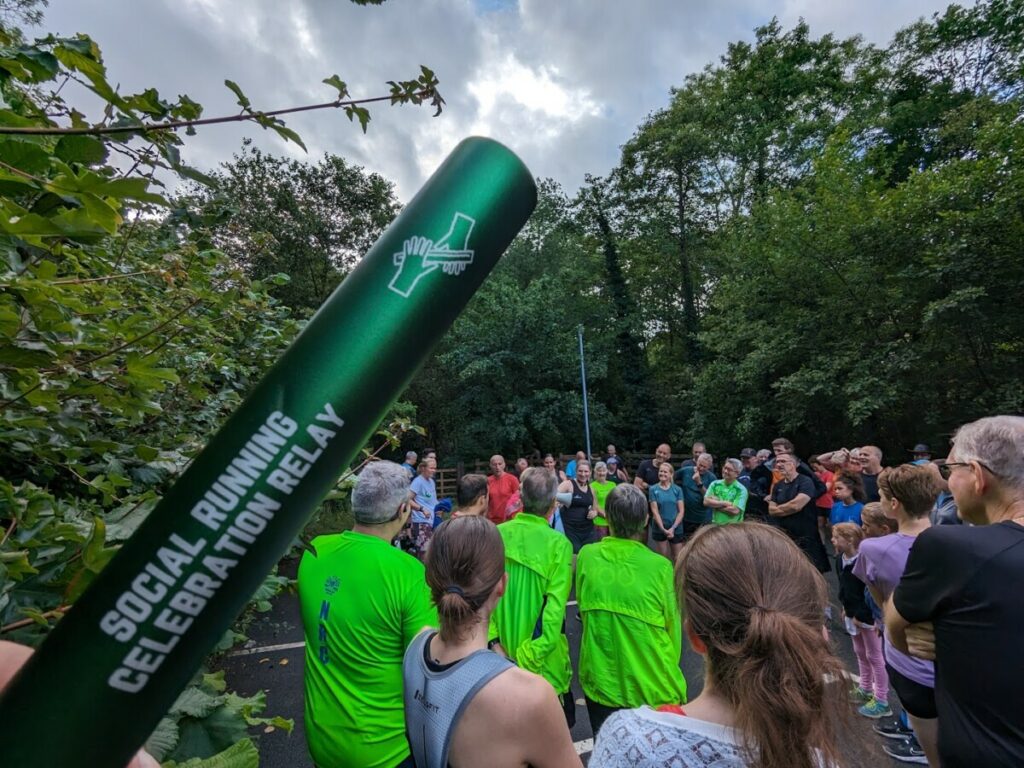 At 9am we shuffled along the old railway trail, with the River Dee on our right and off we went on the 5th parkrun event in Llangollen, which is a very pretty (and flat) out and back with one section which is repeated again towards the end of the 5k.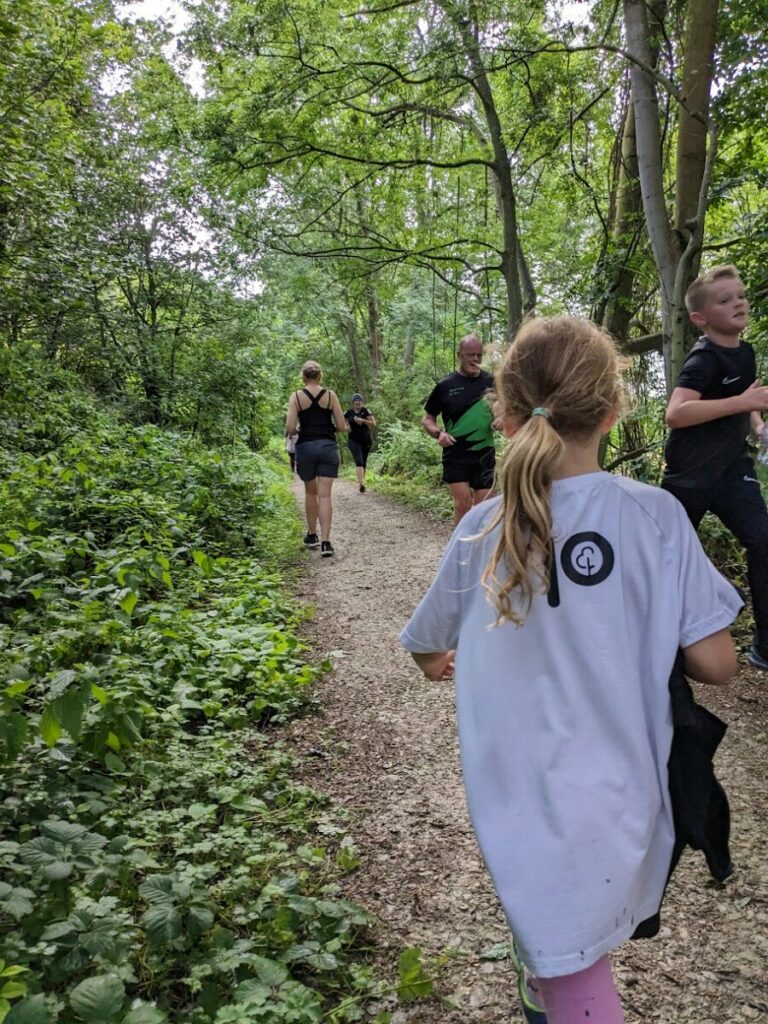 From the startline. the course heads east following a multi-user track along the old Ruabon to Llangollen railway line bed, past the caravan park, to reach Wenffrwd Pocket Park. There is a loop of the gravel paths in the park before heading back along the track and the short 'repeat' section.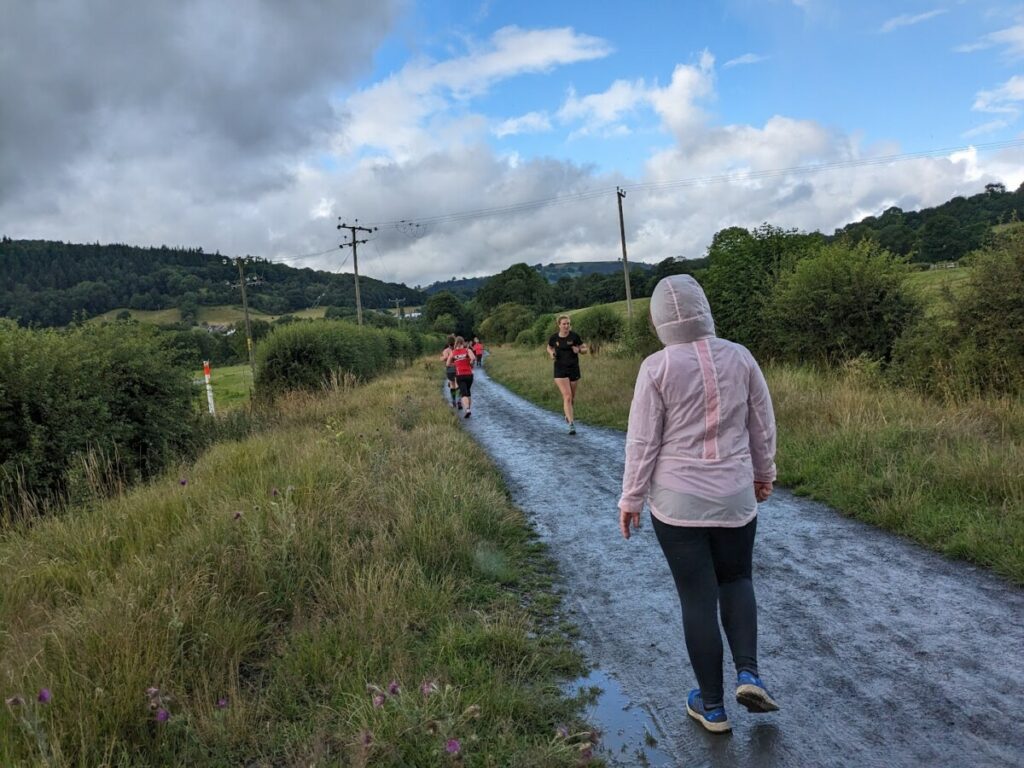 As a parkwalker, I had the opportunity to spread the word about social running groups while volunteering at the event. My aim was to move about the back of the pack, connecting with the parkrunners and introducing them to the benefits of joining such groups. 
After a few minutes of chatting with one walker, I asked 'So, do you run with a local club?' Imagine my delight when she replied, 'Actually, I am a member of a social running group…'!  Well, at that, I whipped the baton out of my pocket and said 'I think this is for you'!
What a stroke of good fortune!!  She had no idea that Run Wales is able to support her group, and my Facebook search for local running groups hadn't identified Run Chums, which appears to be a fabulously supportive group with lots of members and keen UK Athletics qualified Run Leaders, of whom Zoe is one!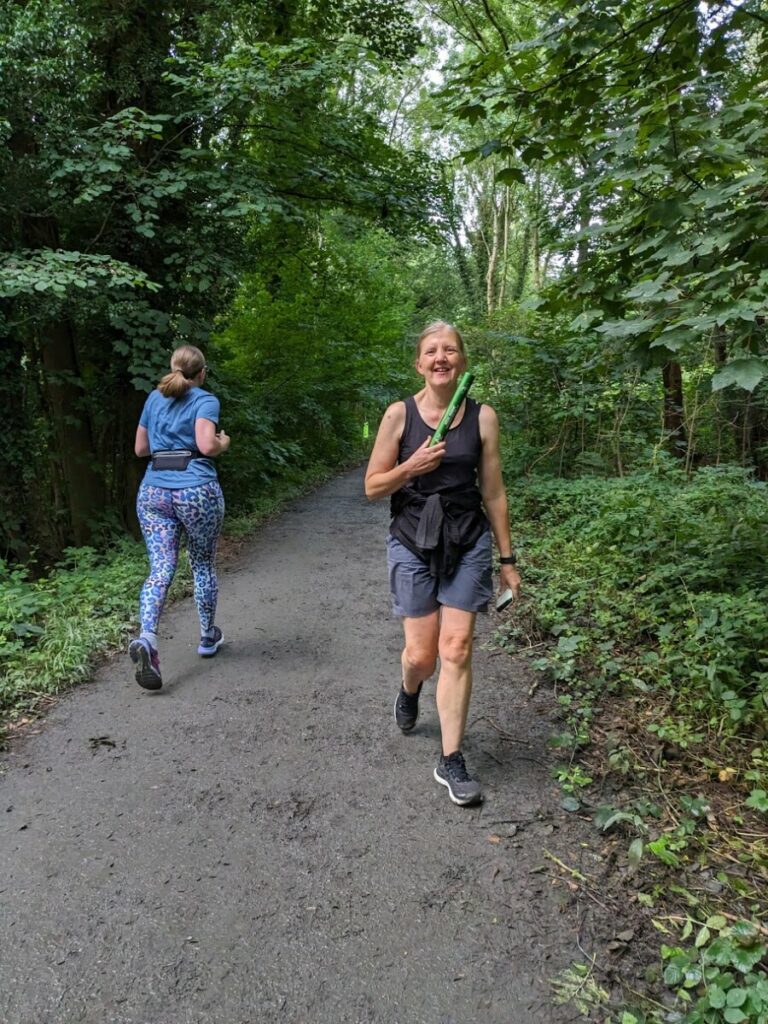 Well, a 5k walk is a wonderful opportunity to share all sorts of information, and there were very few moments of quiet as we nattered away, interspersed by plenty of 'Da iawn' and 'Well done' to the passing parkrunners.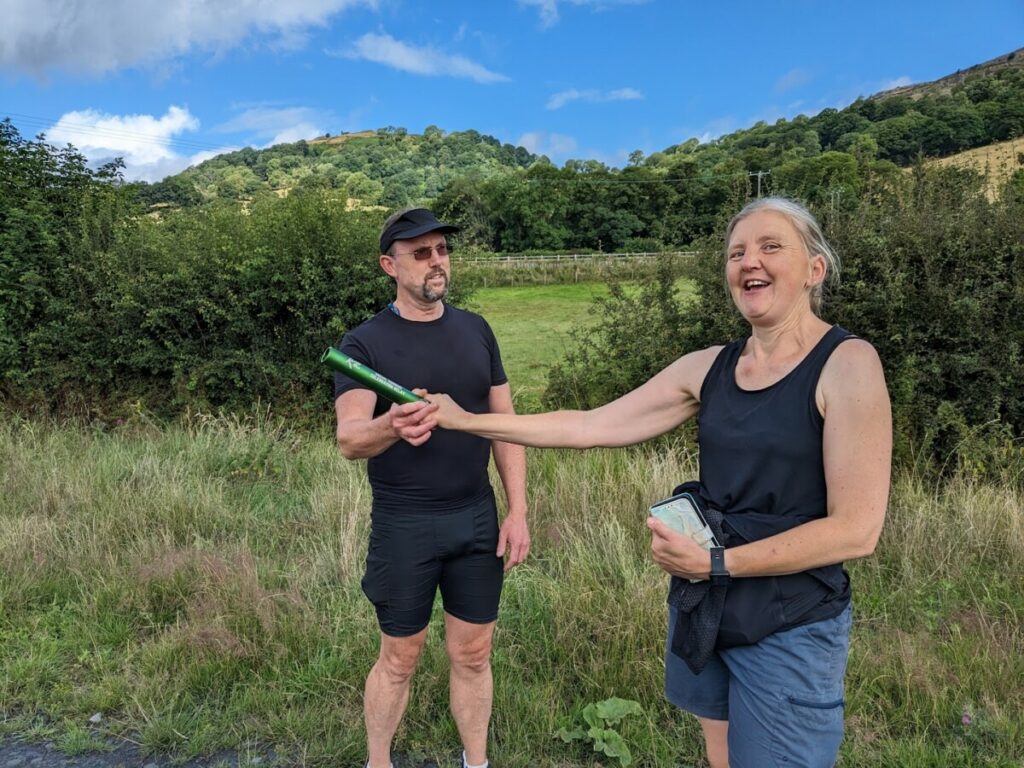 We even waved to another Run Chum as he passed, and managed to pass the baton to Berwyn, Zoe's husband and fellow Run Chum as he came out to join us after completing his 5k.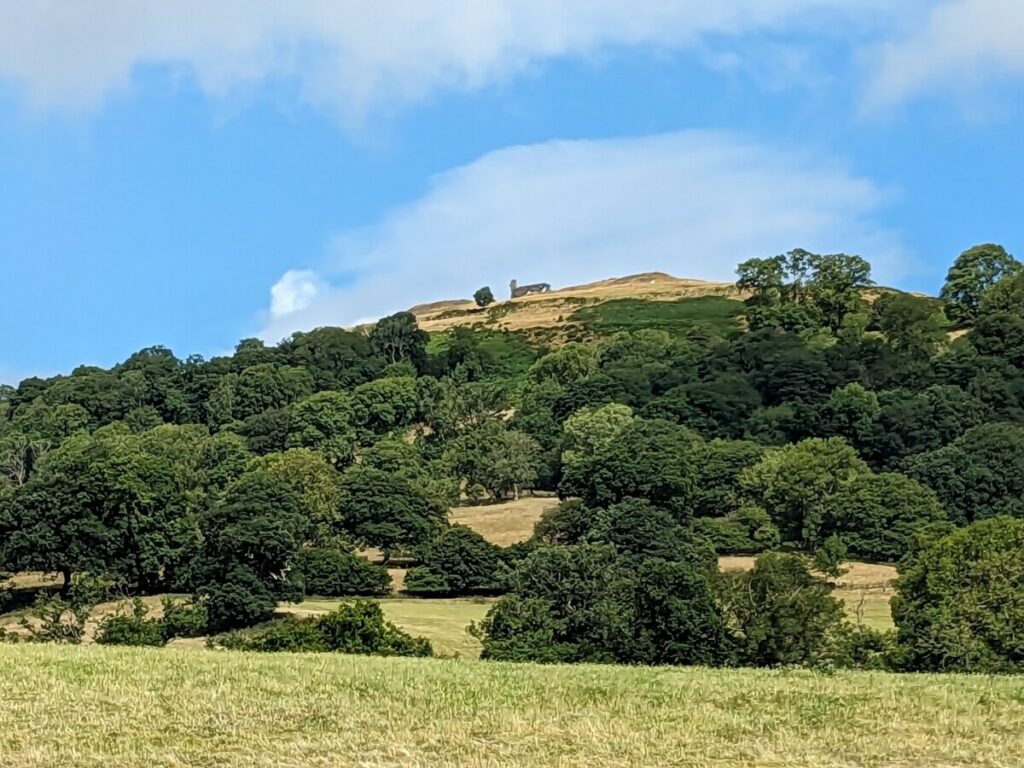 The scenery at Old Railway Trail Llangollen parkrun is a lovely mix of woodland and open spaces with far-reaching views – if you take notice, you'll see Castell Dinas Brân high on the hill too.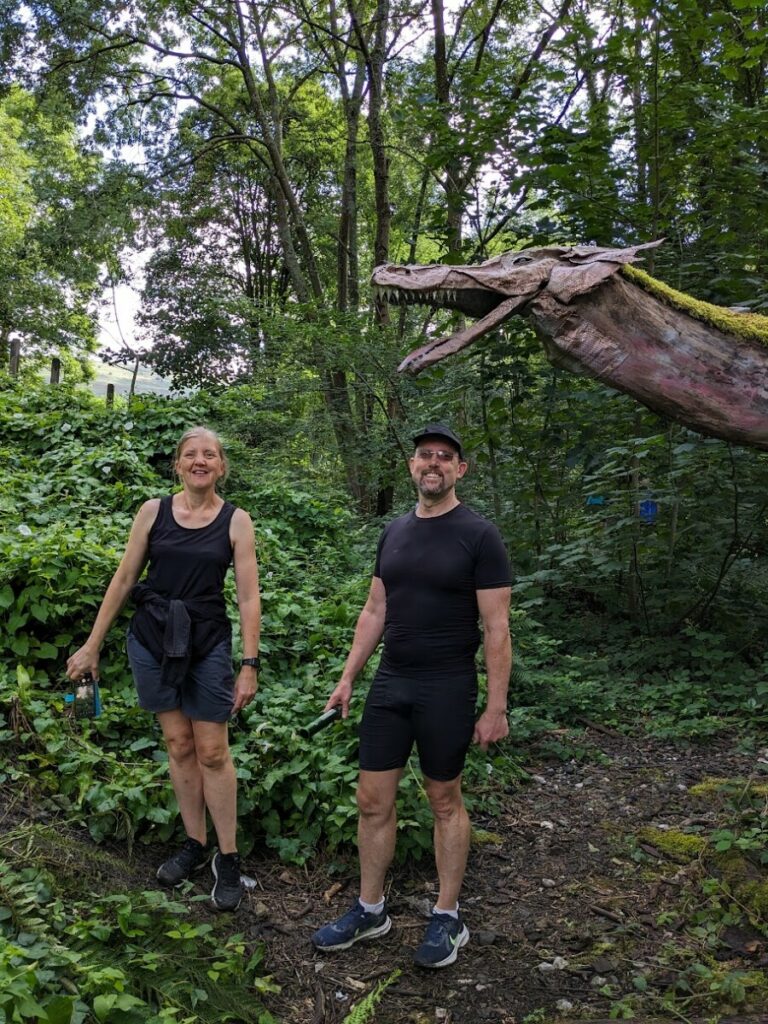 Through the woodland area, keep your eyes peeled for the oak leaf and dragon sculptures – we would have missed the dragon (who faces the road) if we hadn't noticed a couple of other parkrunners stopping for a selfie!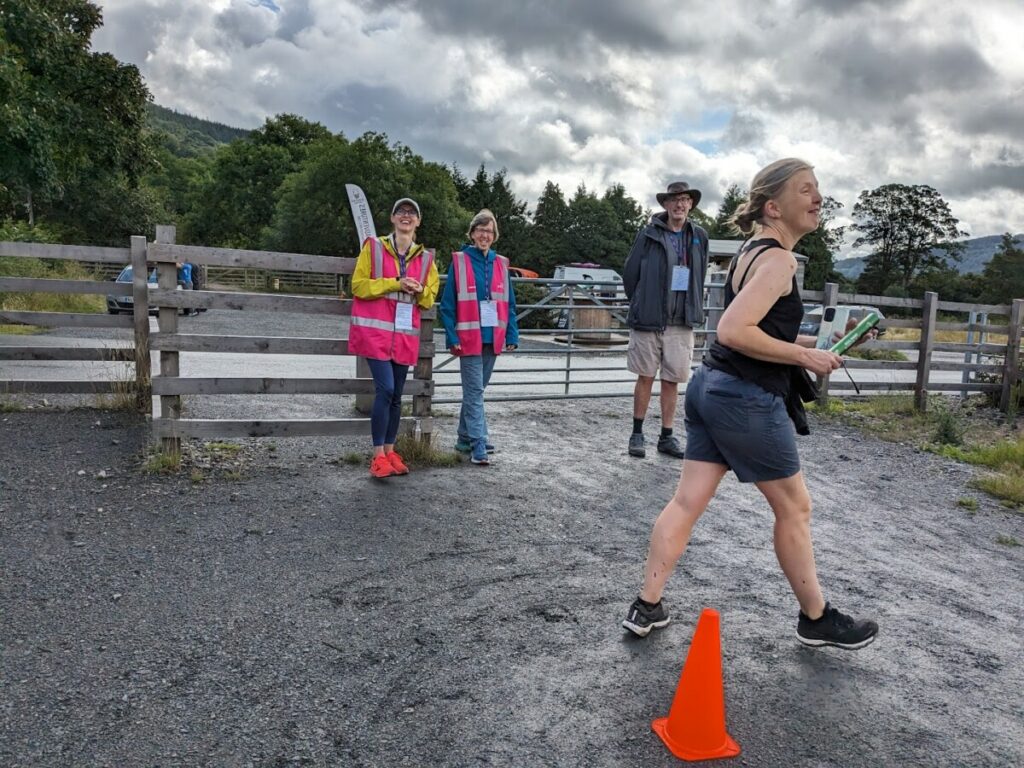 Of course, there are also the friendly marshals to thank along the route before heading back to the finish line for the obligatory photos and more chatting with the RD and the volunteers.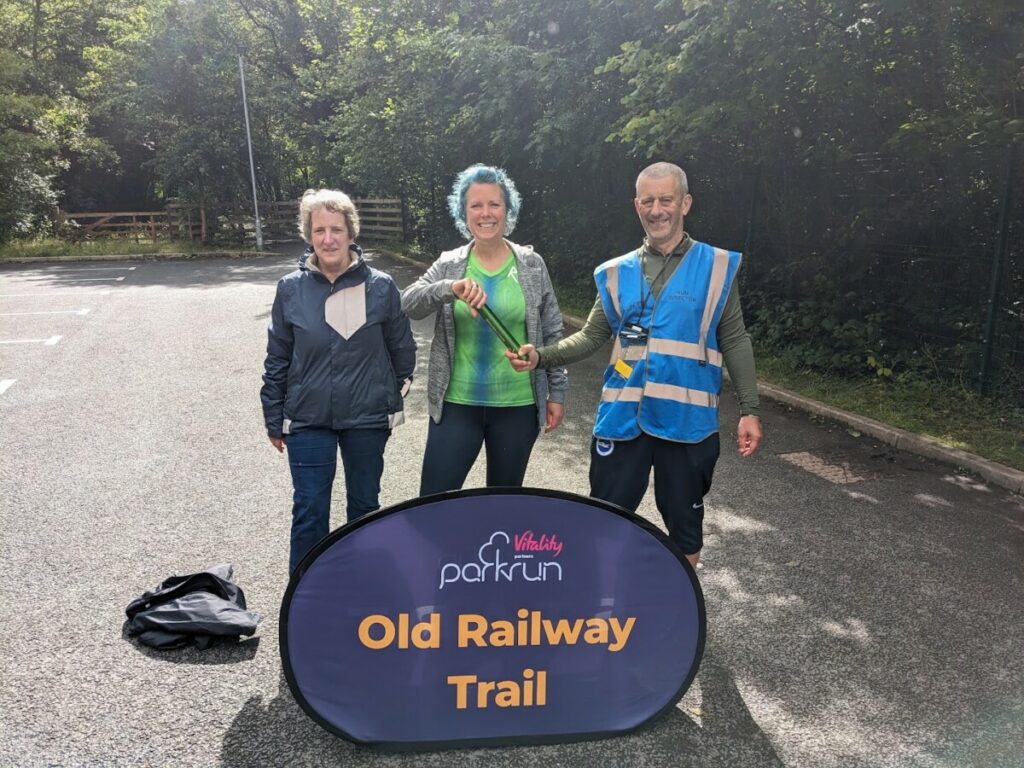 This week, the volunteer team welcomed 6 people to parkrun for their very first parkrun experience, and 9 who had been once before and come back for a second time today. Welcome to the parkrun family!
At the other end of the scale, today's most experienced parkrunner was James Barber of Shropshire Shufflers, who, as a member of the esteemed '500 Club', chalked up his 534th parkrun this morning in Llangollen. An additional 19 of todays parkrunners were members of the 250 Club, so there was experience galore here today.
Llangollen's Old Railway Trail parkrun promises to be a popular destination for parkrun enthusiasts from near and far. Its accessibility and captivating scenery are sure to attract visitors throughout the year.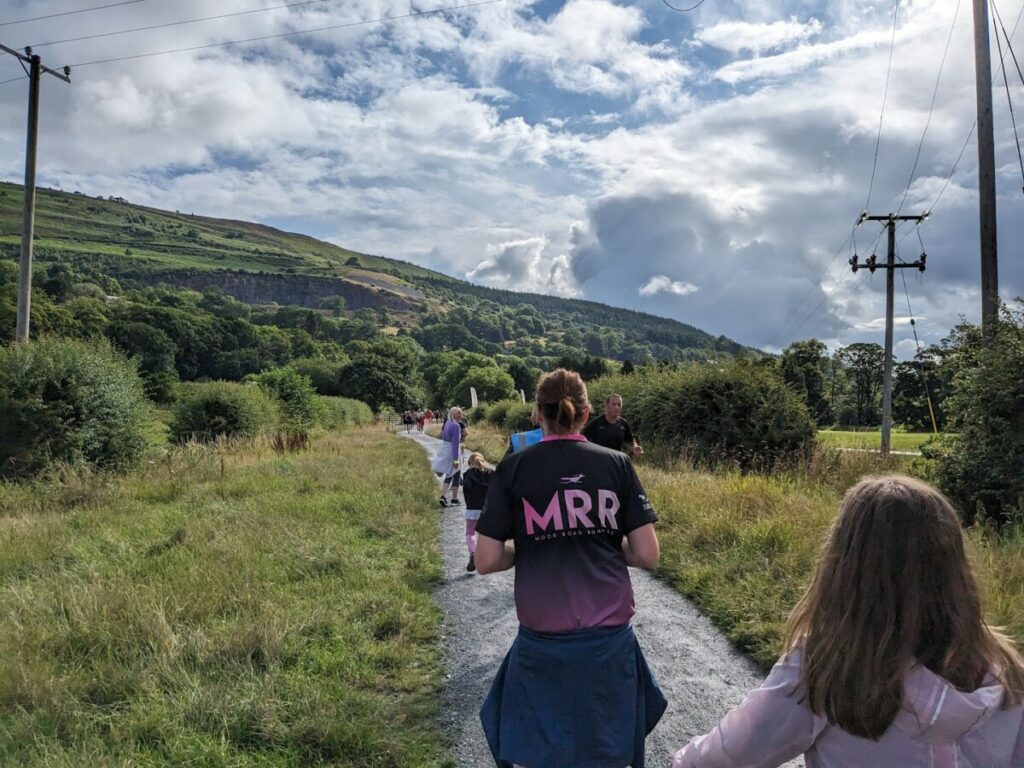 After my visit to Llangollen, I went to Wrexham to meet with the Erddig Muddy Trainers, another social running group who are based at the National Trust's beautiful Erddig property, and would have loved to have attended Old Railway Trail Llangollen parkrun with the social running baton today, but were already committed to attending the Offa Festival.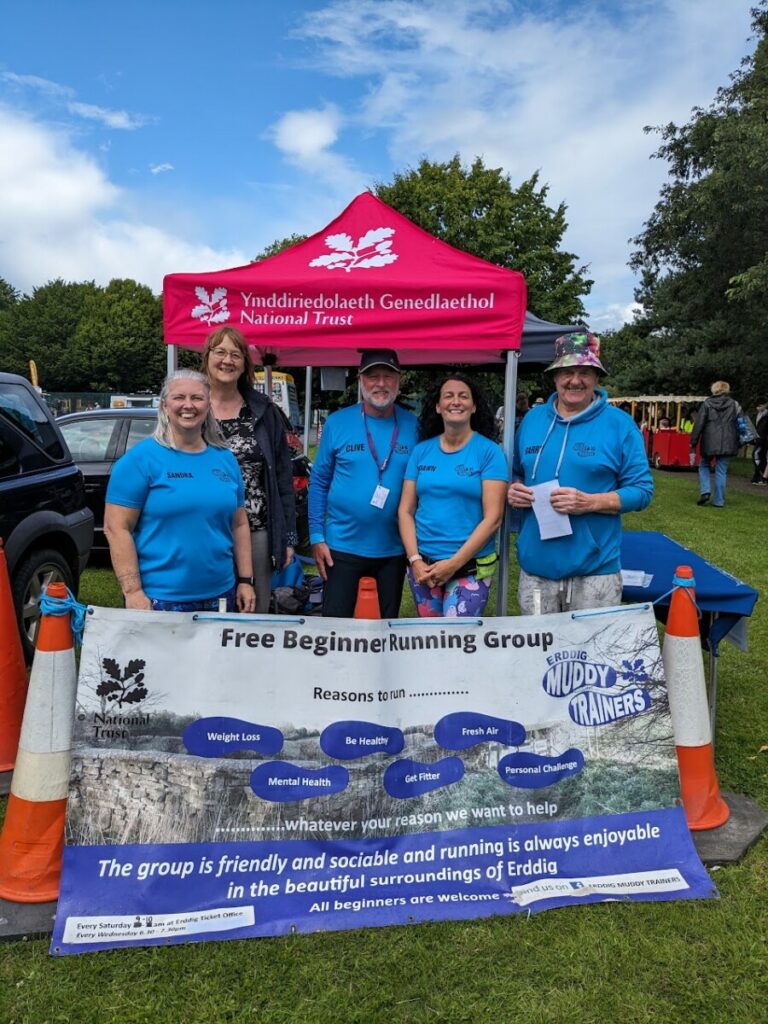 As for me, I had a fabulous morning, calling in at Ruthin on my way home to handover the baton in readiness for Ruthin Memorial Playing Fields parkrun next weekend. I am very much looking forward to welcoming the Run Chums and Erddig Muddy Trainers to the Run Wales family, where you'll soon be able to find out all about them through our Group Finder…
---
This week 180 people ran, jogged and walked the course, of whom 142 were first timers and 19 recorded new Personal Bests. Representatives of 50 different clubs took part.
The event was made possible by 20 fabulous volunteers:
Michael CLARKE • Philip DAVIDSON • Liam HOOTON • Christine WARRINGTON • Amanda BURROWS • David LUCAS • Eurona JONES • Cerys CLARKE • Sarah GRIMLEY • Sarah RICHARDSON • Max CLARKE • Erika WALKER • Alfie John COLLIS • Stephen WALKER • Helen BOTTERY • Mark TIPURIC • Tegwyn JONES • Rhian CUTTS • Caren BROWN • Tom HOLMES
Today's full results and a complete event history can be found on the Old Railway Trail parkrun, Llangollen Results Page.
Old Railway Trail Llangollen, parkrun started on 17th June 2023. Since then 765 participants have completed 888 parkruns covering a total distance of 4,440 km, including 60 new Personal Bests. A total of 65 individuals have volunteered 96 times.
---
Next week we look forward to learning more about Ruthin Memorial Playing Fields parkrun as the Run Wales Celebration Relay baton moves on to its 44th parkrun event in Wales!