The Run Wales Celebration Relay received a warm welcome at Wepre parkrun this week and Run Wales Participation Officer, Eva, was invited to share some insight into the purpose of the relay and how Run Wales is encouraging more opportunities to enable the population of Wales to run. In fact, whilst our Relay Baton was looping the course at Wepre, down in Monmouth, 146 runners were enjoying the inaugural event of the Chippenham Playing Fields parkrun, supported by 26 volunteers and plenty of support from Run Wales partner group, Monmouth Rock up and Run! It is fantastic to see more regular running options available across Wales.
The Celebration relay provides all Run Wales registered groups with a tremendous opportunity to showcase their group, sharing information about their activities and encouraging more people to participate in social running outside of their regular weekly parkrun. We are encouraging groups to support their local parkrun by offering to volunteer as well as run, jog or walk at the relay events.
3/47: Celebration Relay Run Report – Wepre parkrun
---
Wow where to begin with Wepre parkrun, set in the glorious surroundings of Wepre Park in Connah's Quay this parkrun takes you around the trails of the woods.
The start is just below the visitor centre and the playground, event #244 saw 22 first timers to the event, so about a quarter of the field.
After the first timers briefing, RD Ann went through all the updates for the event and I was able to share why I was attending the event.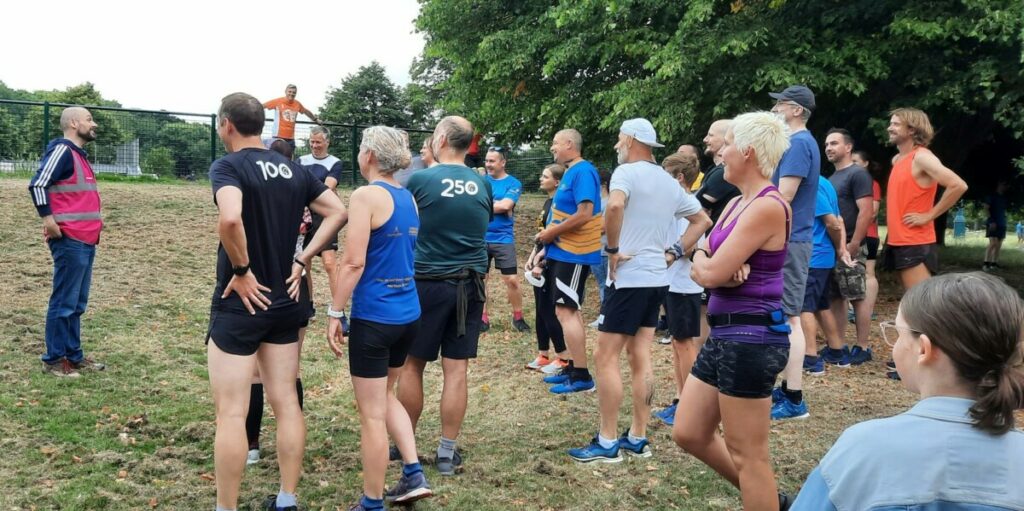 Run Wales is the social running programme for Welsh Athletics, we support a whole range of runners and groups across the country who are either just starting out or further on in their running journey.
We also provide support for Run Leaders from both groups and Welsh Athletics affiliated clubs.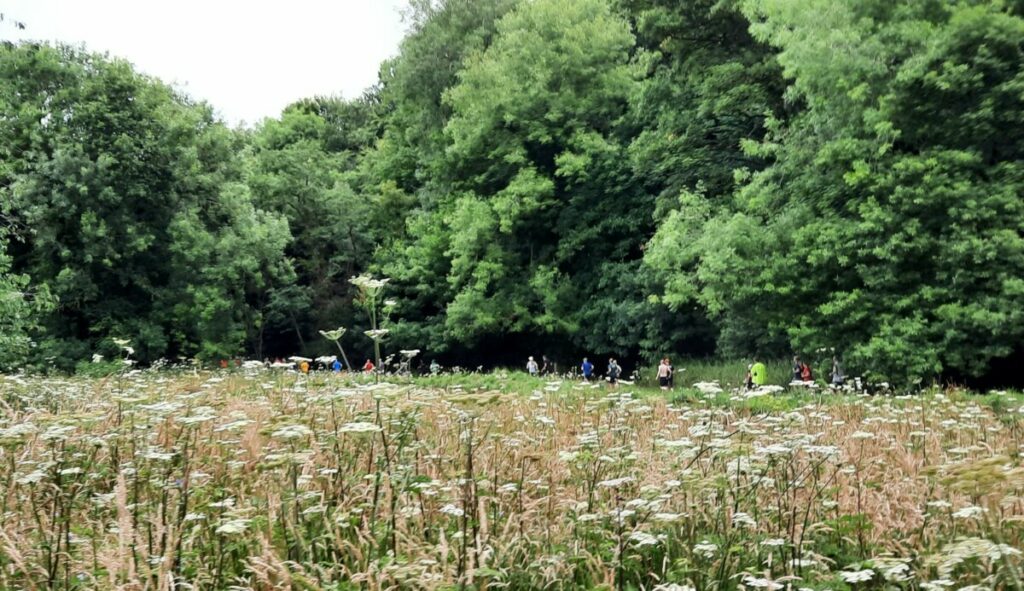 This year we are celebrating 6 years of getting people active by encouraging groups to do a take-over of their local parkrun and joining in our relay of all the parkruns in Wales. With parkrun being a huge part of social running we hope to support the teams by bringing more participants and volunteers to their event.
You can find out more about the relay and Run Wales here. If you're a social running group and would like to get some support and register with us (free) then drop us a line at irun@runwales.org.uk
Many thanks to Hayley from local club, Buckley Runners, who took round the baton, more news to come about her social running opportunities via our website.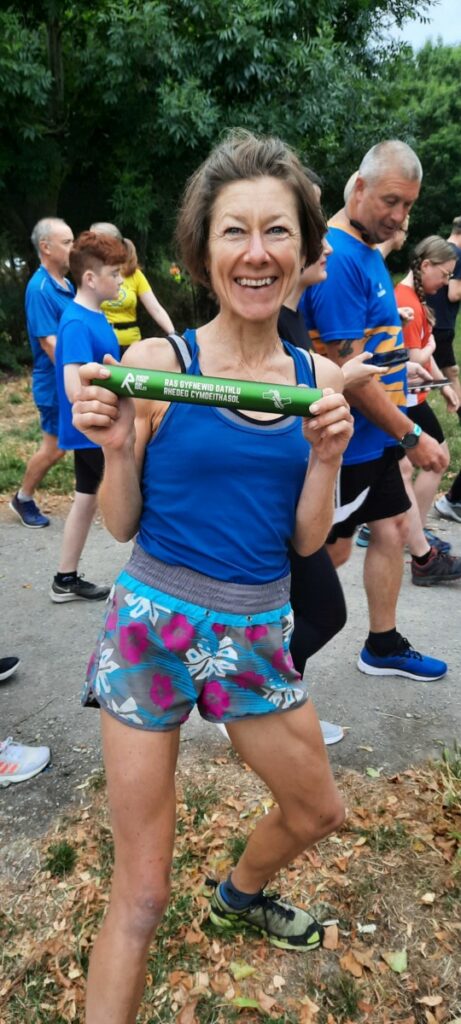 So back to the event, the course consists of 2 small loops and 2 larger loops. The small loops certainly get you prepared for what's ahead consisting of a nice downhill start followed by a little hill.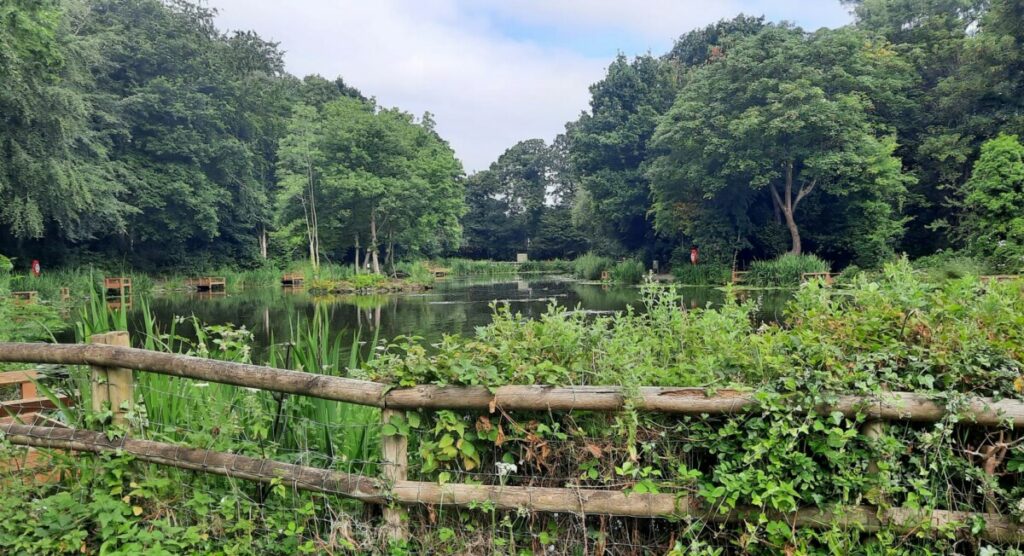 The larger loops then take you on a path alongside the visitors centre and up to a pond, you then meander though the woods following the arrows and with lots of encouragement from the marshals dotted around the course.
We can't not mention the hill, and the fact that Wepre is the 4th toughest event in the UK, but you are more than rewarded for the effort by being in such a beautiful location.
It really is true to say that the 5km whizzed by, although I was walking today, the route was so great I didn't want it to end.
I'll definitely be back for a plod next time!
Huge thanks to all the volunteers, lovely to see such a range of ages of the team.
We are very grateful to the volunteers who made this event happen: Cara BATESON, James BELL, Jenny BOWES, Ann BROUGHTON, Edward DAVIES, Lucy DOUGLAS, Elin DOUGLAS-COOK, Chris FERGUSON, Zack FERGUSON, Karl FORMSTONE, Esme JONES, Gill JONES, Owain Tomos JONES, Stu JONES, Steve KNIGHT, Jane MARKS, Jude ROBINSON, Ralph ROWLANDS
---
Next weekend, the relay will be at Erddig parkrun at the beautiful National Trust Erddig Park, so join the fun and find out more about social running opportunities in the area!
The Run Wales team would love to hear from any other social running groups in the area or anyone who is interested in establishing a new group.
---
The relay baton continues its journey to every parkrun in Wales, courtesy of our amazing Run Wales groups, as they celebrate and share the joys of social running. You can follow the baton's progress and find out how to get involved as it continues its journey towards a big finish with a mass participation event next year!