It was a first for the Run Wales Celebration Relay this week as Run Wales registered group, Porth Eirias Runners staged a 'take-over' of Conwy parkrun, providing most of the volunteers required to hold the event. With Conwy parkrun recording the highest number of attendees and volunteers this year, including registered local social running groups Dwygy Dashers and Môn Milers, it was a true celebration of social running!
The Celebration relay provides all Run Wales registered groups with a tremendous opportunity to showcase their group, sharing information about their activities and encouraging more people to participate in social running outside of their regular weekly parkrun. We are encouraging groups to support their local parkrun by offering to volunteer as well as run, jog or walk at the relay events.
7/47: Celebration Relay Run Report – Conwy parkrun
---
This weeks run report contains contributions from a number of the Run Wales registered groups who participated in the event.
Porth Eirias Runners were very excited to take part in Run Wales Celebration Relay when the baton made its way to Conwy parkrun on Saturday 20th August 2022.  
The Conwy route is a mostly flat, very picturesque, out and back along the banks of the River Conwy, taking in the views of Conwy Castle as well.  We were very lucky with the weather, although a little breezy the sun shone on us and it stayed dry!!.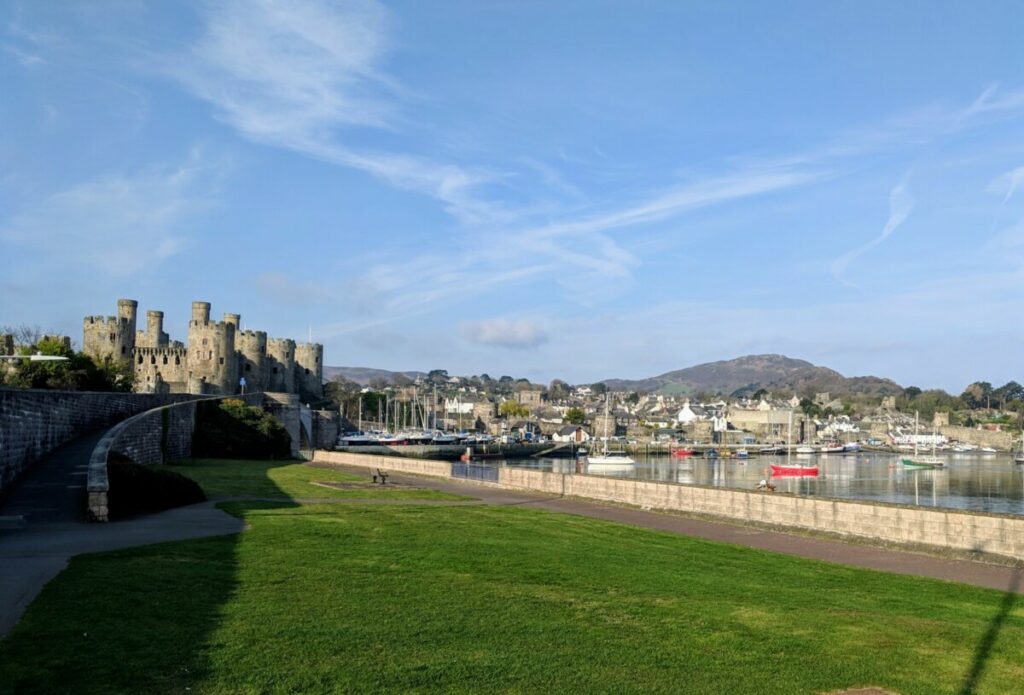 It was great to see so many people attend, a total of 267 runners took part, with Morgan Kendall being first over the line with a very impressive time of 17.38 and a new PB. Christopher Taylor was a first timer and came in fourth with a time of 18.56. Carla Green was the first female over the line with a time of 22.52.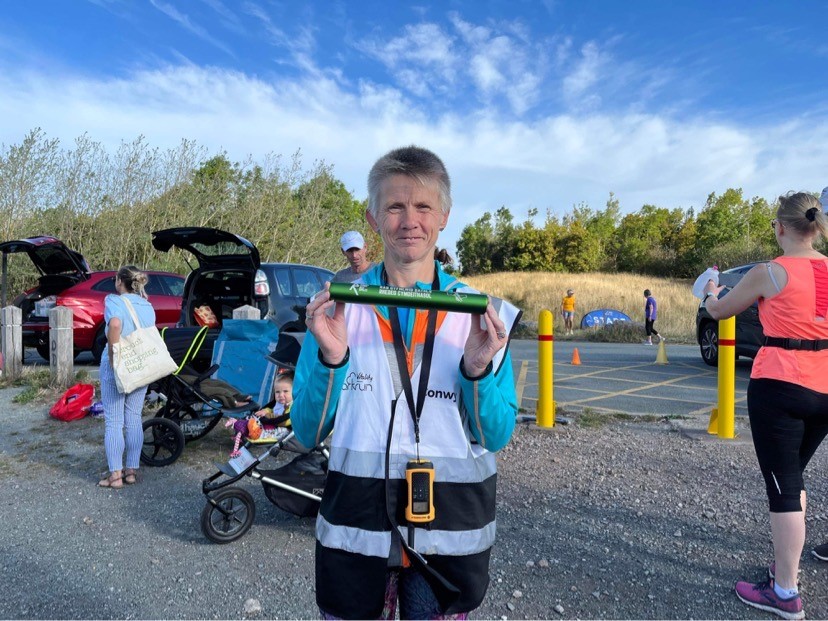 The Run Director for Saturday was Bethan Wyn Roberts, who is also a member of Porth Eirias Runners, so the club decided to take full advantage of the opportunity to support Bethan while playing their part in the celebration relay.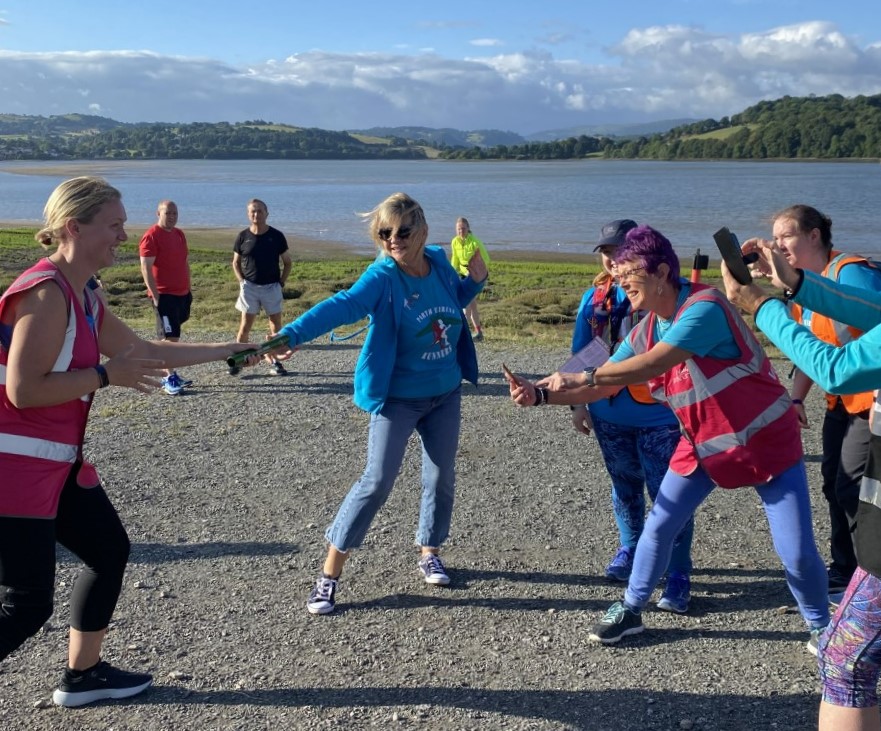 Without volunteers parkrun would not take place, so it was a great opportunity to give something back to the community. In total 20 members volunteered on the day with a few running as well, all wearing their distinctive blue run tops.
The baton was entrusted to Gareth Catherall who ran the complete course with it, getting it back safely in time for plenty of photo opportunities.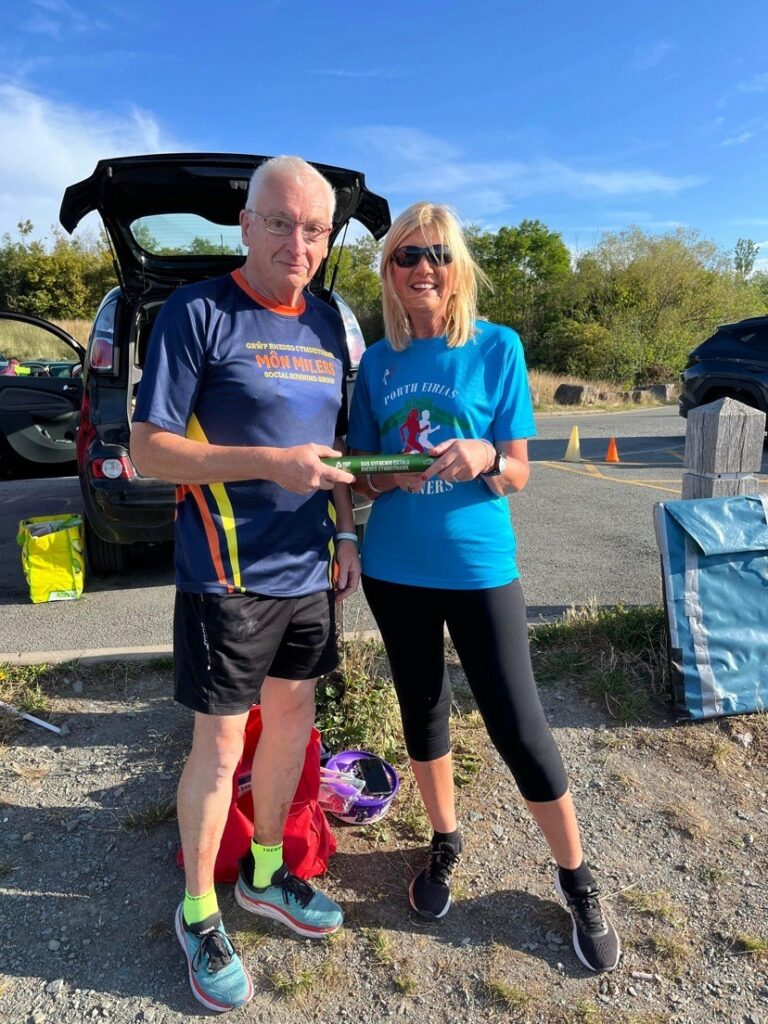 The morning started with the handover of the baton by Môn Milers member, Gwilym, to Paula Jones. The members of Porth Eirias Runners then took on their allocated positions, many volunteering for the first time so a few were a little apprehensive as we were responsible for time keeping and scanning barcodes!!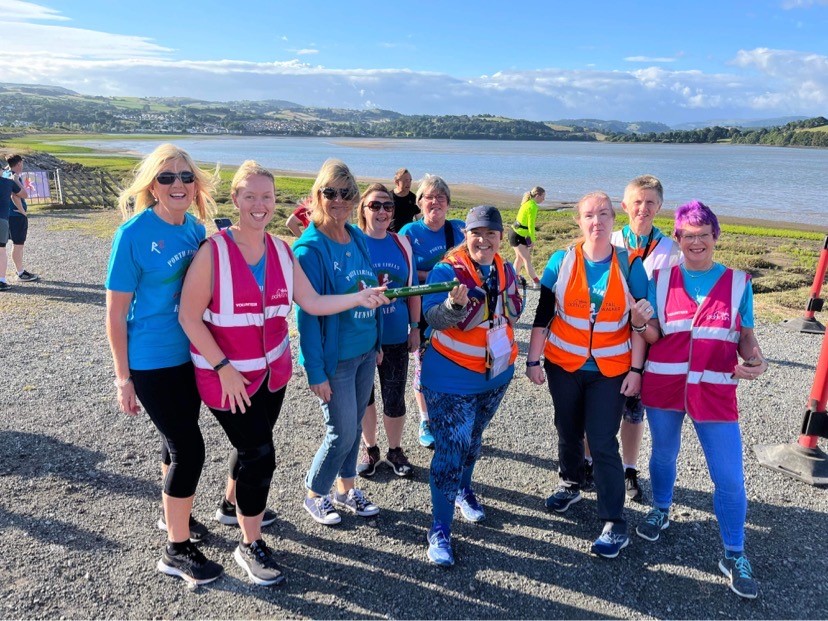 Also taking part were 7 members from local social running group, the Dwgy Dashers.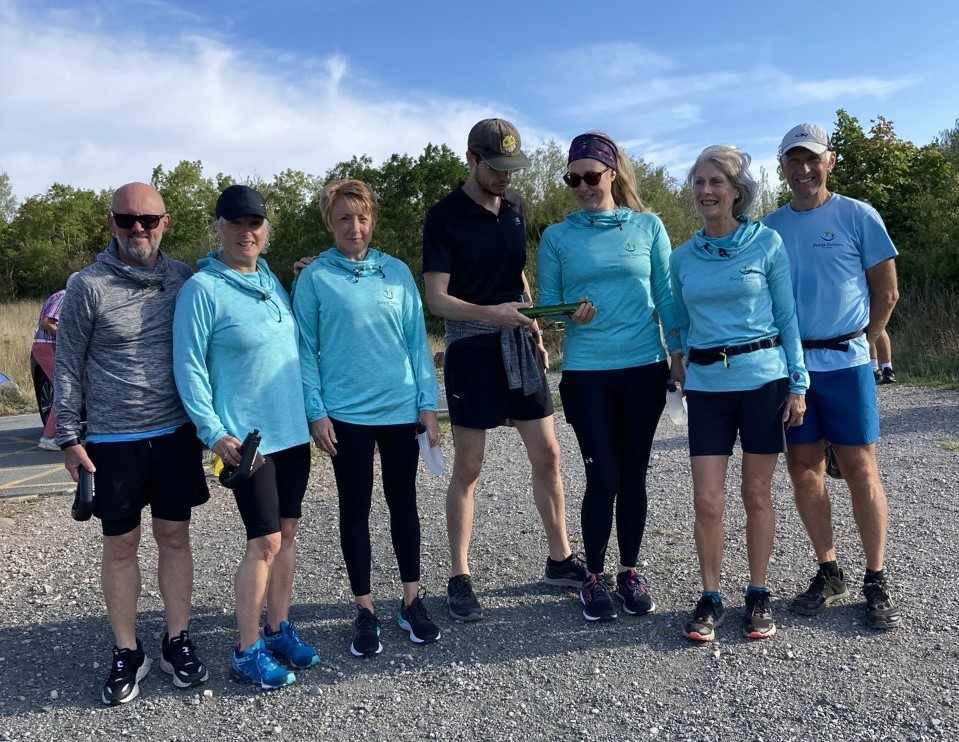 The Dwygy Dashers are regularly represented at Conwy parkrun, being based in nearby Dwygylfychi, but this special occasion encouraged a few extra team members to join them this week.  As always though, they had a great morning running together and were ably supported by the beautiful, Dwygy Dashers bandana-wearing Ellie Dog!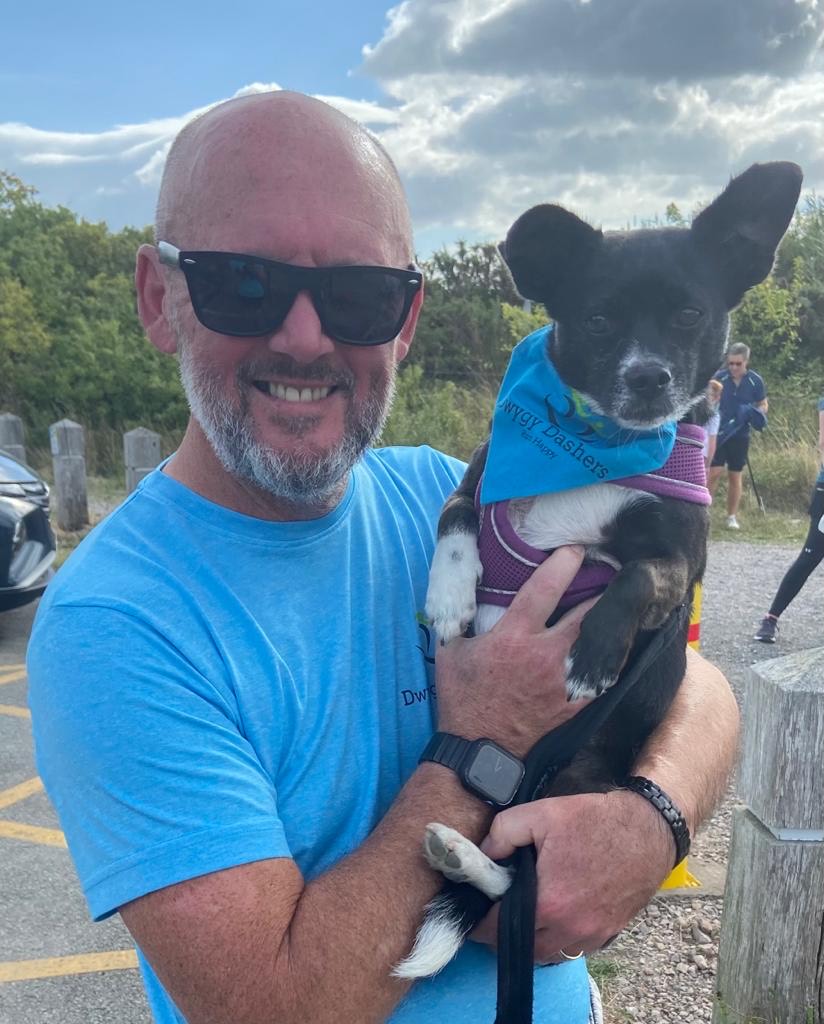 The Môn Milers often have a runner to two make the journey from Anglesey to enjoy the relatively flat, and definitely picturesque course at Conwy parkrun.  This week, 4 of the 6 members completing the course were doing so for the first time, and it just confirmed how lucky we are to have so many wonderful parkrun events and stunning places to run right on our doorstep.  We would also like to congratulate our baton-bearer, Gwilym, on achieving a new course PB this week.  Da iawn, Gwil!
The event was a huge success, Porth Eirias Runners supplied cake for everyone after the run, and the members were seen to be having a great time supporting other runners, chatting and dancing.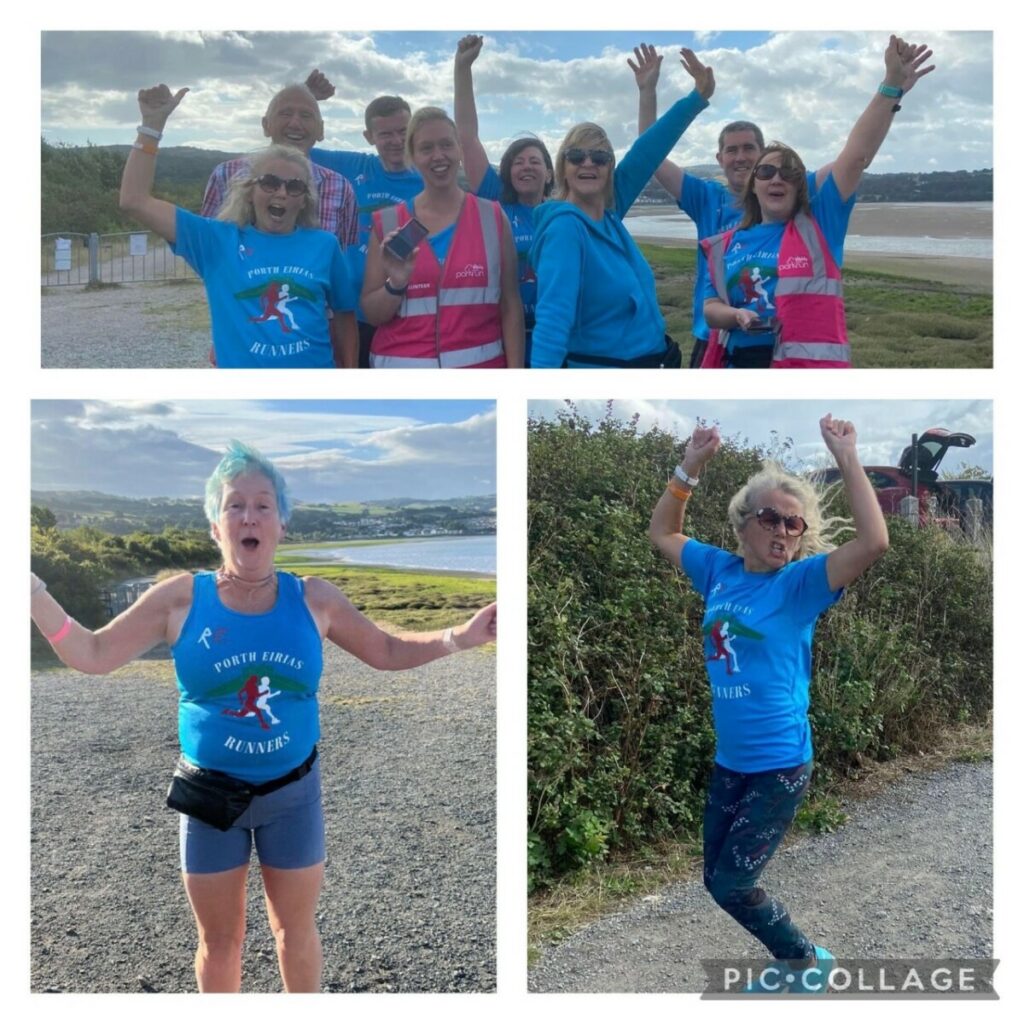 Run Wales supports the establishment and development of social running groups, providing more opportunities for people in Wales to enjoy running together safely.  If you are a social running group (or would like to start one) and would like to know more about registering for support with Run Wales, head to irun.wales and get in touch, or come and ask us next week when the relay will be at Nant y Pandy parkrun!
This week 267 people ran, jogged and walked the course, of whom 77 were first timers and 15 recorded new Personal Bests. Representatives of 44 different clubs took part.
The event was made possible by 33 volunteers:

Michael FINNIE • Paula JONES • Susan CALVERT • Mal PREECE • Bethan Wyn ROBERTS • Robert ARMSTRONG • Gemma MOORE • Sean GAVIN • Mark JESSETT • Iorwerth ROBERTS • John HATTON • Gwyn WILLIAMS • Catrin WILLIAMS • Mandy BOWLER • Joanne ROBERTS • Glenn GRANT • Keith CHAMBERLAIN • Gareth CATHERALL • Tracey STUBBINS • Ken POULTER • Darren HESBROOK-EDWARDS • Gemma GALE • Barbara ENNIS • Joanne ROBERTS • Peter KNIGHT-GRIFFITH • Douglas GRAHAM • Lexi BASTABLE • Jasper MCQUEEN • Karen MCQUEEN • Sue WILLIAMS • Elaine DOGA • Liz EVANS • Katie BALL
Today's full results and a complete event history can be found on the Conwy parkrun Results Page.
The female record is held by Jenny NESBITT who recorded a time of 17:43 on 26th December 2015 (event number 50).
The male record is held by Bryn WOODALL who recorded a time of 15:16 on 21st August 2021 (event number 266).
The Age Grade course record is held by Val NAYLOR who recorded 95.29% (26:53) on 20th November 2021 (event number 279).
Conwy parkrun started on 10th January 2015. Since then 14,004 participants have completed 73,982 parkruns covering a total distance of 369,910 km, including 12,485 new Personal Bests. A total of 590 individuals have volunteered 6,513 times.
---
The baton returns to Anglesey next week as the Celebration Relay coincides with the 4th Anniversary celebrations at Nant y Pandy parkrun. We look forward to sharing another coming-together of Run Wales registered groups, as the celebrations of social running continue!
---
The relay baton continues its journey to every parkrun in Wales, courtesy of our amazing Run Wales groups, as they celebrate and share the joys of social running. You can follow the baton's progress and find out how to get involved as it continues its journey towards a big finish with a mass participation event next year!