here is why and how to find your local group…
We recently highlighted the many advantages of following the Couch to 5K apps and programmes, but if you really want to catch the running bug joining a group can be key. Here is a truly inspiring story of one special lady, who decided to change her life and her local Couch to 5K were with her every step of the way.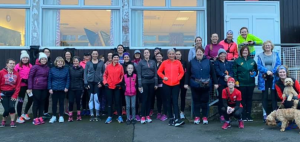 Tina decided that 2020 was going to be the year she took control and achieved her goals. she wanted to be fitter and healthier. She made contacted with the Llanwit Fardre ladies running group to ask if she would be ok to join the C25K runners, And of course, she was welcome, these sessions are such a great starting point for new runners, and here is how Tina felt at the first, it was a chilly but dry Saturday morning, she was up dressed and parked up by 8.30 am, and if we're all honest that can be a challenge itself!
'Being overweight and very unfit, I was so nervous driving into the car park on my first Saturday. I nearly drove out of the car park as all I could see were slim fit looking ladies!! I am so glad I didn't as I have been overwhelmed by the support, encouragement and camaraderie there is in this group and no one judges. It is the best thing I have ever done and I know I have a long way to go but I will get there and I really hope that I will encourage other larger ladies to come along and change their lives like I am doing. Xx
Having the will power and determination to complete her first run, was not only a challenge but an amazing reward, she did it! she was tired but elated, and best of all she came back for week two. The great advantage about meeting a group of people or even a friend means you are accountable, if you cancel you not just let yourself down, you are let your running buddies down!
When you run with a Couch to 5K group you get support, guidance and encouragement, you can make friends, have chat and finish each session with that awesome running buzz! (thank you very much endorphins), the support you get from group runs will really help you keep on target to meet and exceed your goals.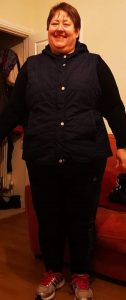 Here are a few of Tina's post-run facebook posted…
 'Well done everyone!! Thank you Lucy for being so encouraging and patient with me. I found it hard tonight but it won't beat me. I'm determined to get better and one day I hope to be able to speak as I run and to keep up with every one else!! See you all Saturday xx'

'Ladies I have never loved my bath as much I did tonight. By the time I got home I was a shivering wreck!! Really enjoyed it though. I know I'm slow but I'm definitely running a little more each time we go out. Well done everyone. See you Saturday'
Here is how Tina felt after week 4's run…
'Awesome!! If someone had told me four weeks ago that I would be running five minutes without stopping I would have thought, they had lost the plot!! Thank you everyone for helping me change my life for the better xx'
Tina is just getting to the halfway point, but already feeling the many benefits of running and more important being part of a supportive group. Tina has been supported by Lucy, who herself completed the C25K last year, Lucy completely understands how it feels to be new to running, and she offers the most amazing, empathic support, she is also great fun and all-round lovely lady, she is an awesome leader, Lucy is keen to complete her Run Leaders course with Welsh Athletics soon.  Here is a little more about the course, and a link for more information
---
The Leadership in Running Fitness (LiRF) course is designed to equip you with the knowledge and insurance to lead running based fitness sessions for people over 12 years of age. The course focuses on understanding and overcoming barriers to participation in running and enables you to deliver fun and safe sessions for multi-ability groups. Full details of all the coaching qualifications are available here, and a calendar of upcoming LiRF and other courses is here.
If you would like to find out where your local couch to 5k group, please click here or maybe you inspired to set up your own running group? If so, we would love to help and support you, to find out more see the link below.