Thanks to Monmouth Rock Up and Run, the Run Wales Social Running Celebration Relay baton made it to Severn Bridge parkrun this week.
The Celebration relay provides all Run Wales registered groups with a tremendous opportunity to showcase their group, sharing information about their activities and encouraging more people to participate in social running outside of their regular weekly parkrun. We are encouraging groups to support their local parkrun by offering to volunteer as well as run, jog or walk at the relay events.
37/47: Celebration Relay Run Report – Severn Bridge parkrun
---
Last Saturday, the Run Wales Social Running Celebration Relay visited Severn Bridge parkrun, which was a memorable event for participants and volunteers alike.
With warm and sunny weather adding to the cheerful atmosphere, the relay baton was delivered by Kirsty Jones, a Run Leader with Monmouth Rock Up and Run.
As a diverse and inclusive running community, Monmouth Rock Up and Run proudly represented social running and showcase the spirit of unity and support that defines the Run Wales initiative.
Monmouth Rock Up and Run, established in 2018, has experienced remarkable growth while maintaining its commitment to providing free and accessible running options every Wednesday.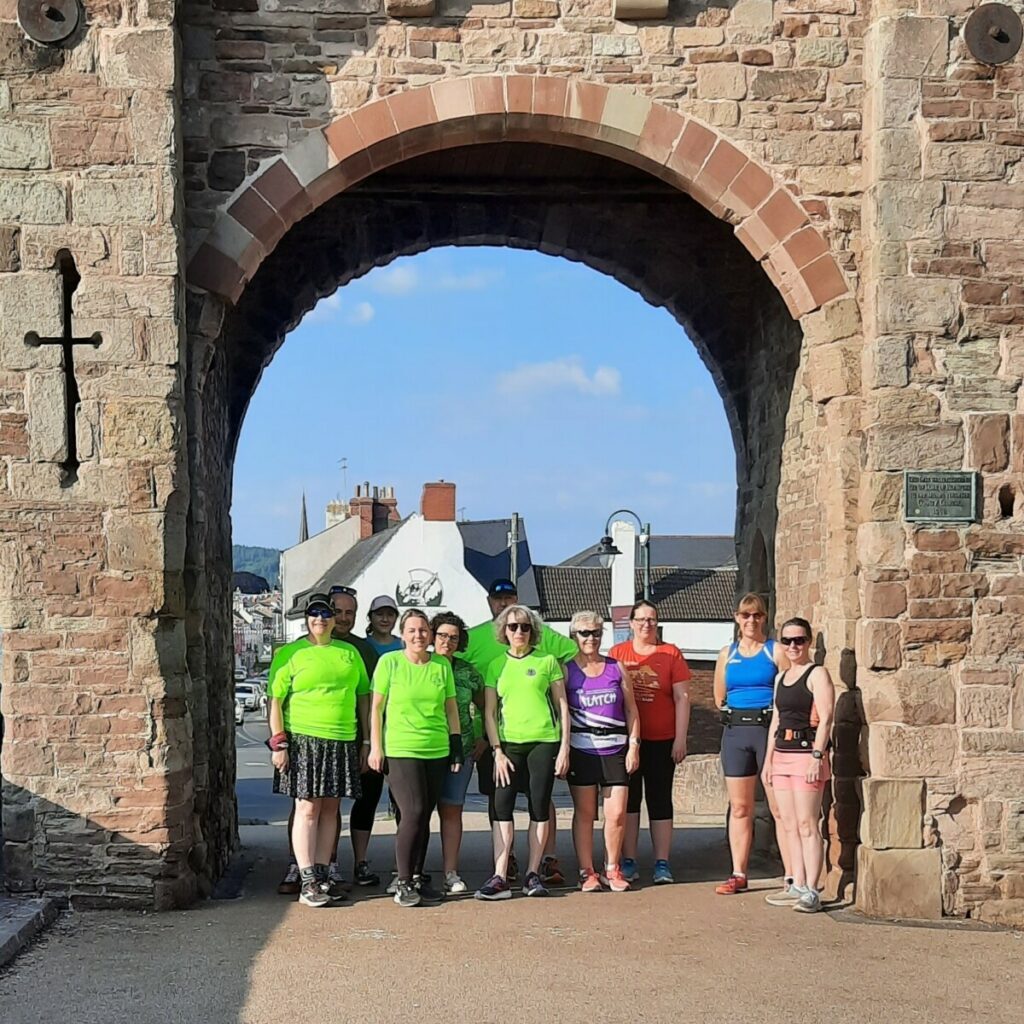 The group warmly welcomes individuals of all experience levels and fosters a supportive environment. As a Clwb Run Wales partner group, Monmouth Rock Up and Run offers Welsh Athletics affiliation to its members, providing additional benefits such as co-branded club/group tops and exclusive discounts.
Severn Bridge parkrun, which started on August 11, 2018, takes place on the Wye Bridge Section of the old Severn Bridge, spanning Monmouthshire in Wales and crossing into Gloucestershire and Avon in England.
The course offers a stunning out-and-back route that treats participants to breath-taking views of the Severn Estuary, showcasing the beauty of both Wales and England. The event provides an excellent opportunity to enjoy nature's wonders while engaging in physical activity.
The Run Wales Celebration Relay visited Severn Bridge parkrun as it drew an impressive crowd of 256 participants, including runners, joggers, and walkers.  Being a Bank Holiday weekend, it was perhaps unsurprising to see 84 people participating in Severn Bridge parkrun for the first-time.
The successful execution of Severn Bridge parkrun would not have been possible without the dedication of 23 volunteers who selflessly contributed their time and energy.
Volunteers play a crucial role in ensuring the smooth operation of parkrun events, creating a safe and enjoyable experience for all participants. The 796 individuals who have volunteered 3,660 times since the inception of Severn Bridge parkrun exemplify the power of community engagement and the spirit of giving back.
As Severn Bridge parkrun continues to thrive, it remains a testament to the power of running, community, and the beauty of shared experiences.
---
This week 256 people ran, jogged and walked the course, of whom 84 were first timers and 35 recorded new Personal Bests. Representatives of 46 different clubs took part.
The event was made possible by 23 volunteers:

Rob BEVES • Jonathan CARTER • Giacomo SQUINTANI • Andrew WALL • Antoinette BURROWES • Peter AYLOTT • Wendy BRIGGS • Ross HOWELLS • Andrew OLIVER • Graham TAYLOR • Lowri DUFFIELD • Margaret GRIFFITHS • Kev HARFORD • Julian SMITH • Tim BATCHELOR • Abigail LAZENBY • Keith LAZENBY • Corinna TANNIAN • Jo CANN • Lorraine CLARKE • Karen MAGGS • Charlie BENDALL • Marie CARUSO-CLARIDGE
Today's full results and a complete event history can be found on the Severn Bridge parkrun Results Page.
Severn Bridge parkrun started on 11th August 2018. Since then 12,498 participants have completed 31,340 parkruns covering a total distance of 156,700 km, including 4,684 new Personal Bests. A total of 796 individuals have volunteered 3,660 times.
---
Next week, the Celebration Relay baton will be leaping across the county as it returns to West Wales and Colby parkrun. We'd love to see more social running groups joining the celebration there, so please get in touch if you're interested!