What fun was had at Penryhn parkrun this week when two Run Wales registered groups celebrated social running together as part of the Run Wales Celebration Relay! Twenty members of the Dwygy Dashers and Môn Milers ran and volunteered together on a gorgeous morning with the stunning backdrop of Penrhyn Castle, the Menai Strait and the mountains of Snowdonia. Magnificent!
The Celebration relay provides all Run Wales registered groups with a tremendous opportunity to showcase their group, sharing information about their activities and encouraging more people to participate in social running outside of their regular weekly parkrun.  We are encouraging groups to support their local parkrun by offering to volunteer as well as run, jog or walk at the relay events. 
5/47: Celebration Relay Run Report – Penrhyn parkrun
---
This weeks run report reflects the experiences of both groups who participated in the event.
The Dwygy Dashers were proud to take part in the Run Wales Social Running Celebration Relay when the baton came to our patch at Penrhyn parkrun on 6 August. We had 7 runners, 2 volunteers and a dog on the day. It was also a pleasure to meet up with the lovely Môn Milers, who were in charge of bringing the baton to the next stage of its journey round Wales. The sun shone, and conditions were perfect.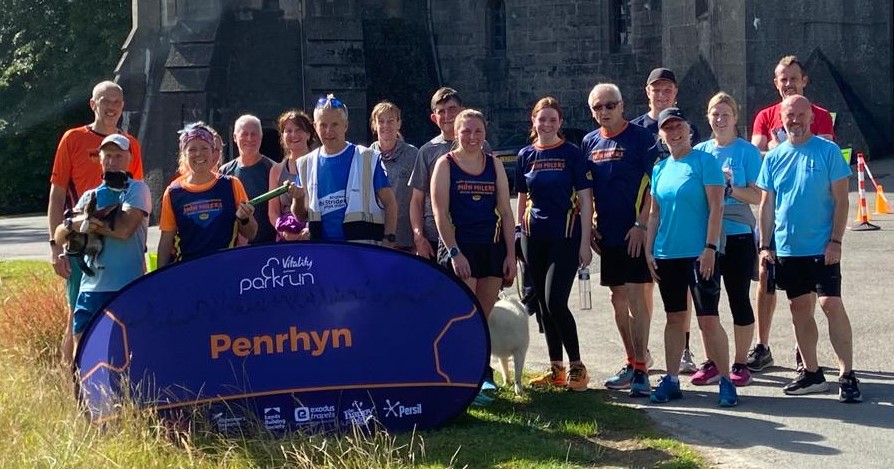 Penrhyn is a firm favourite with some of us, and was also a new experience for 3 of our team on the day. Why do we love it? The course is 4 loops of the beautiful grounds of Penrhyn castle, with stunning views across the sea of the Snowdonia mountains and Puffin Island. Definitely a contender for the most scenic parkrun in Wales.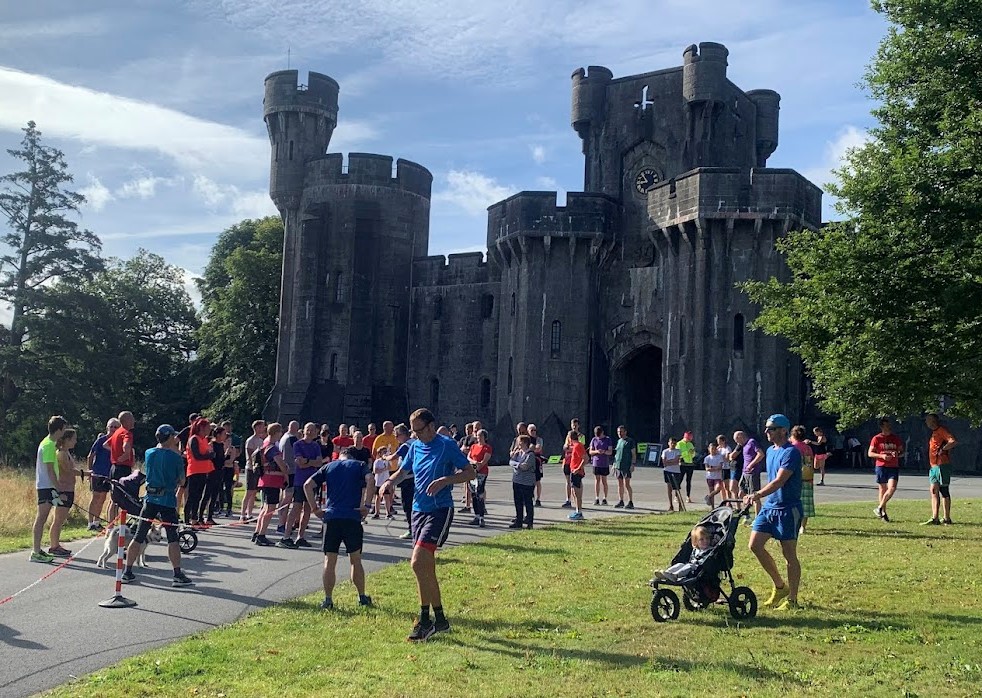 It's an undulating and varied course, mostly on tracks, with plenty shade on a hot day. The start and finish in front of the castle is a striking backdrop for photos.  
Whilst the Dashers and the Milers took the baton on its journey round the course, two of us donned our pink Volunteer jackets to help at the finish line. Organising the finish funnel and scanning barcodes were our jobs this time. Without volunteers, parkrun wouldn't happen, and it's a great way to participate if you are not running/walking the course.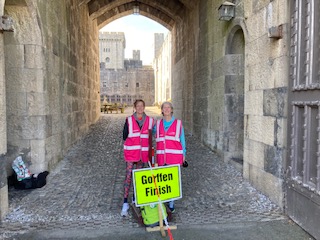 Some of our runners worked hard, others took it easy and paced others or just enjoyed the views. Everyone crossed the line with a massive grin. It was an absolute joy to see all those happy, smiling faces coming in.
Our 3 first-timers found the hills tough, compared to our home parkrun at Conwy, which is flat. Everyone loved the course though, and felt our group runs round the hills of Dwygy had prepared them well for a lumpy course.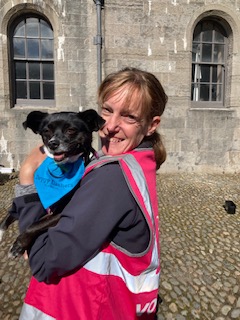 Ellie Dog checked it all out to see if she fancied running it next time. The answer was yes.  
The Môn Milers brought another 11 runners to Penrhyn this week, including this week's tail walker, who is a regular runner at Penrhyn, but is also a huge fan of encouraging walkers at parkrun, so had a wonderful time walking with a lovely group of parkrun tourists who were visiting Penrhyn parkrun for the first time.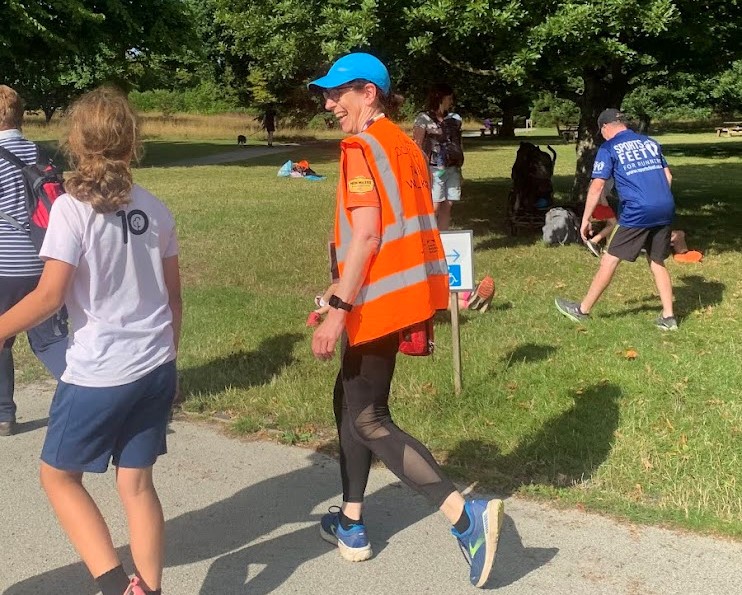 At the other end of the field of participants, Môn Miler Nick managed to knock a staggering 1 minute and 8 seconds off his previous course PB, bringing him home in 20:17 and 9th place overall – da iawn Nick!
As always, the group reflected the mix of participants at parkrun, with some like Nick, pushing new boundaries with their running, others enjoying a solo run in the midst of other runners, but also groups who stick together, chatting away and coming in together.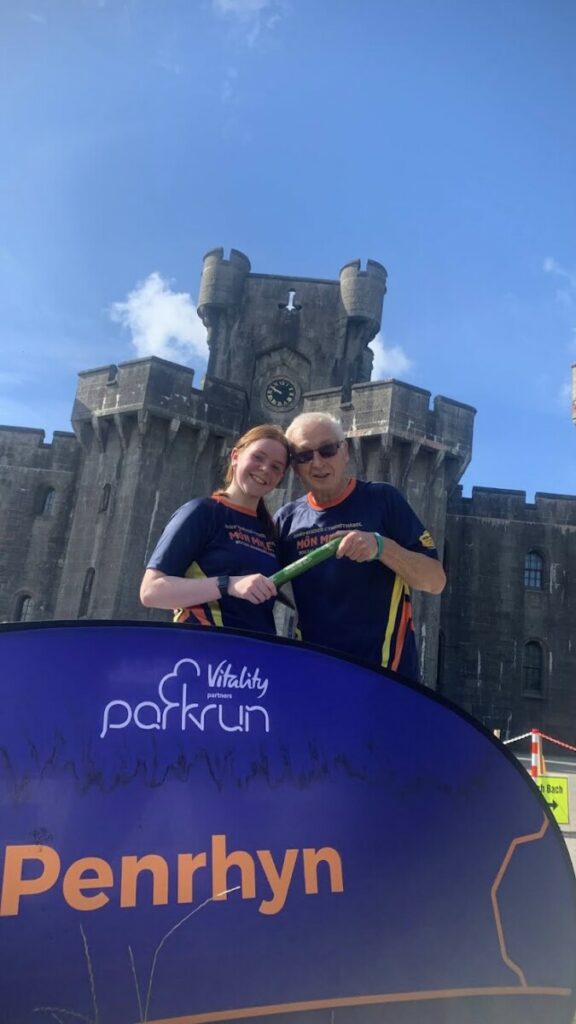 Whatever the focus, it is always a pleasure to catch up with old friends and make new ones when we are at parkrun. This one was made even more fun with the baton looping the course, and a seamless handover from the Mon Milers to Dwygy Dashers mid-run!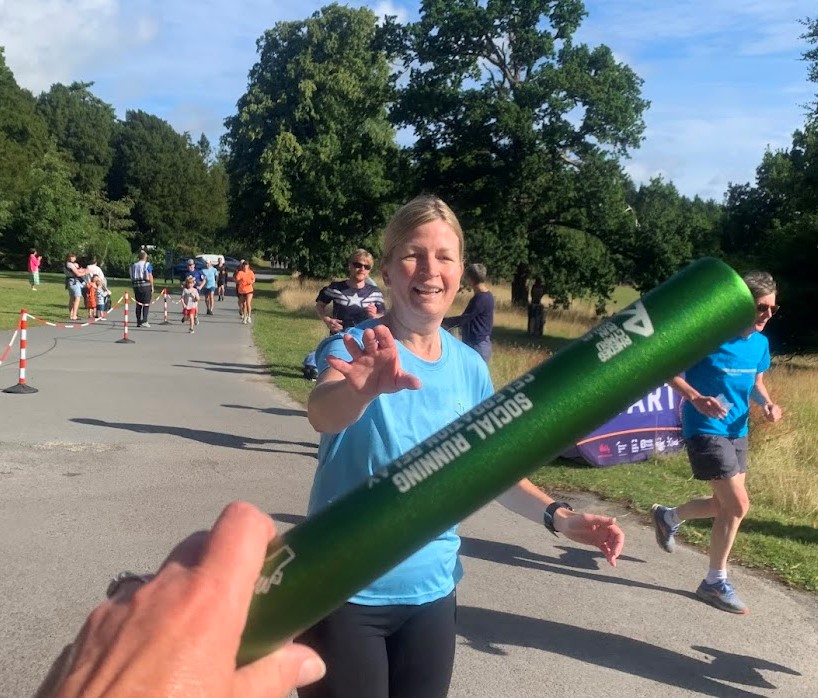 It was great to see such a good turnout on this beautiful morning, with RD Kev welcoming the gathering crowd to Penrhyn and inviting Run Wales Participation Officer, Josie, to give the runners a quick introduction to the Run Wales Celebration Relay before we set off just as the bells tolled for 9am.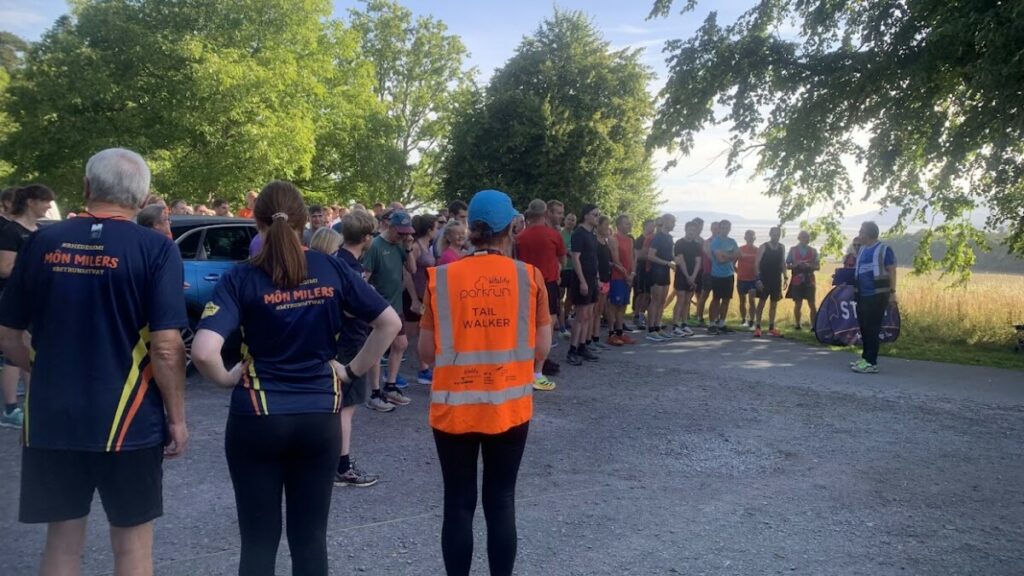 This week's first finisher, also celebrating his 50th parkrun was Owen ROBERTS, crossing the line in 17:26. Jackie LEE was this week's first female finisher, also bagging herself a PB with a fabulous time of 20:40. Congratulations to you both!
The first junior parkrunner this week flew across the finish line in 10th position just ahead of Jackie in 20:23 on his first attempt at the Penrhyn parkrun course, and only his 5th parkrun – huge congratulations to Aidan WRIGHT of Ipswich Harriers!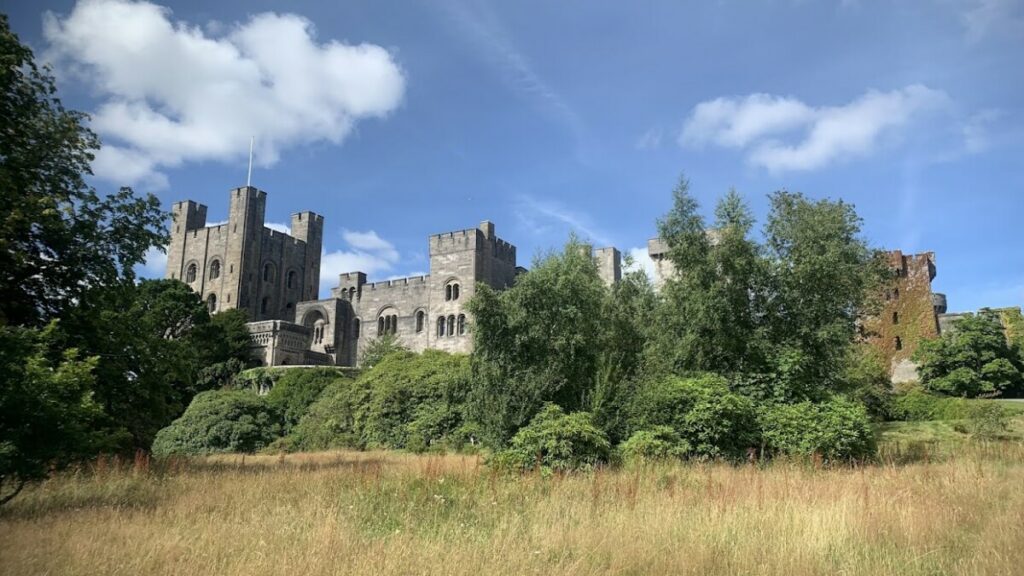 Matt ROUTLEDGE of UTS Run Club was the most experienced parkrunner at this week's event, this being his 302nd recorded parkrun – that would be a lot of loops at Penrhyn!
Congratulations to Liam JACKSON, who joined the 250 club this week, and also to Alex SUTTON, Alan THOMAS, Daniel BULLOCK, Isaac BARRETT, Dermot BARRETT, Charlie GARROD and Imogen RUSSELL, who were all welcomed to the parkrun family for the 1st time.
We look forward to parkrunning with you in the future at any of the amazing events across the parkrun world – it truly is social running at its best!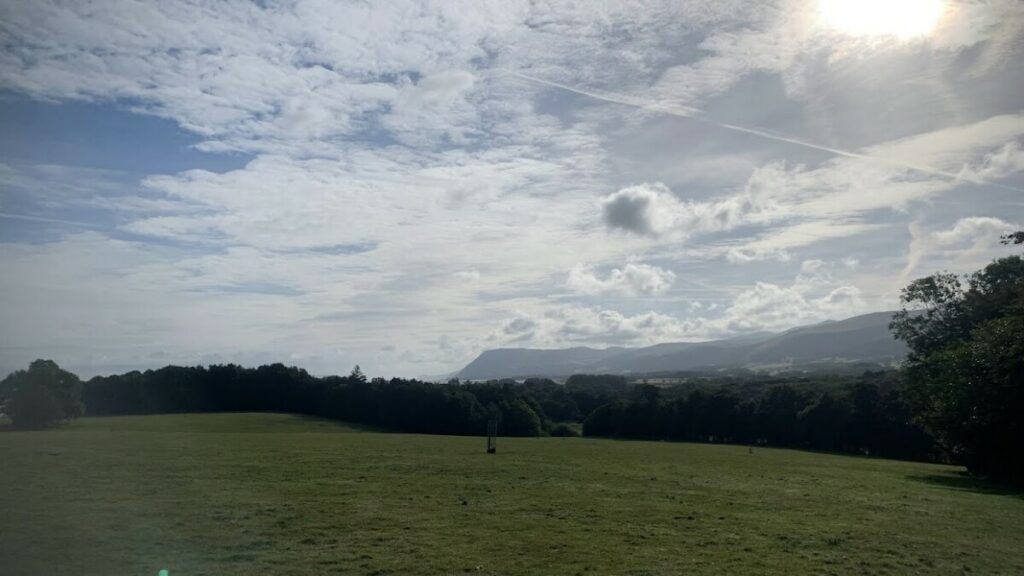 This week 178 people ran, jogged and walked the course, of whom 69 were first timers and 24 recorded new Personal Bests. Representatives of 38 different clubs took part.
The event was made possible by 14 volunteers:

Susan HOLLAND • Sue TAYLOR • Simon LONGMAN • Kevin CLARK • Cathy HEAVERS • Richard HEAVERS • Helen SALTER • Josie RHISIART • Vida WILLS • Robert ENGLISH • Carl MATHER • Orlaith BARRETT • Jane BEACHELL • Jennifer STORR
Today's full results and a complete event history can be found on the Penrhyn parkrun Results Page.
The male record is held by Dan NASH who recorded a time of 15:37 on 7th April 2018 (event number 168).
The female record is held by Holly WEEDALL who recorded a time of 17:49 on 28th July 2018 (event number 184).
The Age Grade course record is held by Dot KESTERTON who recorded 97.80% (22:46) on 9th April 2022 (event number 275).

Penrhyn parkrun started on 15th November 2014. Since then 11,246 participants have completed 47,069 parkruns covering a total distance of 235,345 km, including 8,388 new Personal Bests. A total of 719 individuals have volunteered 4,034 times.
---
Next weekend, the relay is crossing the Menai Strait to Anglesey, where it will be at the stunning Newborough Forest parkrun, so come and meet some more local social running groups and find out what options are available in the area!
The Run Wales team would love to hear from other social running groups or anyone who is interested in establishing a new group.
---
The relay baton continues its journey to every parkrun in Wales, courtesy of our amazing Run Wales groups, as they celebrate and share the joys of social running. You can follow the baton's progress and find out how to get involved as it continues its journey towards a big finish with a mass participation event next year!