The Social Running Celebration Relay Baton reached Rogiet parkrun this week as Undy & Redwick Road Runners hosted a volunteer takeover, with an amazing 26 members of the group stepping into parkrun volunteer roles, including this week's Run Director, Rob Ollerton. Read their run report below!
The Celebration relay provides all Run Wales registered groups with a tremendous opportunity to showcase their group, sharing information about their activities and encouraging more people to participate in social running outside of their regular weekly parkrun. We are encouraging groups to support their local parkrun by offering to volunteer as well as run, jog or walk at the relay events.
35/47: Celebration Relay Run Report – Rogiet parkrun
---
The Social Running Celebration Relay Baton reached Rogiet parkrun on Saturday 13th May. Carefully carried from Riverfront parkrun the previous week by Alun Fuller – "Crazy Al". Al is a member of Undy & Redwick Road Runners (URRR).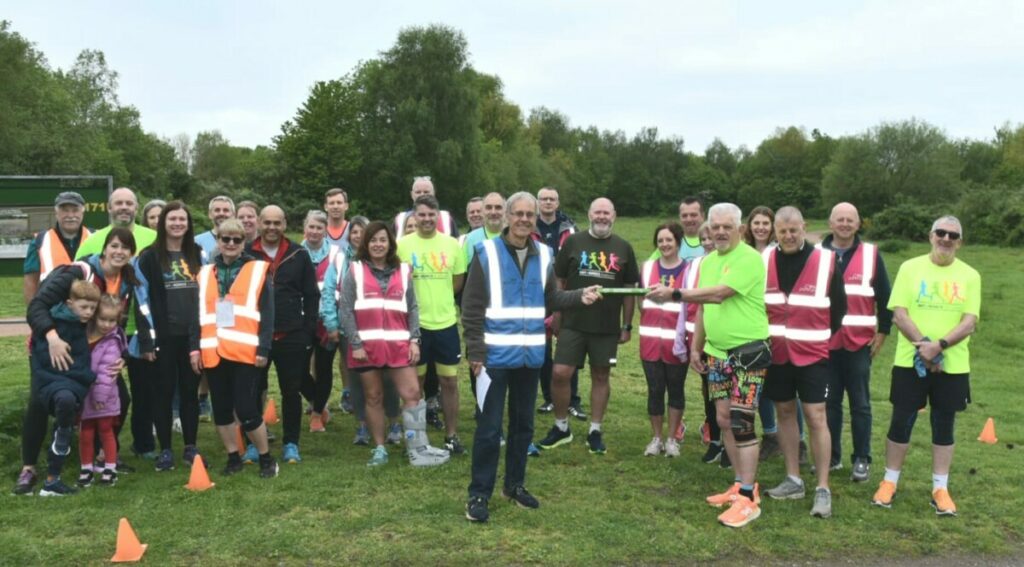 URRR did a volunteer takeover this week – an amazing 26 members of the group were volunteering, including the Run Director, Rob Ollerton. All the roles were covered, and in some cases, marshal posts were double headed!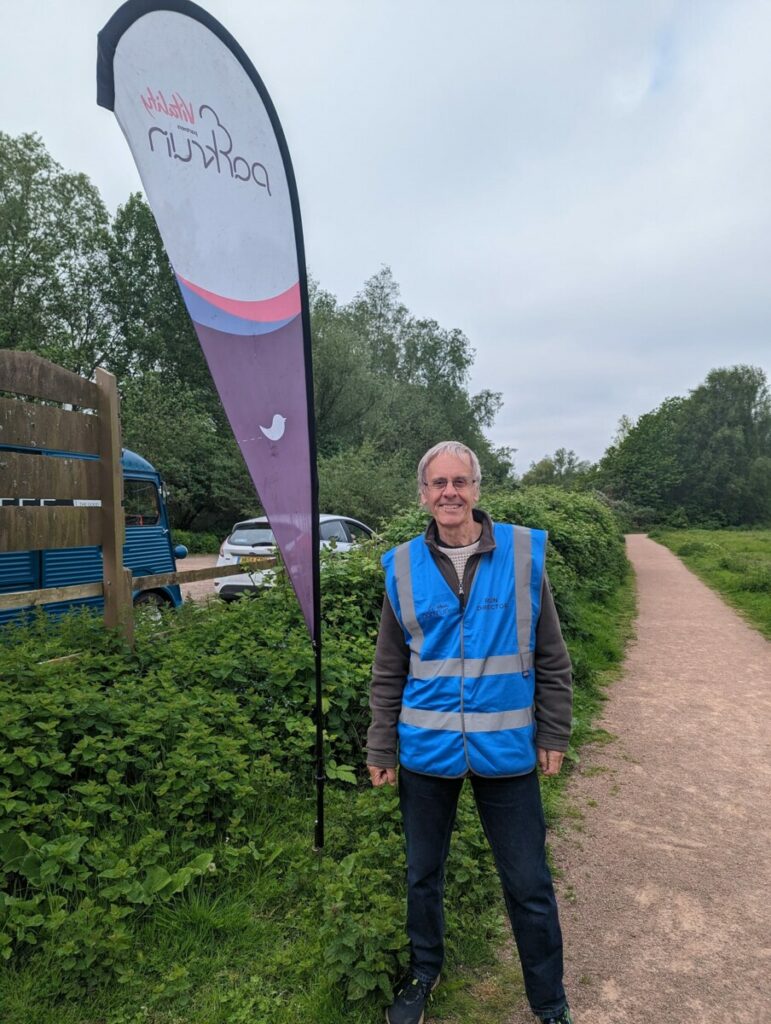 It was a wonderful event, with a great, friendly atmosphere. Rogiet parkrun takes place in the beautiful Rogiet Countryside Park, which used to be the country's largest railway marshalling yard until it was closed in 1987. It's reached by heading to Severn Tunnel Railway station, and crossing over the railway bridge, where it is hidden away on the right.
As well as the runners and walkers who attend Rogiet every week, there were visitors from Barry Island, Aberdare, Newport and Nailsea.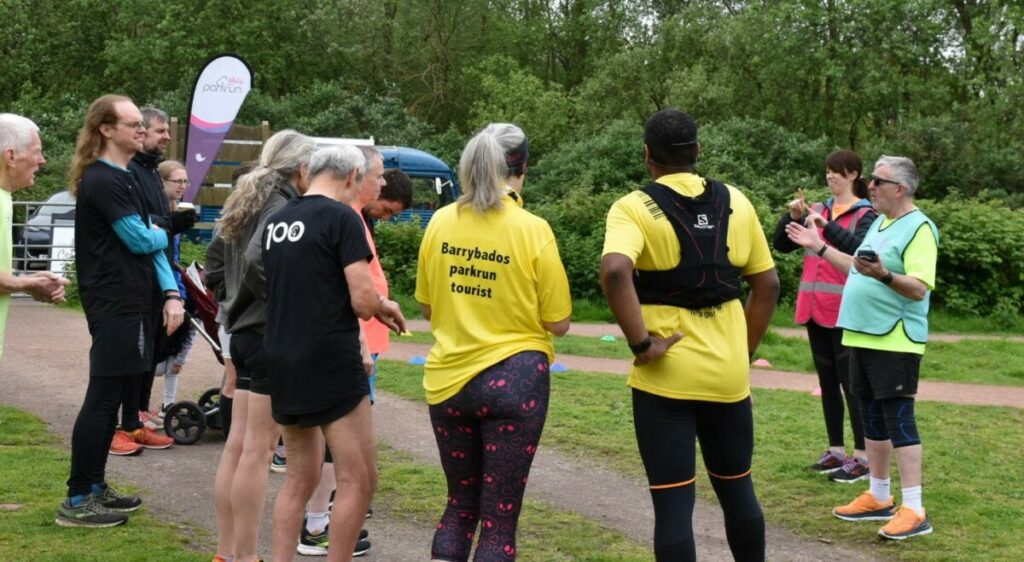 As always, "First Timers" are given a separate briefing before it all starts, this time given by URRR's John Munday, who'd never done the senior first time briefing before!
Another URRR member, Emma Horton is a professional deaf and hard of hearing signer, who was asked to sign the first time briefing and the main briefing before the run, again a first for Rogiet parkrun.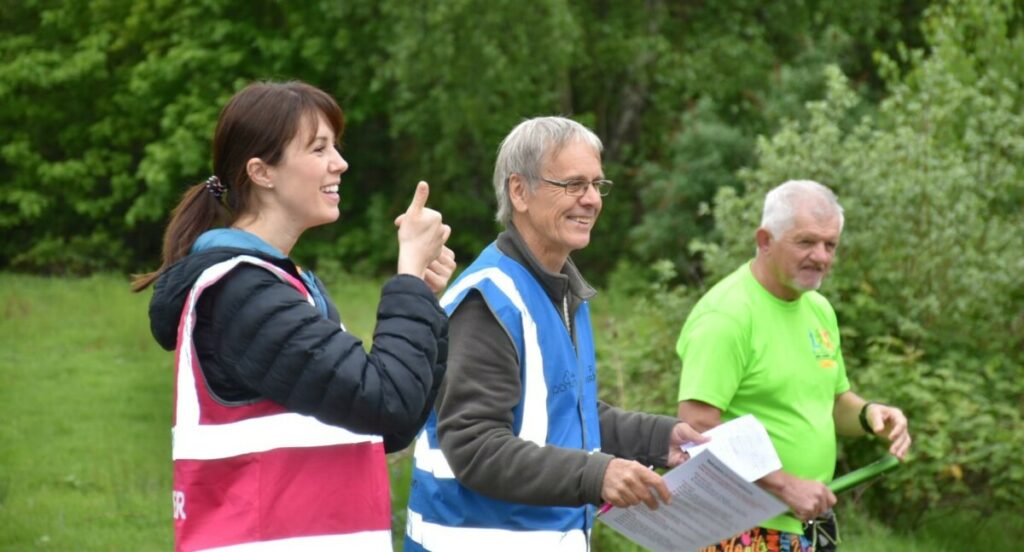 Prior to the run, Run Director Rob explained what today's event was all about, and said a few words about inclusivity – people can run or walk at their own pace – and he pointed out that in the spirit of inclusivity, Emma had been invited to sign the event. A few months previously, Rogiet parkrun had hosted a special Run Wales event for blind runners, who run parkrun with their guide runners.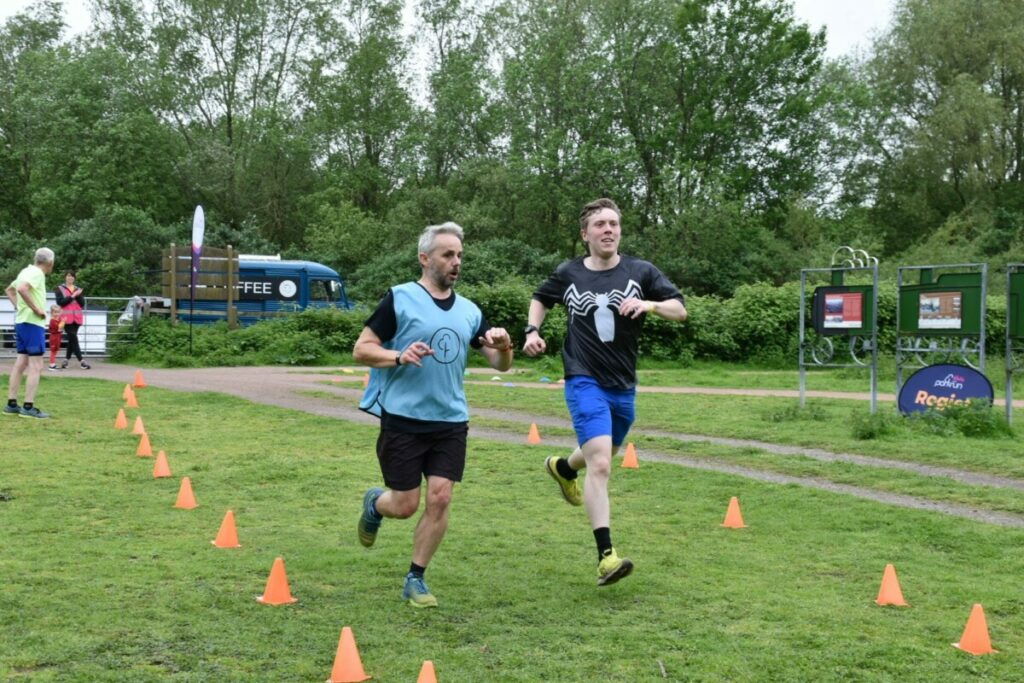 Rob explained that all the volunteers at today's event were from Undy & Redwick Road Runners, and said that if people wished to join in with their weekly runs, they could come along on Mondays and Wednesdays to Undy Football club.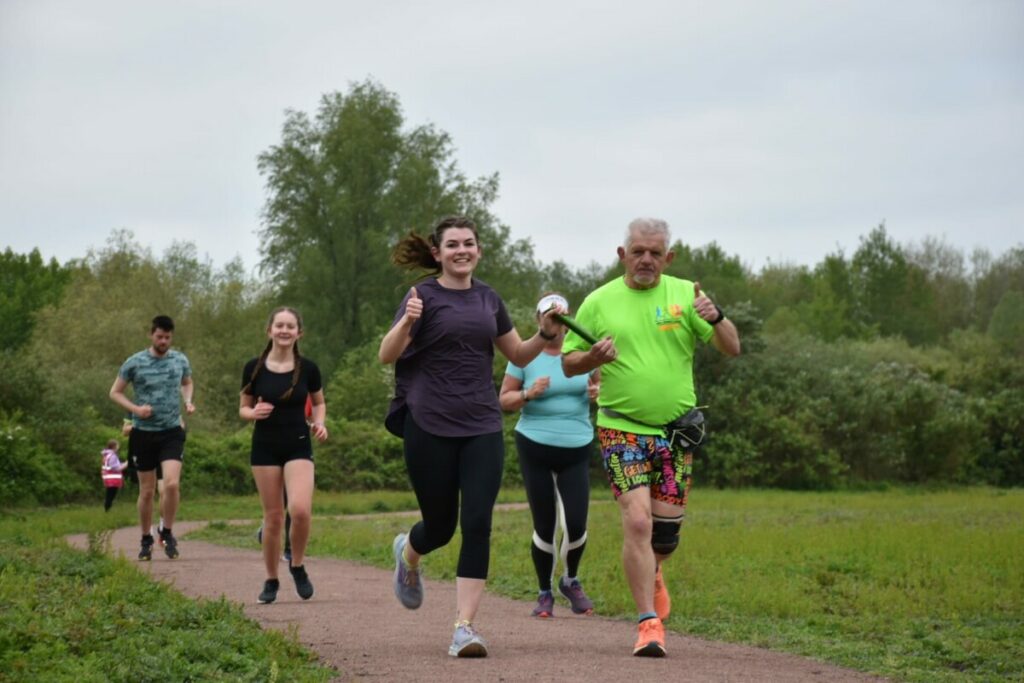 Mention was also made about the new Couch to 5K course being started in Monday 15th May, being organised by URRR's Crazy Al. More information about URRR can be found on their Facebook page.
It was pointed out that there were other local running groups and Welsh Athletics affiliated running clubs which people could join if they wished – Caldicot Running Club, Liswerry Runners, RUNNewport and Chepstow Harriers.
There were 5 people who'd never run at parkrun before, so a special welcome was given to them. It was a special week for two people who'd reached parkrun milestones – Junior Bryn Geary reached his 10th parkrun (and a new pb of 22.28!) and Carolyn Griffiths reached her 100th parkrun milestone.
Rogiet parkrun is a 3 lap course, which is mostly flat apart from one small rise. The park has recently had new paths laid, so the whole course can now be run without stepping into puddles or tripping over rabbit holes!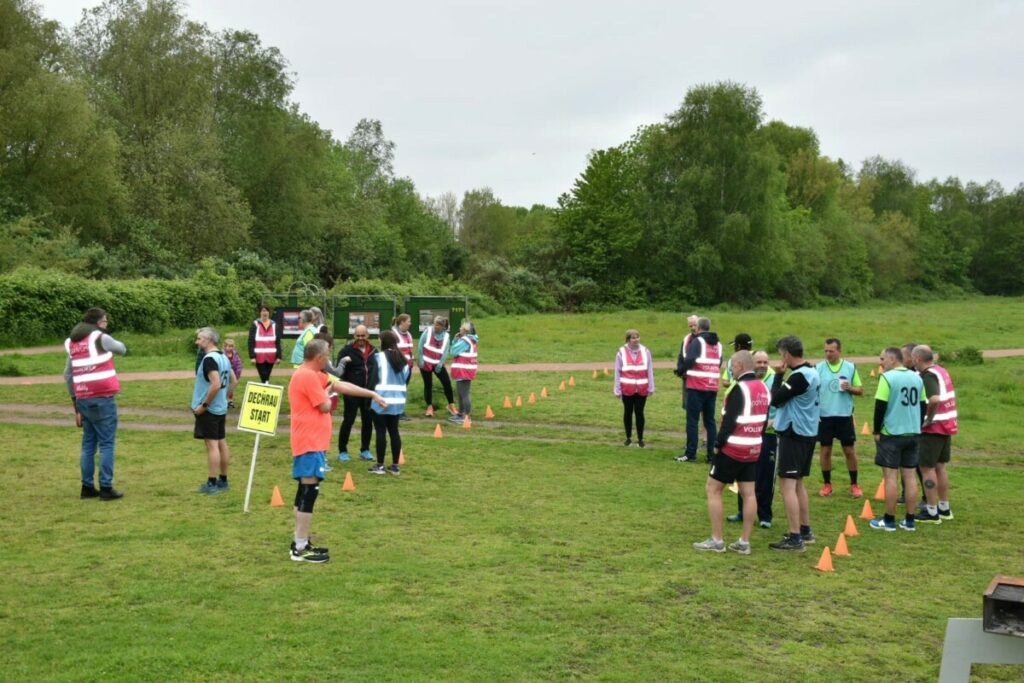 Run in perfect conditions, 80 people finished, with the first finisher, Ben Spooner coming in with a time of 19.57. The tail walkers Paul and Gillian Williams finished with a time of 52.13.
Mention is always made by visitors to Rogiet parkrun about how friendly it is, but especially today, because we had so many volunteers from URRR, who were making efforts to make it a special day for everyone.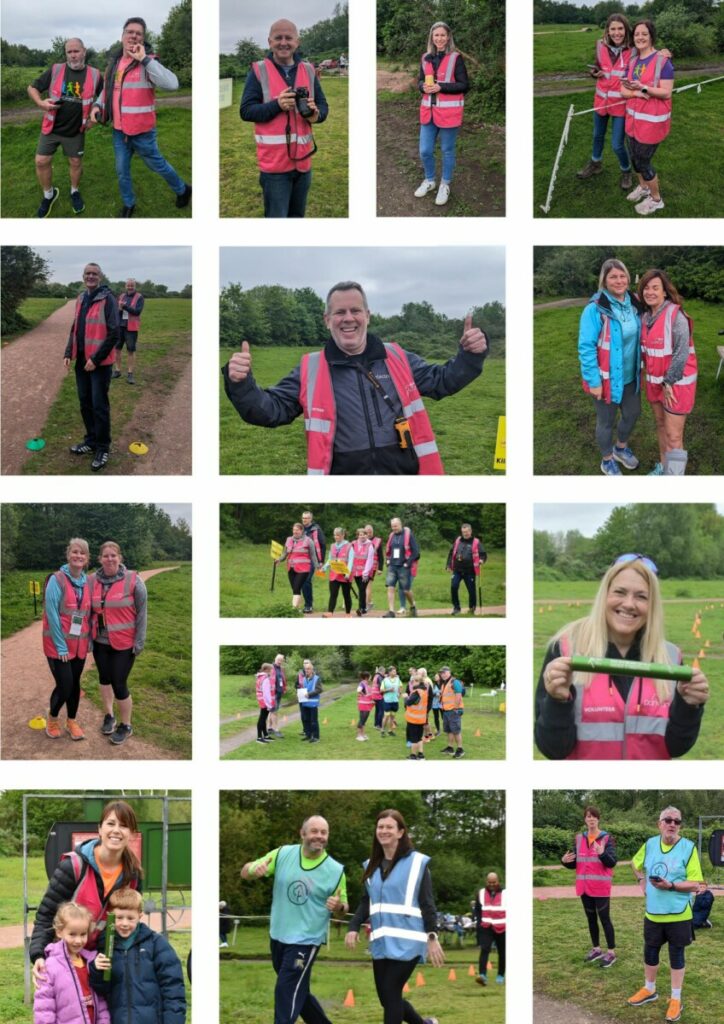 We had a nervous youngster who'd never run at any kind of event before but had seen in social media that there was a special Social Running event on today and had come along to try it out. After some persuasion, he set off with his mum to walk around the course with all the other participants.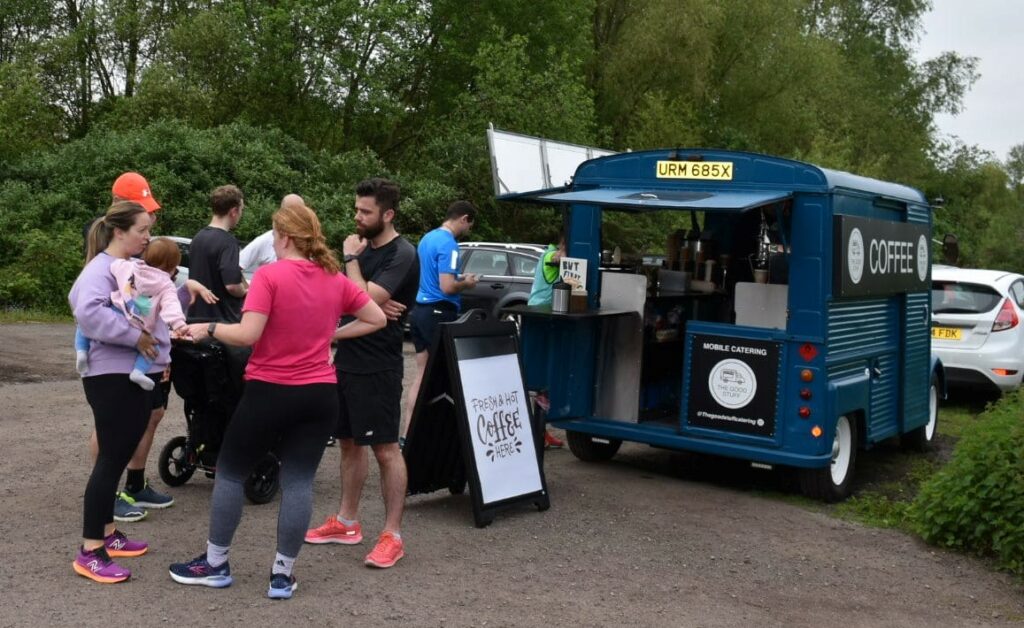 After the run, people could enjoy a really nice coffee, using the coffee van that was visiting for the first time, or by making their own drink inside the park for a small donation of 50p, provided by friends of Rogiet Countryside Park.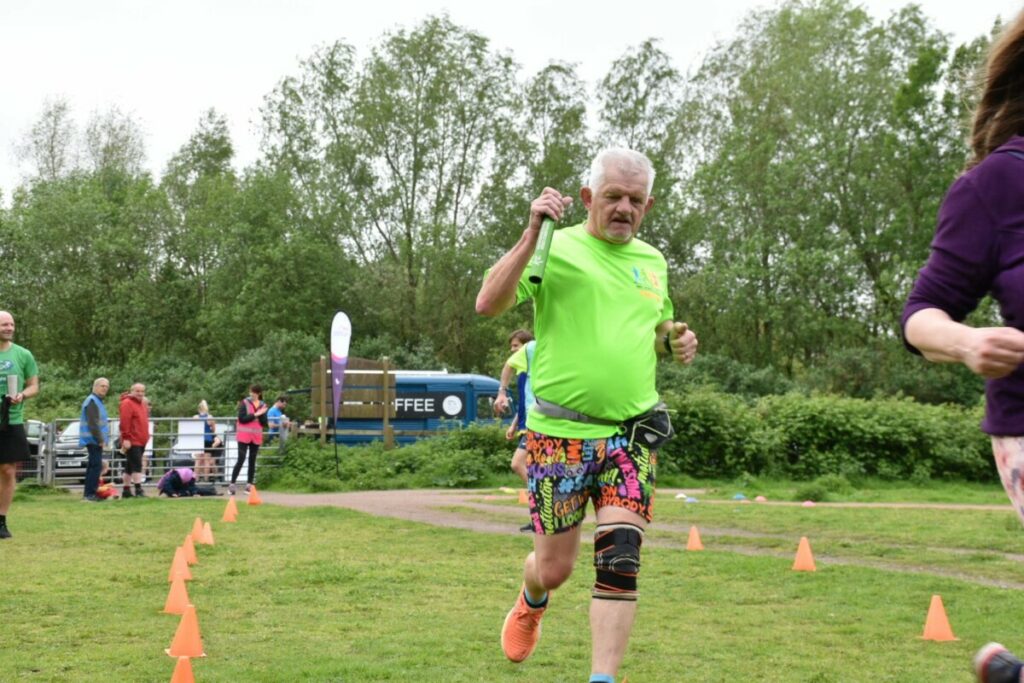 The Social Running Celebration Baton was carried round the course by Al Fuller before being handed over at the end of the run to Simon Jones from Monmouth Rock Up and Run. He will be taking it to Chippenham Playing Fields parkrun on the 20th May.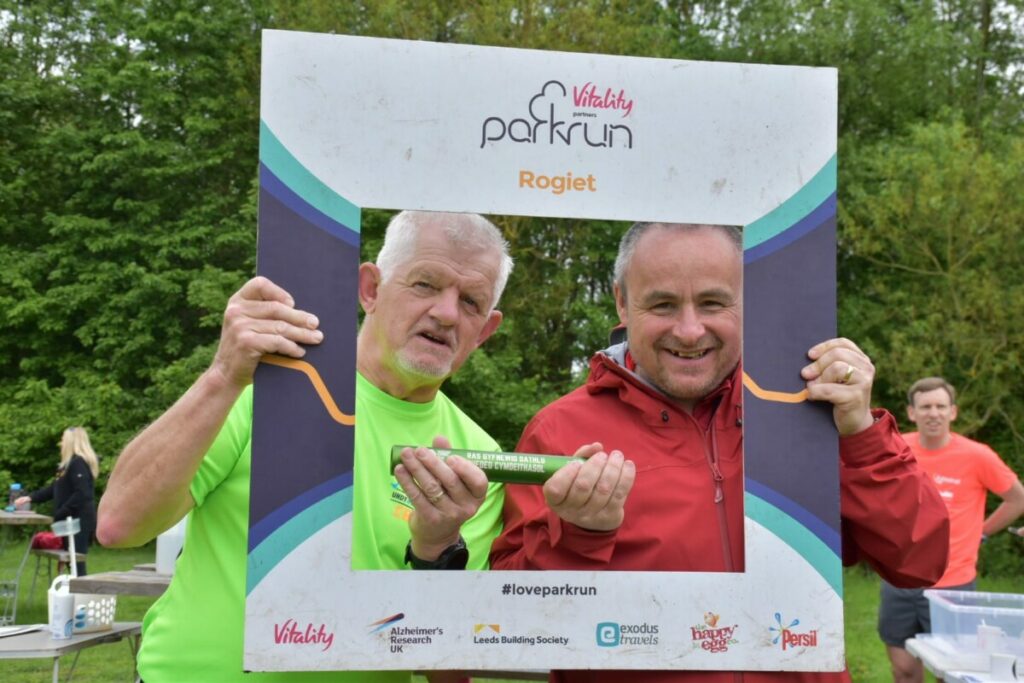 Rogiet parkrun and Undy & Redwick Road Runners were delighted to host the event, which was a really friendly community celebration of social running.
---
This week 80 people ran, jogged and walked the course, of whom 19 were first timers and 8 recorded new Personal Bests. Representatives of 21 different clubs took part.
The event was made possible by an amazing 31 volunteers:

David SOMERSALL • Mark LEWIS • Sean Alan EDWARDS • Emma AYRES • Rob NORMAN • Gillian E WILLIAMS • Paul J WILLIAMS • Jane ARTHUR • Rob OLLERTON • Tracey ARTHUR • Samantha POWELL • Bethan WEBB • Sonia UNSTED • Jason HESLOP • Alan TYRRELL • Bethan LYNE • Allison HOLLAND • Michael CROFT • Ceri RICHARDS • Chris UNSTED • John MUNDAY • Pippa WORGAN • Sarah KIELTHY • Andrew KIELTHY • James D W BROWN • Andrew COCHRANE • David CROFT • Kay ROGERS • Rhian EDWARDS • Emma HORTON • Tristan BIRD
Today's full results and a complete event history can be found on the Rogiet parkrun Results Page. You will also find a link here to volunteer at the event!
Rogiet parkrun started on 21st October 2017. Since then 3,965 participants have completed 15,376 parkruns covering a total distance of 76,880 km, including 2,791 new Personal Bests. A total of 615 individuals have volunteered 4,160 times.
---
Simon from Monmouth Rock Up and Run collected the Celebration Relay baton from Undy & Redwick Road Runners in preparation for their celebration of social running at Chippenham Playing Fields parkrun next week.
The Run Wales team would love to hear from any other social running groups in the area or anyone who is interested in establishing a new group.