Newborough Forest parkrun gave a very warm welcome to the Run Wales Celebration Relay as it made its first visit to the Isle of Anglesey this week. With well over 40 members of social running groups in attendance as runners and volunteers, alongside club runners, locals and visitors, there was a wonderful atmosphere which seemed to reflect the glorious sunshine (and pretty intense heat).
The Celebration relay provides all Run Wales registered groups with a tremendous opportunity to showcase their group, sharing information about their activities and encouraging more people to participate in social running outside of their regular weekly parkrun. We are encouraging groups to support their local parkrun by offering to volunteer as well as run, jog or walk at the relay events.
6/47: Celebration Relay Run Report – Newborough Forest parkrun
---
This weeks run report contains contributions from a number of the Run Wales registered groups who participated in the event.
The Môn Milers were delighted to take part in the Run Wales Social Running Celebration Relay when the baton came to Newborough Forest parkrun on 13th August.
More than 20 Mộn Milers gathered in the forest this week to run and volunteer (including Stan, a four-legged member) for this special event.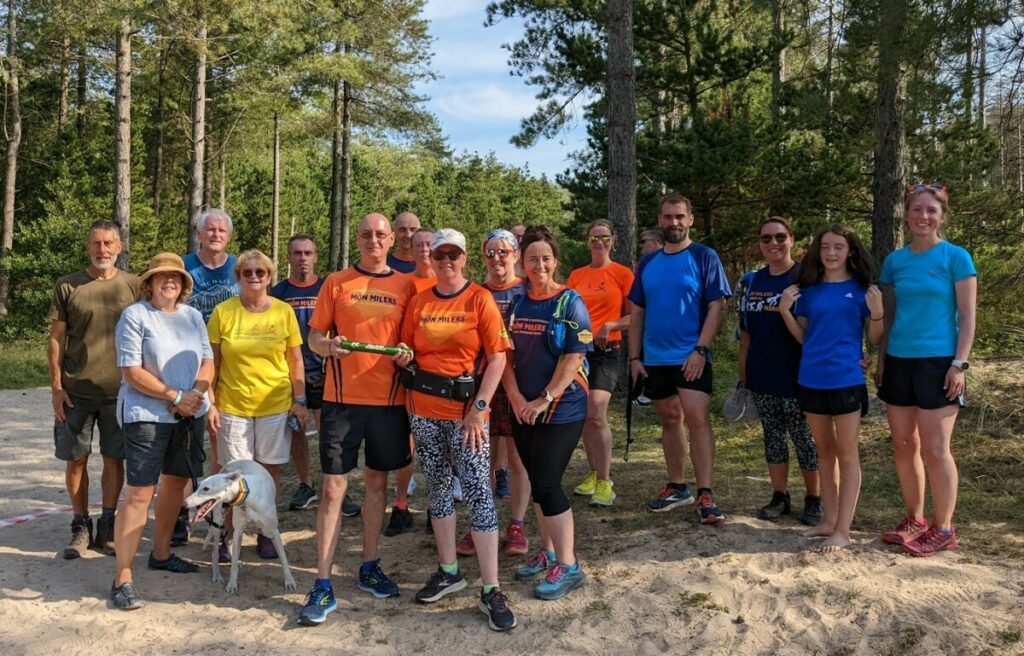 It was also a good to meet up with lots of members of the Rhedwyr Maelog Runners. Thankfully, we were all kept cooler under the trees of Newborough Forest on a hot, sunny, Anglesey morning.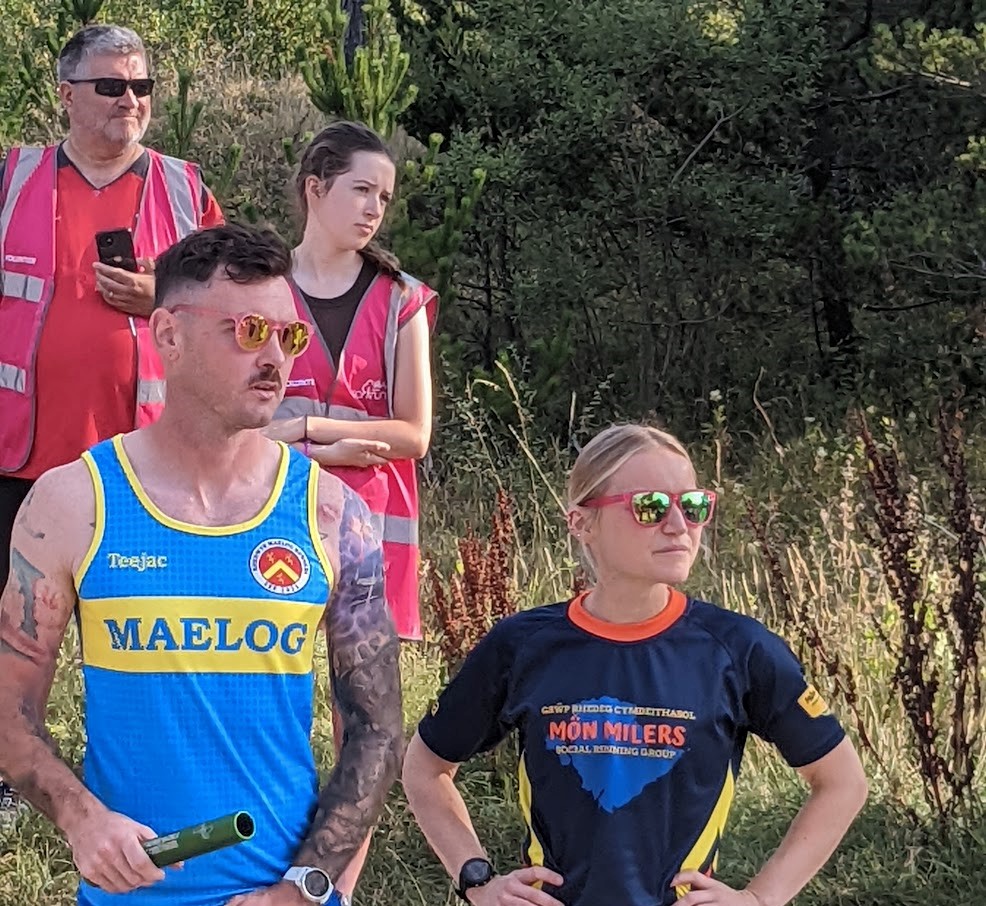 184 athletes battled the course in the warmer temperatures, and it was a nice surprise to meet two lovely horses being ridden in the opposite direction to the parkrunners. I don't know who was more surprised though, the riders meeting all those runners or us meeting the horses!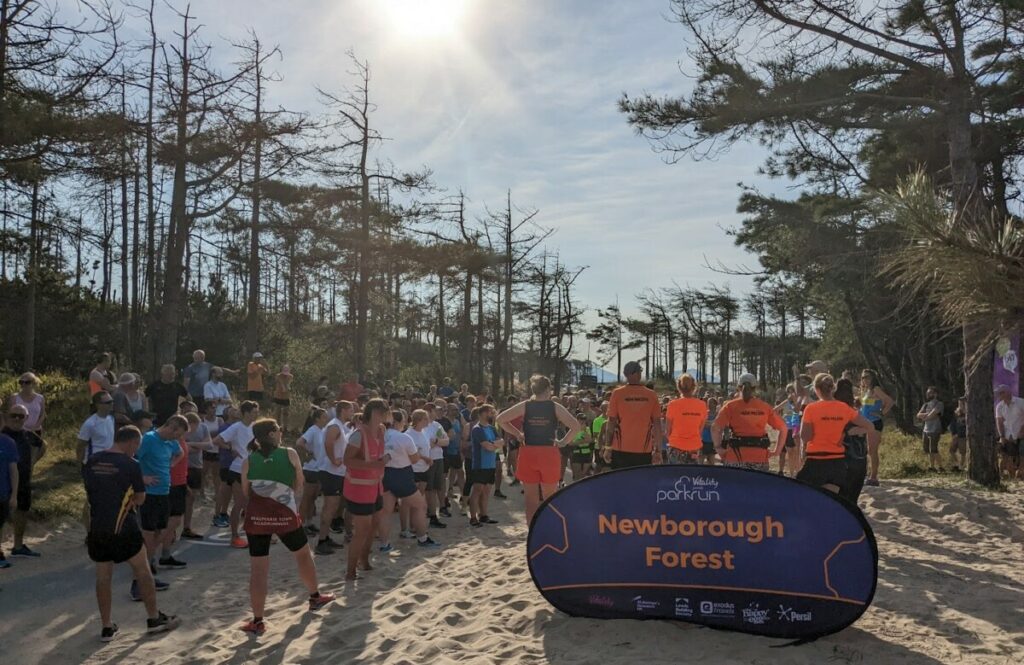 The course is all on trail, where you witness the wonderful views of the mountains before taking you over a small sand dune through the forest where you are welcomed by the friendly marshals out on the course.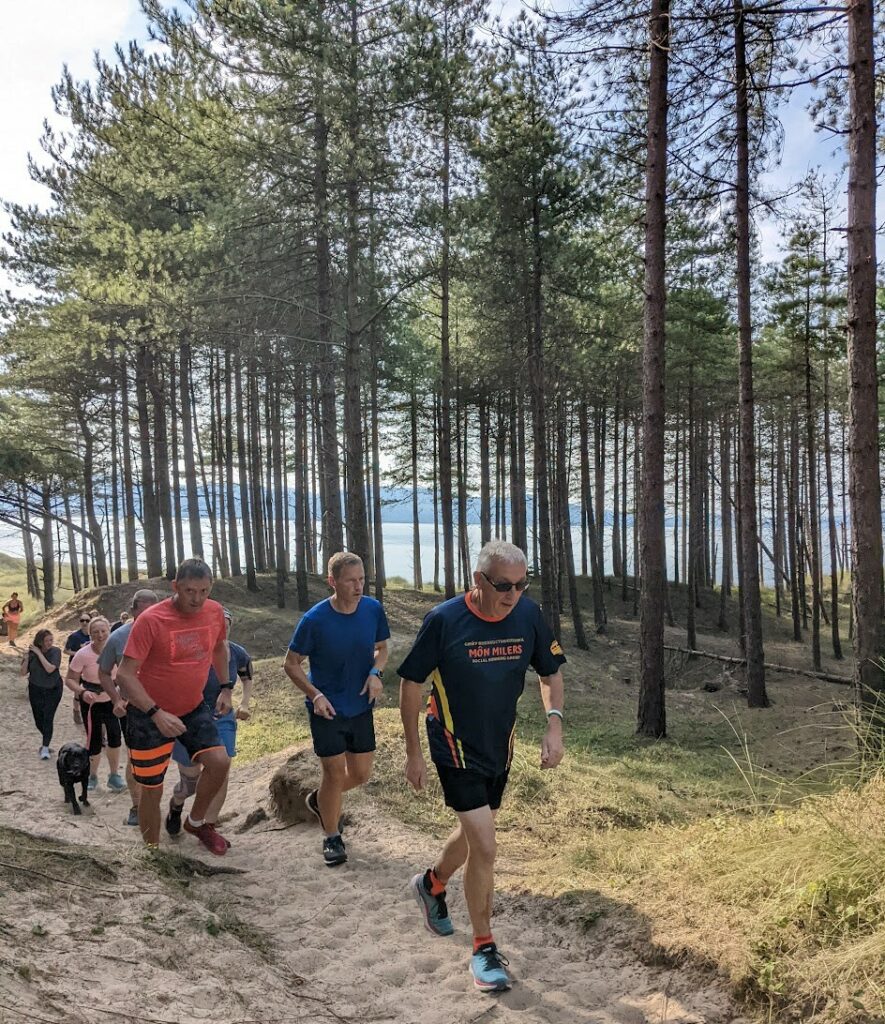 After the halfway point it is a nice relief for the hills to go downwards, taking you back to the start, to the cheers of your fellow parkrunners.
Congratulations to Katie Louise Hope completing her 100th parkrun. Katie visited us at Nant y Pandy parkrun, which regularly hosts lots of Môn Milers, earlier in the year and her aim was to do her 100th parkrun before her birthday in August.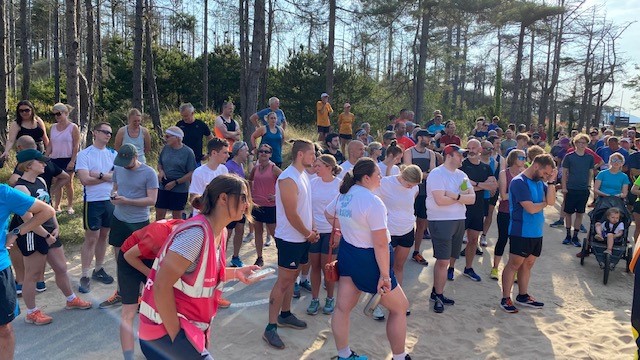 It was lovely to witness Katie's 100th parkrun with lots of her friends running in support – Happy Birthday Katie!
The most experienced parkrunner today was Karen Andrew with 324 parkruns already done. Well done Karen.
Our special thanks must go to all the volunteers who were all very friendly and supportive. Well done to you all from all of us! We look forward to coming again, and to welcoming new runners to the Môn Milers as we continue to enjoy all the wonderful routes and scenery this island has to offer!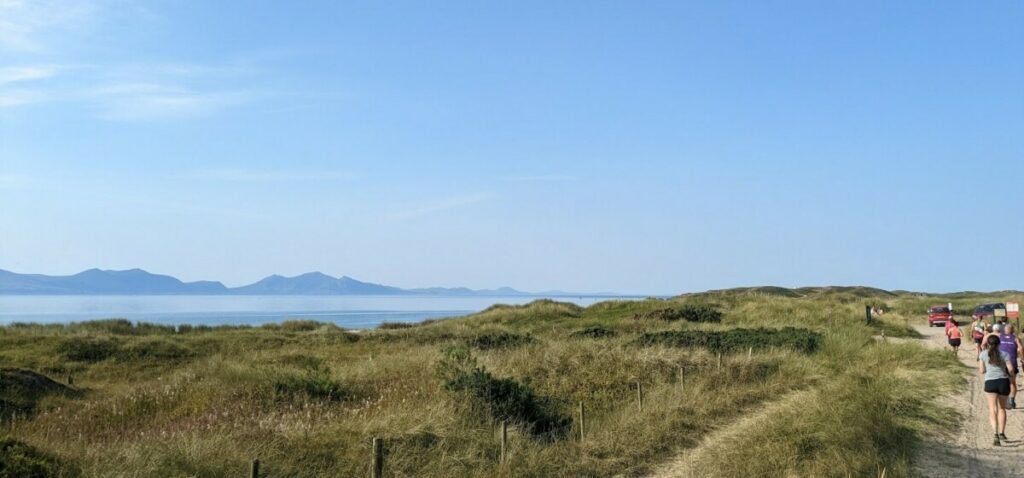 Newborough Forest parkrun has to be one of the most beautiful places to run in Wales and the UK, you will not be disappointed. The lush greenery of the pine trees, the sand dunes, views of Ynys Llanddwyn and the Eryri mountain range as a back drop, this really is an iconic place to run.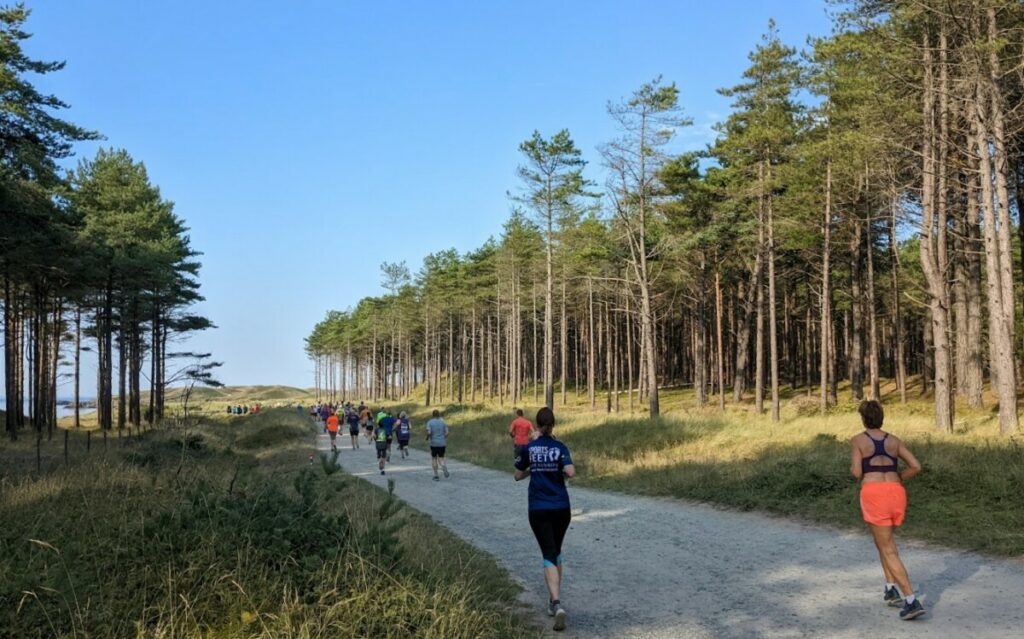 The route is one undulating lap which starts along a stony track and then onto sandy paths weaving in and out of the trees, with friendly marshals on each turn.
Rhedwyr Maelog is a new social running group and we were very pleased with our turnout to the event this weekend. Armon, one of our speediest runners completed the course in just over 18 minutes carrying the Run Wales celebration relay baton.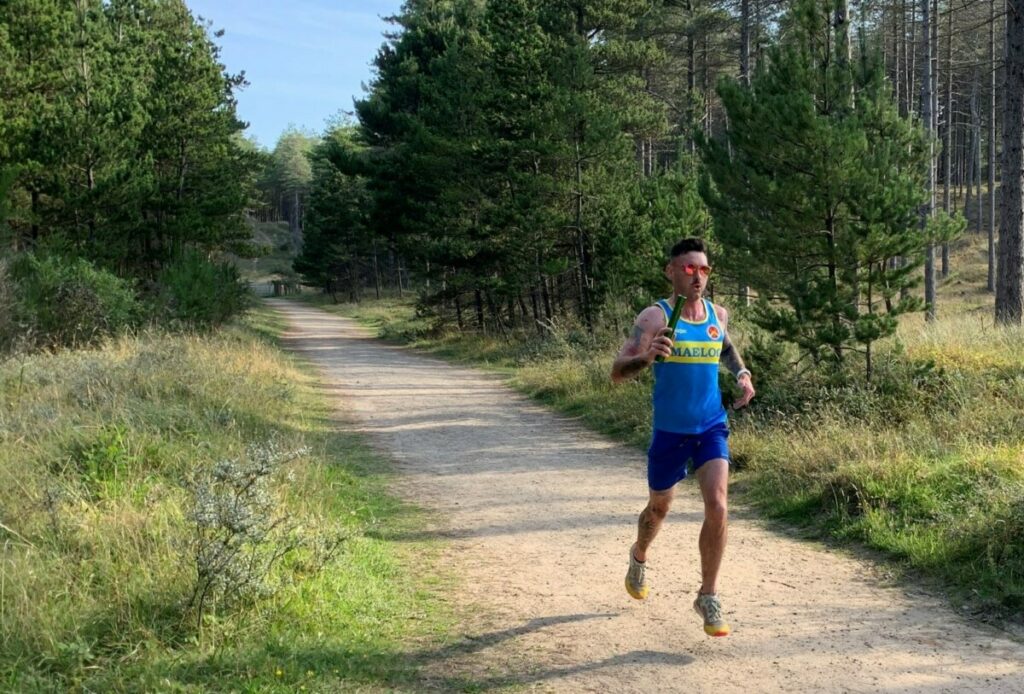 He then passed onto our next speedy runner Gavin, and the baton was passed back each time until our final runners, a ladies group made it through the finish line together. We all really enjoyed our first parkrun together as a group. A few went for a dip in the sea to cool off whilst others went for coffee and cake to replenish the burnt calories!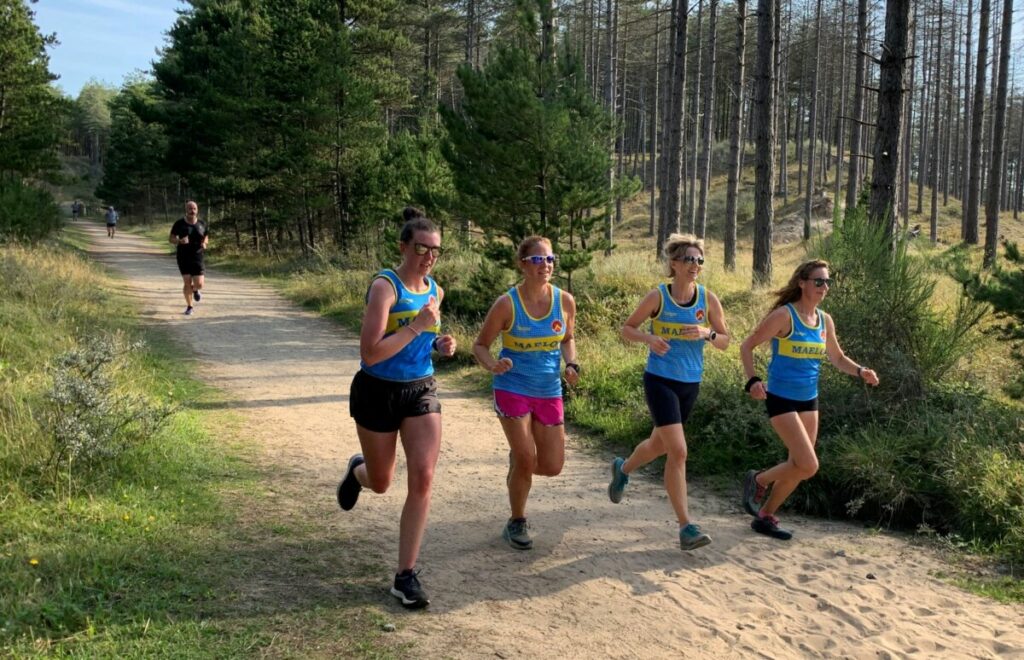 Rhedwyr Maelog is a multinational group who welcome runners of mixed ability, we support and encourage each other to get the most out of our runs. We have plenty of chat on our runs but also have a good workout with some friendly competition. We often have visiting runners as well as a core group of regulars, and so if you are in the Rhosneigr area and you enjoy running please come and join us.
Another new social running group that was represented at today's parkrun was the Amlwch Arrows, another friendly group on the island supporting runners to get out and enjoy our beautiful island.  As a new group, the Arrows are committed to training some of their runners as qualified Run Leaders, so we look forward to welcoming them to Run Wales as a fully fledged group when that qualification is complete.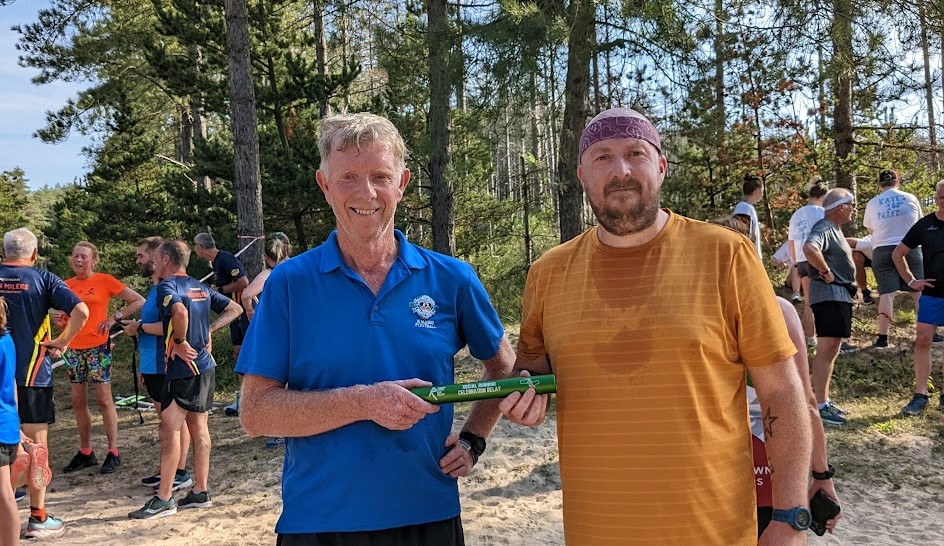 In the meantime, Run Wales continues to support the establishment and development of new social running groups, providing more opportunities for people in Wales to enjoy running together safely. If you are a social running group (or would like to start one) and would like to know more about registering for support with Run Wales, head to irun.wales and get in touch, or come and ask us next week when the relay will be at Conwy parkrun!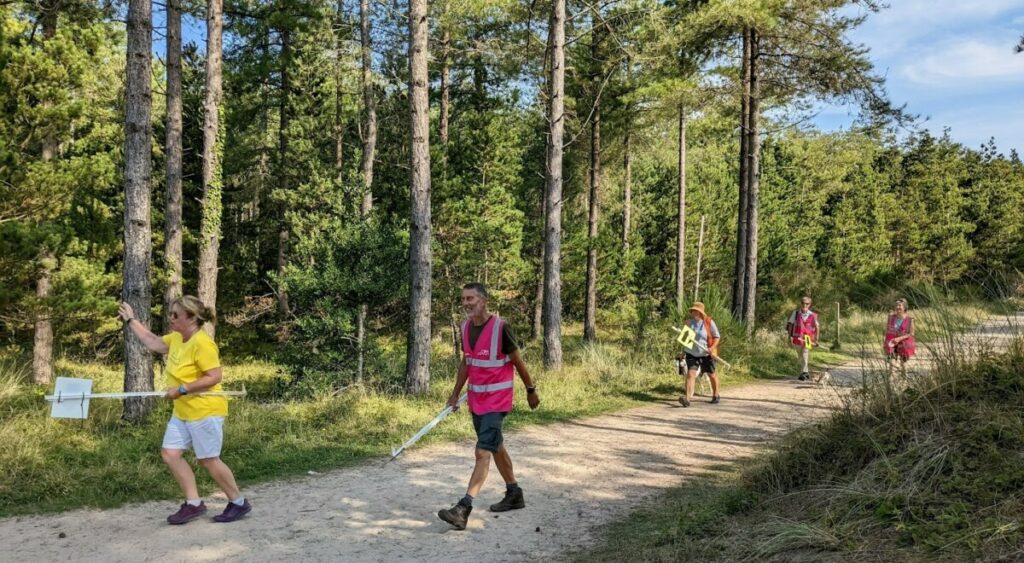 This week 184 people ran, jogged and walked the course, of whom 76 were first timers and 10 recorded new Personal Bests. Representatives of 33 different clubs took part.
The event was made possible by 20 volunteers: Suzanne WALLEY • David WALLEY • Carole RICHARDSON • Jane WINSTONE • Alan WINSTONE • Helen ROBERTS • Julia KEEVES • Gemma WILLIAMS • Amy EDWARDS • Mike HAMER • Lucy ASPDEN • Lissa BAGE • Melanie OWEN • Christopher GUMN • Diane HAWTHORNTHWAITE • Julie EVANS • Evie BAGE • Rick KEEVES • Evie Margaret SWEETING-WHITE • Caleb Môn HUGHES
Today's full results and a complete event history can be found on the Newborough Forest parkrun Results Page.
The female record is held by Claire Louise SPENCER who recorded a time of 17:40 on 10th November 2018 (event number 19).
The male record is held by Osian PERRIN who recorded a time of 15:44 on 28th September 2019 (event number 64).
The Age Grade course record is held by Carol CRICK who recorded 96.19% (22:46) on 16th October 2021 (event number 93).
Newborough Forest parkrun started on 23rd June 2018. Since then 5,509 participants have completed 16,129 parkruns covering a total distance of 80,645 km, including 2,625 new Personal Bests. A total of 257 individuals have volunteered 2,231 times.
---
The relay is popping back across the Menai Strait for next week's parkrun, where the Porth Eirias Runners are planning a takeover at Conwy parkrun. The Porth Eirias Runners will be joined by members of several other Run Wales registered groups, so come along and meet the groups offering a wide range of opportunities to run in the area!
---
The relay baton continues its journey to every parkrun in Wales, courtesy of our amazing Run Wales groups, as they celebrate and share the joys of social running. You can follow the baton's progress and find out how to get involved as it continues its journey towards a big finish with a mass participation event next year!